GoTo Aims for 15.2 Trillion Rupiah IPO's Fund to Strengthen Its Hyperlocal Ecosystem
Gojek and Tokopedia's parent have started an initial public offering (IPO) by releasing 48-52 billion shares
PT GoTo Gojek Tokopedia Tbk (GoTo) officially announced an Initial Public Offering (IPO) on the Indonesia Stock Exchange (IDX). In the public disclosure, Gojek and Tokopedia are aiming for $1.1 billion fresh funds or equivalent to 15.2 trillion Rupiah.
GoTo is to sell 48 billion shares with a maximum of 52 billion Series A shares, equivalent to 4.35% of the issued and paid-up capital. The price set in the range of Rp316-Rp346 per share.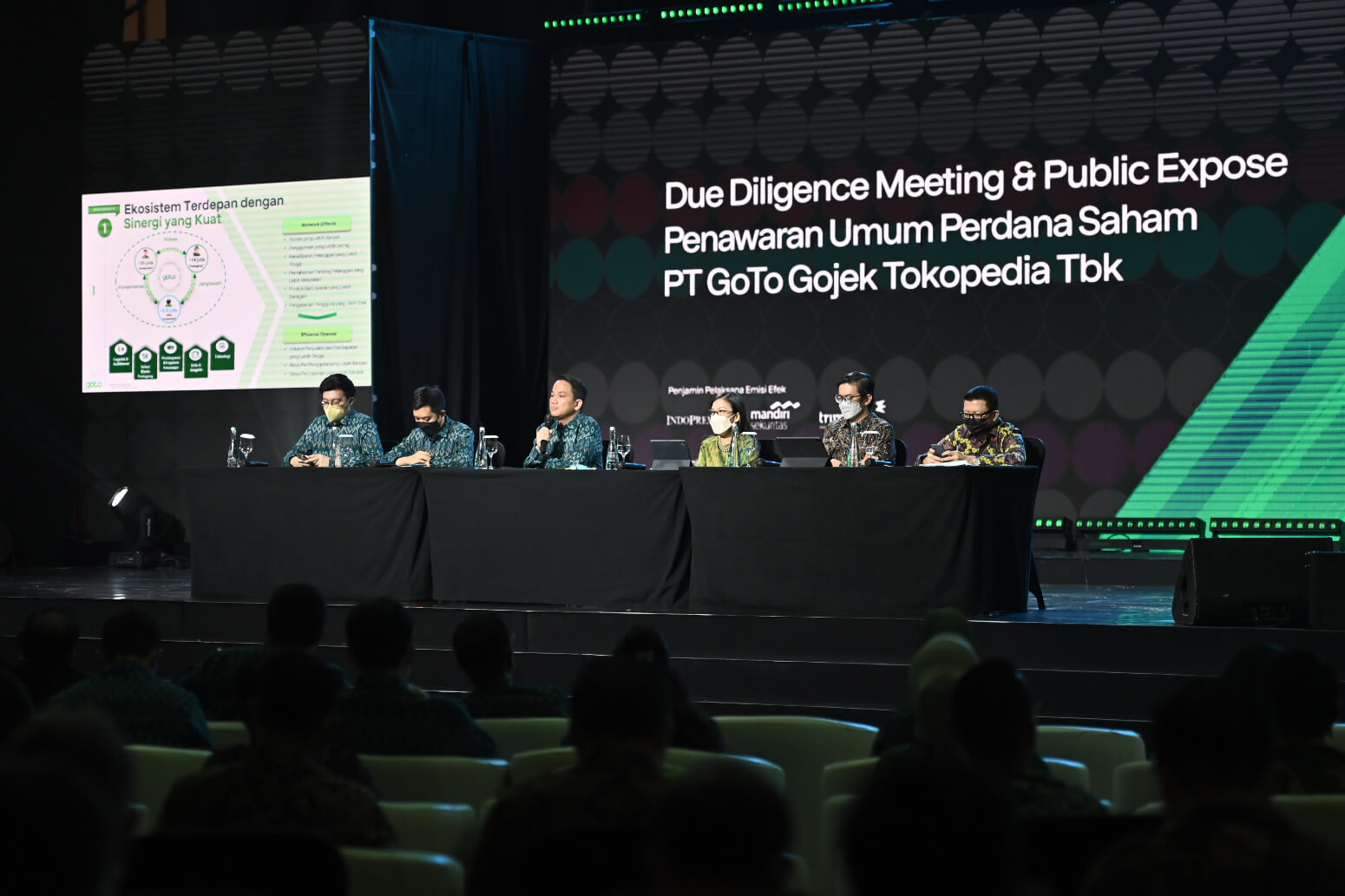 At this price, his team estimates to reach a market capitalization of between IDR 376.6 trillion-IDR 413.7 trillion, and possibly become one of the IPOs with the largest value in Indonesia. In addition, this pricing is considered to reflect GoTo's business strength, fundamentals, and prospects in the future.
The initial offering period is open from 15-21 March 2022 and the public offering period is around 29-31 March 2022. Meanwhile, the listing date is effective on 25 March 2022. Meanwhile, GoTo appoints underwriters for the issuance of securities, including PT Indo Premier Sekuritas, PT Mandiri Sekuritas, and PT Trimegah Sekuritas Indonesia Tbk.
Ride-hailing, e-commerce, and fintech
In its disclosure, GoTo's Co-founder and CEO Andre Soelistyo said he would use GoTo's IPO funds to build the right infrastructure and resources to execute hyperlocal strategies through its three subsidiaries, namely Gojek (ride-hailing), Tokopedia (e-commerce), and GoTo Financial (fintech). With this strategy, GoTo seeks to accelerate the growth of new users, user engagement, and penetration of newly launched products.
Based on the company data, Gojek currently has 2.5 million driver partners; Tokopedia has 12 million merchants with nearly 600 million SKUs for physical products, 4000 digital products, and more than 100 million Monthly Active Users (MAU); and GoTo Financial has licenses in e-wallet, P2P, multi-finance, banking (Jago), e-money, to payment gateways.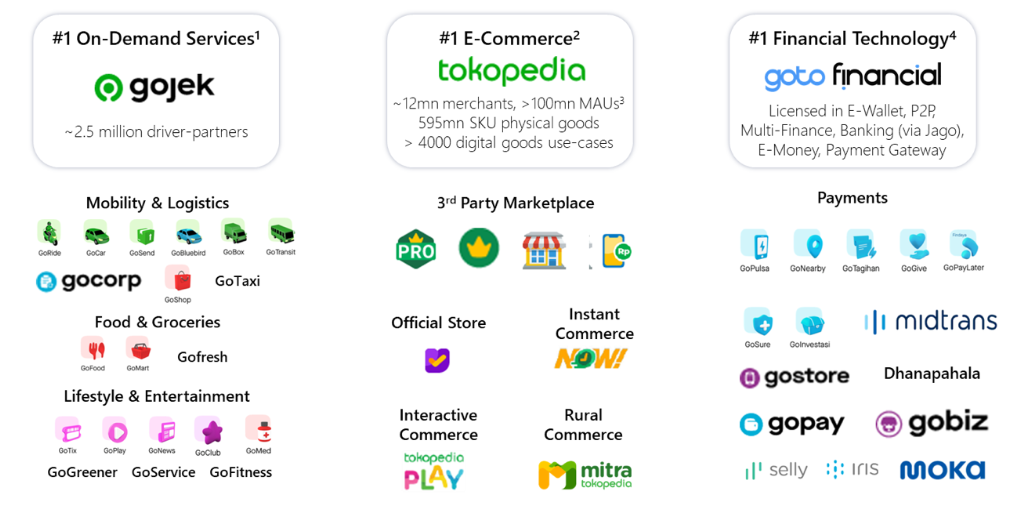 "With a large ecosystem, this enables GoTo to execute a hyperlocal strategy. Efforts to meet the needs of goods and services at an economical cost can be achieved because supply and demand are close to each other. This is one of GoTo's strengths by optimizing the network of driver partners, merchants, and logistics that are owned. This is a more sustainable strategy than depending on one use case," he explained.
Citing the RedSeer report as of December 2021, the on-demand market is estimated to reach Rp. 980 trillion in 2025. Then, the fintech market is estimated to reach IDR 256.3 trillion in 2020 and is estimated to increase to IDR 1,009 trillion in 2025.
Euromonitor data in 2020 also notes that the giant GoTo ecosystem is able to contribute more than 2% of Indonesia's GDP and serves almost two thirds of household consumption in Indonesia.
Road to profitability
Based on the initial IPO prospectus, GoTo's total assets were recorded at Rp158.17 trillion as of the end of September 2021. At that current period, its revenue was recorded at Rp3.40 trillion, rise from the previous year at around Rp. 2.34 trillion. However, GoTo still posted a net loss of IDR 11.58 trillion, increase from the same period last year of IDR 10.43 trillion.
Within 12 months (October 2020-September 2021), GoTo's Gross Transaction Value/GTV reached Rp414.2 trillion. A total of 55 million users made transactions with order values reaching 2 billion in that period.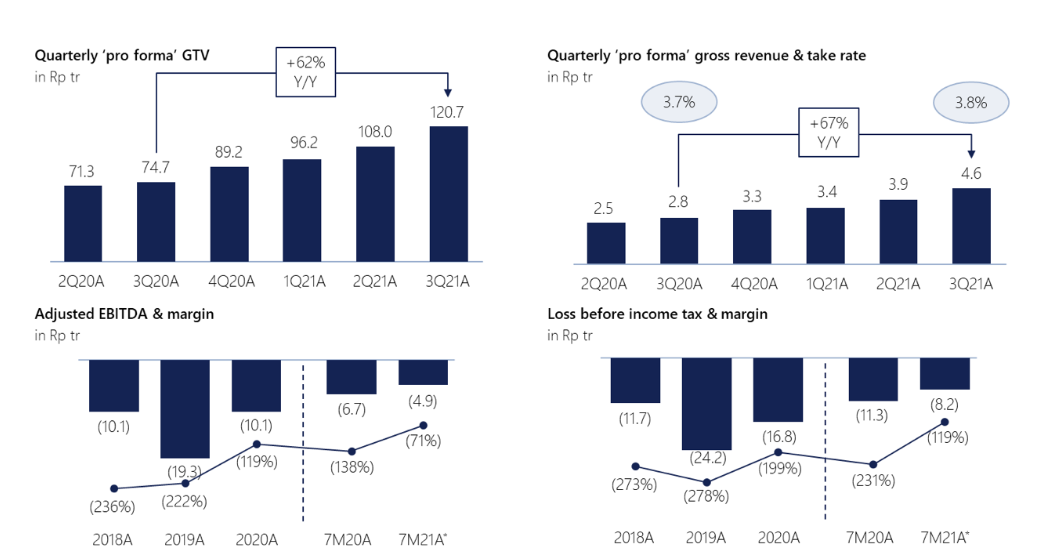 Regarding its profit target, Tokopedia's Co-founder William Tanuwijaya said, "The aim to be profitable is not just wishful thinking. It is clear from our prospectus, there are improvements [performance] in every quarter. We show our track record of operations and believe we can profit in the medium term," he said.
Meanwhile, Andre revealed that he had mapped out his strategy by highlighting several main keys, acceleration of post-merger services with Tokopedia, user acquisition costs, and the impact on margins.
He said that the synergy in the Gojek and Tokopedia ecosystems could help boost the growth in the number of users and transactions. Also, this is visible from the increase in user spending after the merger of the two business entities into GoTo.
"In one marketing activity, we can simultaneously increase transactions from our services. For example, transactions at Tokopedia using GoSend with GoPay payments. In one spending, three to four services are used," he explained at the GoTo IPO press conference.
Moreover, Andre also highlighted the commission factor (take rate) on the GoTo platform which is considered lower than similar platforms in the world. With this synergy, the opportunity to increase the take rate can be faster along the development of innovation, increased penetration of users and services, to marketing activities. This way, gross income will also increase.
Meanwhile, in terms of user acquisition costs, the implementation of machine learning and data can help GoTo to understand user behavior. Therefore, his team can create campaigns and products that are more personalized to users. This will also reduce the cost of acquisition as the market becomes more targeted.
"With all of the above factors, this can have an impact on margin expansion and cost efficiency at fixed costs. Revenue growth is faster than outgoing costs. This can help us achieve profit," he concluded.
– Original article is in Indonesian, translated by Kristin Siagian
Application Information Will Show Up Here
Application Information Will Show Up Here
Are you sure to continue this transaction?
processing your transaction....