Grab Luncurkan GrabAds, Mungkinkan Brand Beriklan di Armada Mitra Pengemudi
Bekerja sama dengan mitra lokal seperti StickEarn, Karta, dan Interads
Hari ini (22/8) Grab mengumumkan unit bisnis terbarunya bernama GrabAds. Sesuai namanya, GrabAds akan fokus pada periklanan, memberikan kepada brand kesempatan untuk meningkatkan engagement melalui platform online-to-offline. Bentuk iklannya terdiri dari tiga jenis, yakni (1) Mobile Billboards, (2) In-Car Engagement, dan (3) In-App Engagement.
Pertama untuk Mobile Billbaord, konsepnya mirip car advertising yang sudah banyak bermunculan, seperti dari Sticar, Ubiklan, dan lain-lain; sudah cukup banyak di Indonesia. Untuk model ini, di Indonesia GrabAds bekerja sama dengan StickEarn dan Karta dalam pemasangan konten iklan/stiker di kendaraan mitra pengemudi. SitckEarn akan fokus di kendaraan roda empat dan Karta untuk roda dua.
Kemudian yang kedua ialah In-Car Engagement, berbentuk konten digital dan non-digital yang dapat disuguhkan melalui tablet atau informasi produk armada GrabCar. Konsepnya mengubah mobil menjadi mini mobile pop-up store bagi para konsumen untuk memahami, menguji, dan membeli produk saat sedang berada dalam perjalanan. Di Indonesia, implementasinya akan dikerjakan bersama dengan Interads sebagai penyedia platform digital car top.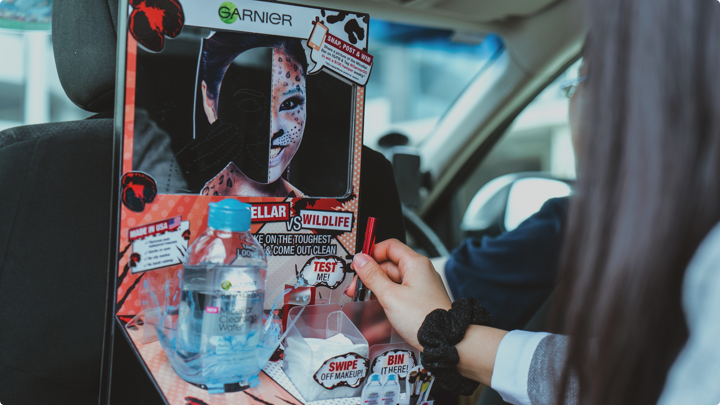 Ketiga ada In-App Engagement, iklan ditampilkan dalam widget interaktif (permainan, kuis, konten digital dll) di aplikasi Grab. Para brand dapat menampilkan promo eksklusif melalui aplikasi yang digunakan konsumen. Fitur ini sudah diluncurkan sejak bulan alu di aplikasi, dengan pendekatan news feed diharapkan informasi tersampaikan lebih relevan.
"Seriring makin terhubung antara ranah online dan offline, berbagai brand kini fokus untuk menghadirkan pengalaman terintegrasi. GrabAds membantu brand untuk memanfaatkan armada kami yang tersebar dalam menjangkau audiens yang luas di Asia Tenggara. Tujuannya mulai dari meningkatkan awareness hingga menghadirkan pengalaman yang lebih personal," sambut Head of GrabAds, Nasheet Islam.
GrabAds juga memanfaatkan big data Grab, memanjakan brand dengan wawasan mengenai pasar lokal, serta keberadaan O2O untuk menciptakan hubungan pelanggan yang lebih intens dengan brand. Segmentasi pelanggan yang tepat dinilai dapat memberikan pengalaman yang lebih personal untuk meningkatkan traksi dalam bisnis.
"GrabAds merupakan cara yang luar biasa bagi para mitra pengemudi dan mitra pengiriman barang untuk meningkatkan pendapatan. Grab berkomitmen untuk membantu mitra secara konsisten setiap bulan dari GrabAds, seraya membantu brand untuk meningkatkan exposure dengan konsumen," tutup Nasheet.
Application Information Will Show Up Here
Are you sure to continue this transaction?
processing your transaction....