Game
[Guide] Batman Arena of Valor, Sang Dark Knight yang Bisa Mengakhiri Semua Hero
Pelajari kelemahan musuh-musuh Anda dan semua role hero dapat Anda kalahkan.
Setelah Batman, The Joker, dan Superman, game MOBA Arena of Valor kembali kedatangan superhero DC Comics lainnya, Wonder Woman. Kami telah mengulas guideThe Joker dan Superman, rasanya tak lengkap jika kami tidak membahas guide Batman. Dalam rangka 'menyambut' Wonder Woman, berikut kami sajikan guide Batman Arena of Valor, sang Dark Knight dari Kota Gotham yang berperan sebagai Assassin.
1. Skill Pasif Batman - Knight Speed
Ketika Batman mendekati lawan, Movement Speed-nya akan meningkat 20 persen.
Tips: 'Tukang Ciduk', mungkin itu salah satu tugas Batman. Target utamanya adalah hero mage atau archer yang sedang sendirian. Dengan skill pasif-nya ini Anda dapat menjemput musuh dengan cepat dan menghabisinya.
2. Skill 1 Batman - Forearm Strike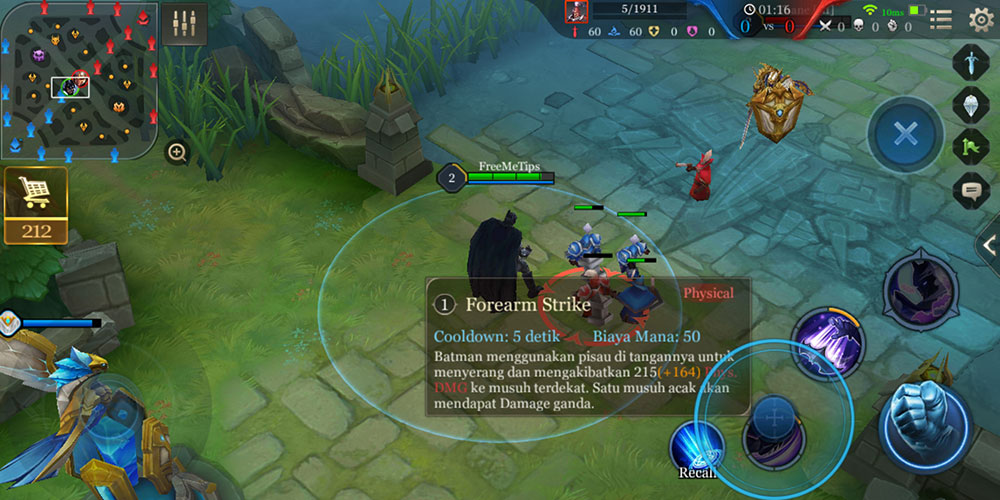 Cooldown: 5 detik
Biaya Mana: 50
Batman menggunakan pisau di tangannya untuk menyerang dan mengakibatkan 215(+145) physical damage ke musuh terdekat.
Tips: Fokuslah untuk meningkatkan level dari skill 1 Forearm Strike, karena inilah skill utama yang dimiliki Batman yang bisa digunakan terus menerus untuk menghasilkan damage besar.
3. Skill 2 Batman - Batarang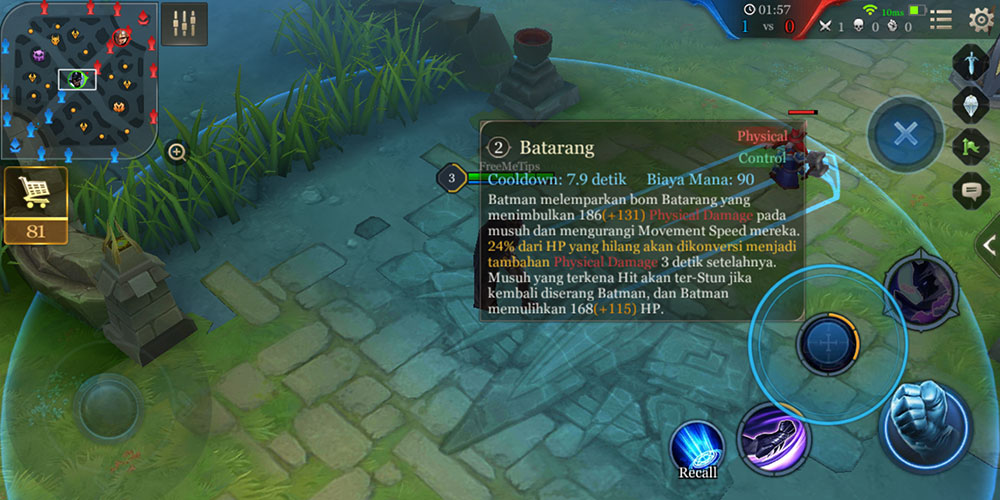 Cooldown: 9 detik
Biaya Mana: 80
Batman melemparkan bom Batarang yang akan menimbulkan 165(+97) physical damage pada musuh dan mengurangi movement speed mereka. 24 persen dari HP yang hilang akan dikonversi menjadi tambahan physical damage 3 detik setelahnya. Musuh yang terkena hit akan ter-stun jika kembali menyerang Batman dan Batman akan memulihkan 140(+85) HP.
Tips: Batman selalu mendapatkan targetnya. Selain skill pasif yang memungkinnya mengejar musuh dengan cepat, skill 2 ini Batman dapat mengunci target yang mengurangi movement speed bahkan men-stun musuh. Jadi, dipastikan musuh tidak akan bisa kabur.
4. Skill Ultimate Batman - Dark Knight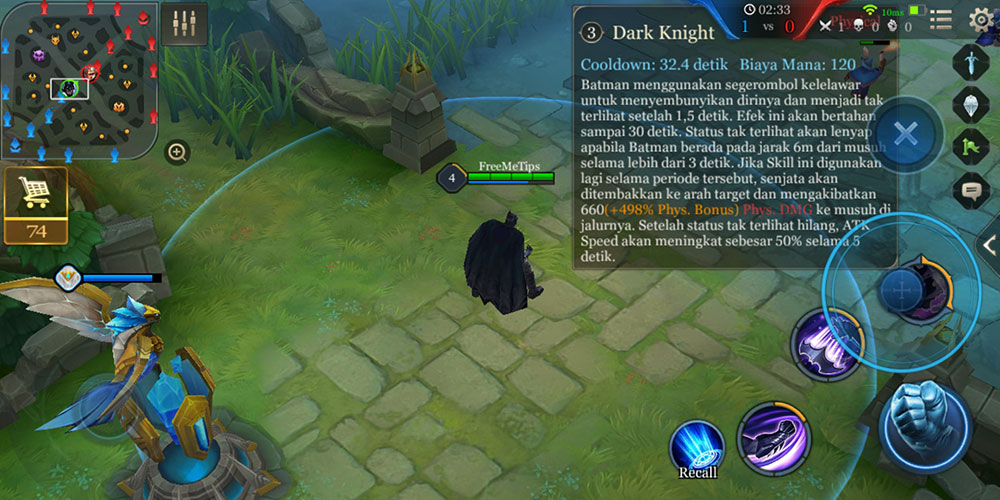 Cooldown; 36 detik
Biaya Mana: 120
Batman menggunakan segerombol kelelawar untuk menyembunyikan dirinya dan menjadi tak terlihat setelah 1,5 detik. Efek ini akan bertahan sampai 30 detik.
Jika skill ini digunakan lagi selama periode tersebut, senjata akan ditembakkan ke arah target dan mengakibatkan 660(+1.88% physical bonus). Setelah status tak terlihat hilang, attack speed akan meningkat sebesar 50% selama 5 detik.
Tips: Seperti karakter Batman yang sesungguhnya, sebagai assasin Anda juga harus penuh perhitungan. Pelajari semua kelemahan musuh-musuh Anda, gunakan skill ini untuk mengintai, temukan celah saat team fight, dan lepaskan skill di saat yang tepat.
5. Build Item, Arcana, dan Talent Batman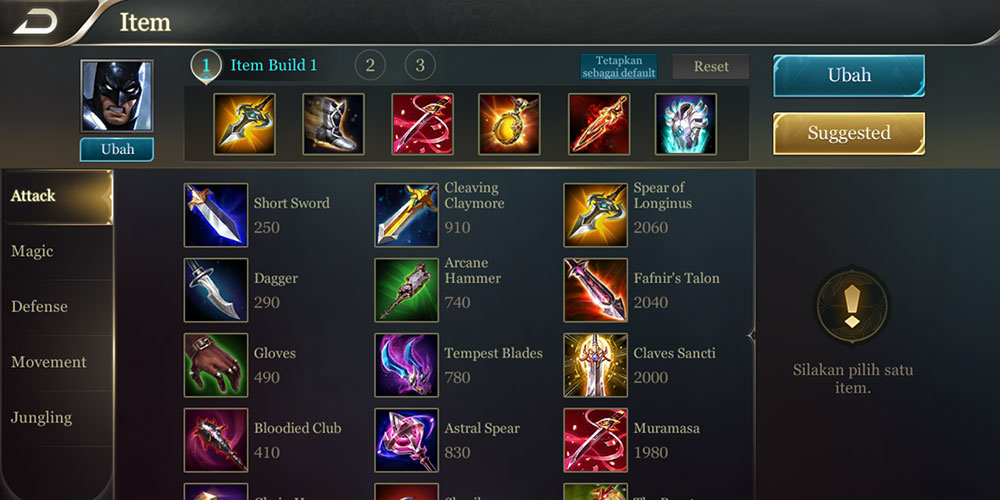 Berikut build item Batman yang bisa Anda gunakan:
Spear of Longinus (Attack)
Sonic Boots (Movement)
Muramasa (Attack)
Medallion of Troy (Defense)
Fenrir's Tooth (Attack)
Ancestral Glory (Defense)
Adapaun Arcana yang direkomendasikan adalah Mob, Greed, dan Savage untuk level 2. Sedangkan untuk level 3, Onslaught, Assisinate, dan Dragon's Clwa.
Sementara, talent yang tepat adalah Punish untuk mempercepat membunuh monster hutan atau Roar untuk meningkatkan serangan.
6. Kombinasi Skill Batman Arena of Valor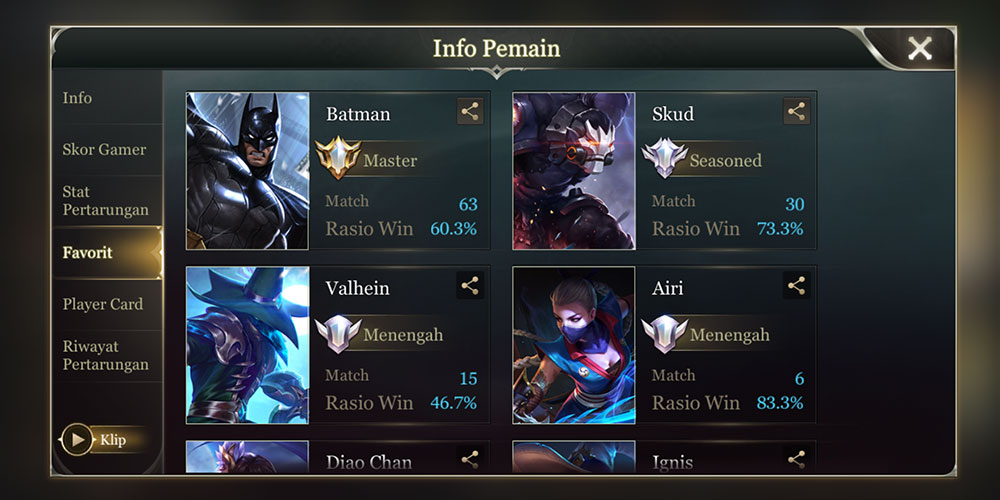 Di awal permainan, sebaiknya Anda gunakan waktu dengan baik untuk farming sehingga bisa naik level lebih cepat. Jangan lupa membunuh Abyssal Dragon, ketika sudah beranjak di atas level 4.
Di tengah permainan, saatnya Anda mengintai musuh. Cari target yang potensial, begitu sudah dekat, gunakan skill ultimate untuk menghilang, kunci dengan skill 2, dan lepaskan skill ultimate, dilanjutkan skill 1. Rentetan serangan tersebut, bisa dengan mudah membunuh hero dengan role apapun.
Di akhir pertandingan, temukan celah untuk menyerang dan pastikan tim Anda siap berada di belakang. Menyelinap ke dalam formasi musuh dan target Anda adalah membunuh mage atau archer yang berada di garis belakang.
Are you sure to continue this transaction?
processing your transaction....