Melalui Acara idEAWorks, Asosiasi E-commerce Indonesia Ingin Lebih Siap Sambut Industri 4.0
Akan diadakan pada 9-12 April 2019 bertempat di Kasablanka Hall, Jakarta
Memasuki era revolusi industri 4.0, banyak hal yang harus dipersiapkan oleh pebisnis. Era ini identik dengan otomasi dan pertukaran data yang semakin canggih. Salah satu cara yang dapat dilakukan ialah dengan menciptakan sinergi, antara pemain industri dan pakar. Hal ini yang coba dilakukan oleh idEA melalui sebuah acara bertajuk idEAWorks.
Asosiasi E-commerce Indonesia (idEA) akan menggandeng para ahli di industri digital untuk berbagi ilmu. Belajar dari para ahlinya tentu jadi opsi terbaik untuk bisa terus update pada tren industri digital. Indonesia punya segudang nama yang telah sukses mengembangkan usaha berbasis teknologi.
Acara idEAWorks akan dilaksanakan pada 9-12 April 2019 bertempat di Kasablanka Hall, Jakarta. Acara ini akan terbagi menjadi dua tema, yaitu Edu Fair dan idEAWorks Pro yang juga menjadi ajang Digital Industry Job Fair.
Akan hadir berbagai pemateri dari pelaku industri digital. Pertama ada CEO Bhinneka Hendrik Tio yang akan bicara tentang "Gen of Good Talent" yang akan membuka pikiran tentang ciri talenta terbaik di sektor digital. Ada juga Roy Simangunsong dari Fox Networks yang akan menjelaskan apa saja yang perlu menjadi pertimbangan saat memilih perusahaan digital sebagai tempat kerja.
CTO GDP Venture On Lee juga dijadwalkan hadir untuk menjabarkan apa-apa yang harus dipelajari dan lakukan untuk menjadi seorang pakar teknologi yang dibutuhkan perusahaan digital. Sementara untuk mereka yang tertarik bergabung dengan e-commerce, setidaknya ada dua nama besar yang akan berbagi cerita. Ada Fajrin Rasyid yang merupakan Presiden Bukalapak dan Jemy Confido yang menjabat sebagai CEO Blanja.com.
Rangkaian acara idEAWorks diharapkan mampu menjadi penggerak terciptanya talenta-talenta terbaik yang akan mendorong kemajuan industri 4.0 di Indonesia. Pasalnya, sektor digital memang tengah membutuhkan banyak talenta-talenta terbaik, dan menjanjikan masa depan yang cerah di setiap profesi yang tersedia.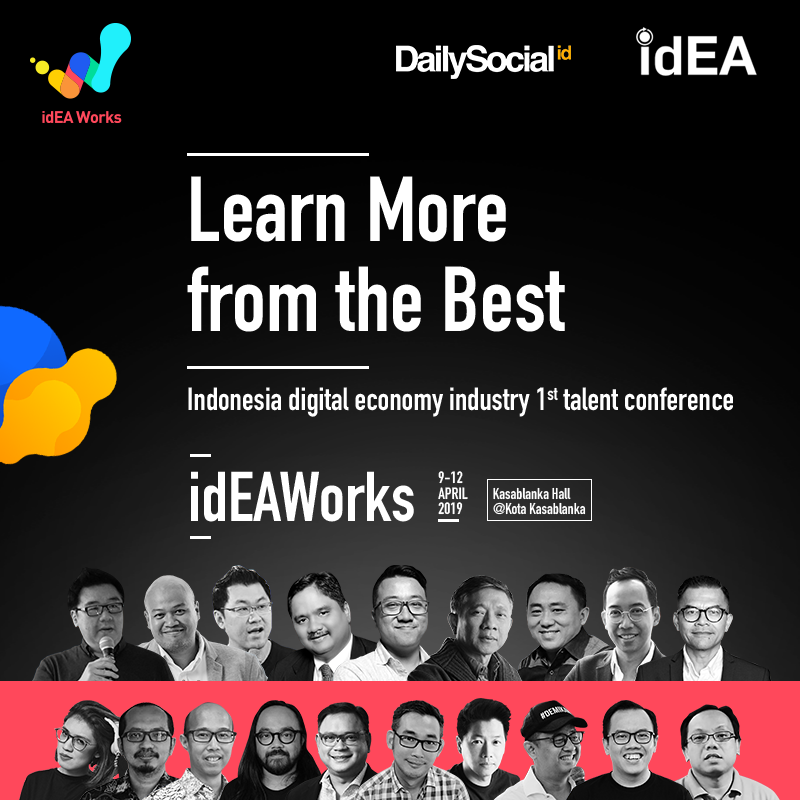 --
Disclosure: DailySocial merupakan media partner acara idEAWorks
Are you sure to continue this transaction?
processing your transaction....