Bersinergi dengan Striders, Indogen Buka Peluang Portofolionya Jajaki Pasar Jepang
Striders Global Investment masuk menjadi salah satu limited partner untuk Fund II Indogen Capital tahun ini
Yenny Yusra - 23 July 2021
Pemodal ventura yang fokus kepada startup tahap awal Indogen Capital mengumukan perolehan investasi strategis untuk Fund II mereka melalui anak perusahaan Striders Global Investment. Bersamaan dengan investasi tersebut, selanjutnya Striders juga ditunjuk sebagai penasihat Indogen Capital untuk pasar Jepang.
Striders akan membantu Indogen dan perusahaan portofolionya untuk bisa terhubung dengan perusahaan di negeri sakura terkait dengan kegiatan penggalangan dana dan ekspansi pasar.
Di sisi lain, Striders telah menandatangani perjanjian kemitraan dengan Indogen pada bulan Juli 2020, untuk menjajaki peluang dalam ekosistem startup Asia Tenggara. Hingga saat ini beberapa portofolio yang telah diinvestasi meliputi Attention Holdings (esports) dan Travelio (proptech).
Selain Strider, terdapat beberapa investor lainnya yang juga terlibat dalam pendanaan Fund II Indogen Capital yang telah dirampungkan tahun 2020 lalu, hanya saja masih enggan untuk menyebutkan lebih detail. Sementara untuk Fund I Indogen Capital, telah diperoleh sekitar tahun 2017 lalu sebesar $10 juta dengan LP yang terlibat semuanya lokal dan 80% sudah tersalurkan.
"Kami sangat bersemangat tentang apa yang akan terjadi dengan kemitraan ini. DNA kami sejak hari pertama adalah untuk membantu pengusaha tampil lebih unggul di pasar Indonesia. Strider selalu mendukung tesis kami selama bertahun-tahun," kata VP Indogen Capital Kevin Chandra.
Fokus Investasi Indogen Capital
Dari sisi sumber daya, Indonesia dinilai sangat menggugah dengan semua dinamika gaya hidup dan bisnis di dalamnya. Indogen Capital, sebagai VC dengan pengalaman terkait bisnis keluarga dan jaringan yang kuat, bertujuan untuk menjadi mitra bagi VC asing yang ingin melakukan ekspansi ke pasar Asia Tenggara, khususnya Indonesia
Memanfaatkan Fund II ini, rencana Indogen Capital ke depannya adalah akan tetap fokus untuk berinvestasi pada potential category leader dari berbagai sektor yang memiliki big addressable market. Yaitu dengan terus mereplikasi keberhasilan investasi portofolio yang ada.
Kisah sukses salah satunya adalah Carsome sebagai best practice marketplace jual beli mobil yang berhasil menjadi category leader di marketplace jual beli mobil dan baru saja dinobatkan sebagai  unicorn pertama dari Malaysia. Secara keseluruhan dalam waktu dua tahun ke depan Indogen Capital menargetkan untuk bisa berinvestasi kepada 15-20 startup.
"Covid-19 telah mempercepat adopsi digital dan inovasi. Ini memperkuat keyakinan kami bahwa masa depan ekonomi digital Indonesia masih sangat besar terutama di luar wilayah metro. Saya pribadi percaya bahwa waktunya tidak bisa lebih baik," kata Managing Partner of Indogen Capital Chandra Firmanto.
Iklim investasi di tahun 2021
Sepanjang paruh pertama 2021 (H1), iklim investasi di Indonesia mendapati tren yang positif. Secara kuantitas dan nominal pendanaan jauh meningkat ketimbang periode yang sama di dua tahun sebelumnya.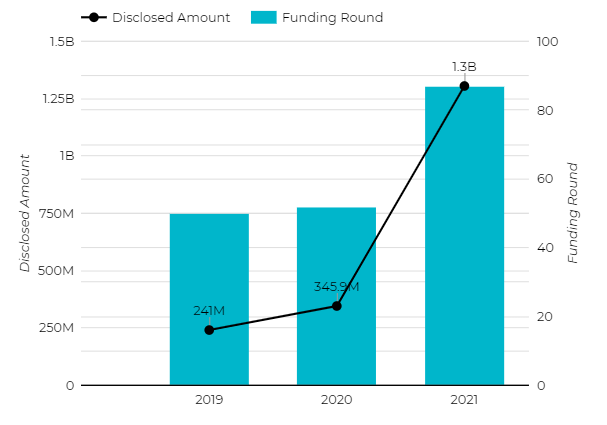 Menariknya, saat ditinjau dari putaran pendanaan yang didukung, H1 2021 paling banyak adalah tingkat lanjut (seri B atau di atasnya). Mengindikasikan adanya keinginan kuat bagi investor untuk mendukung lebih dalam portofolionya meningkatkan bisnis, kendati tengah berada di masa pandemi.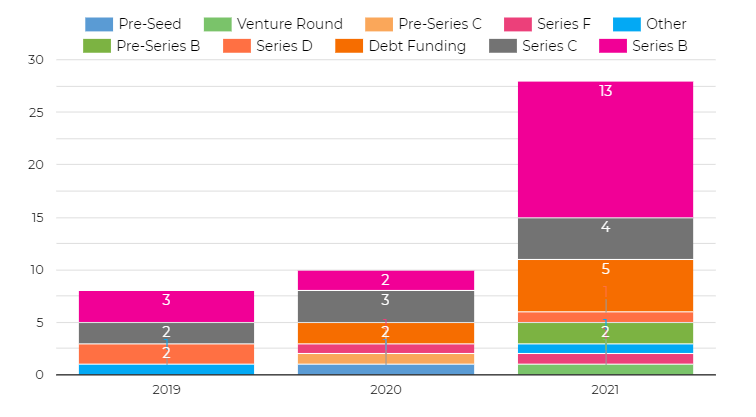 Are you sure to continue this transaction?
processing your transaction....