Indonesia's Battle of Video Streaming Platforms
Starts from M&A, price war, and local original content
There are many video streaming service platforms running the business in Indonesia, whether it's local, regional, or global-sized. Although it's considered niche, particularly targeting the young generation, their position is getting steady in the market.
The pioneer in this service, Netflix, might be the most premium player among the others, starts acquiring local content creators to lead the Indonesian market. What happened with Netflix, can be the blueprint for similar services.
Streaming platform in Indonesia
The regional players with a long history in Indonesia are Hooq and Iflix. Both have local affiliations to help coverage to this growing market share.
Since the beginning, Hooq that is focused on providing content from Hollywood, Asia, and Indonesia, has done some transformations, including the additional linear channel [cable TV], local listing, and Indonesian original content. A similar strategy is applied by Iflix. Although with a similar business model, both platforms are claimed to have a significant distinction.
"Since its debut to this day, Iflix has been through some transformations. Starts from the exclusive content to the Indonesian old movies. We're now focused on providing Indonesian original content as well from other countries in Asia. It's no longer focused on Hollywood products, this concept is expected to acquire a broader segment from the middle to lower class," Iflix' Executive Director, Cam Walker.
Related to the free linear channel and local listing in the platform, Cam thought the strategy is effective to create an alternative entertainment for users. The free streaming option is said to be a certain charm for the target market.
"By providing free streaming, they can directly increase the number of new users who are eventually willing to pay. This concept is quite effective."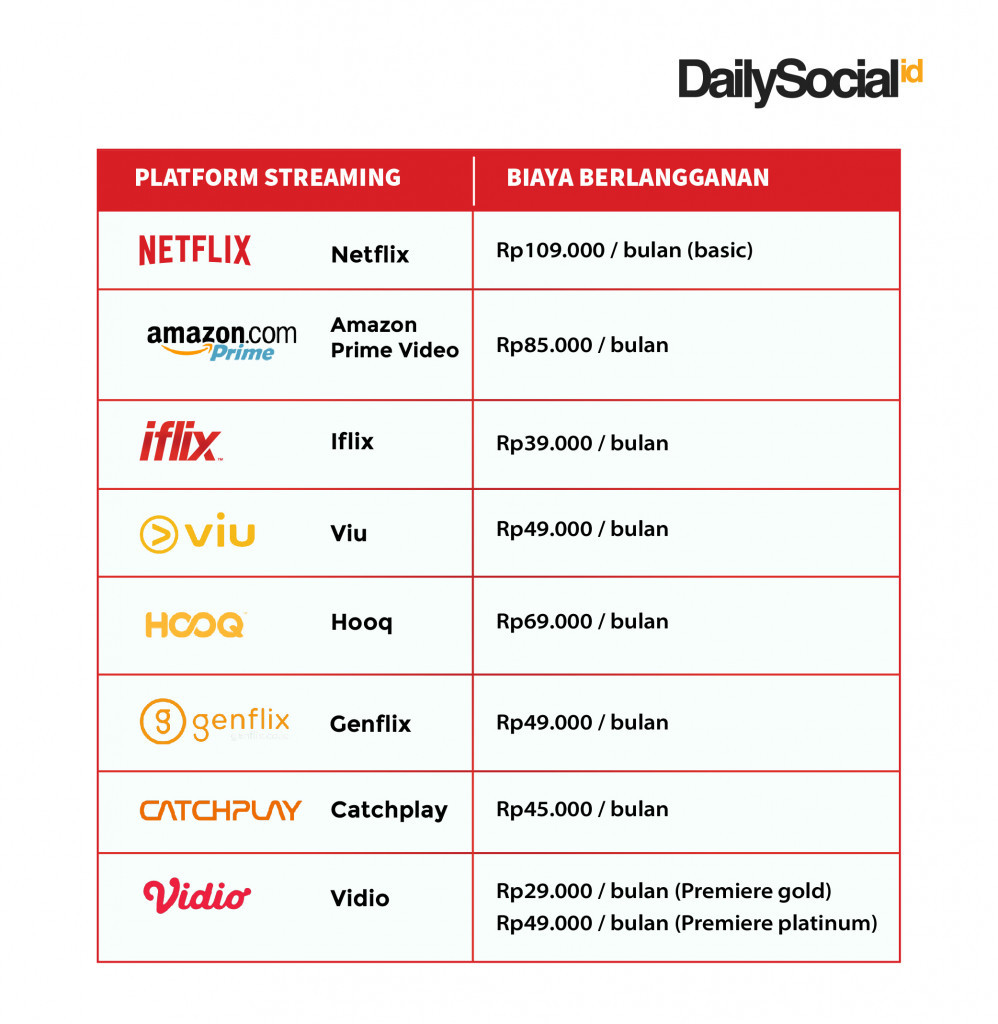 Hooq on the other side, that is used to have the most Indonesian movies and series, starts adding up categories from their linear channels. They also provided some channels of cable TV to be available in Indonesia. Those channels are deliberately provided on Hooq based on demand and partnerships.
Hooq Indonesia's Country Head, Guntur Siboro said that Hooq is still aiming to provide Indonesia's original content and stay open for partnerships with related parties to expand and acquire users.
Similar to Hooq and Iflix, Vidio, a streaming platform under Emtek Group, starts showing Indonesia's original content. The main distinction is in the premium sports content as users demand.
However, the fact that it's occasional, Vidio wouldn't be focused on sports alone.
"We also have more benefits under the Emtek Group ecosystem, which also includes two of Indonesia's biggest TV stations [SCTV and Indosiar]. Thus, we can show what's dear to the Indonesian population into the platform. Not only TV series but also variety shows and the music programs," Vidio's Chief of Content, Tina Arwin said.
Trend and the future
Indonesian market that has yet to mature makes it difficult to determine the leading platform in Indonesia. Not only Hooq and Iflix but also Vidio has to compete with many platforms that offer competitive prices or affordable subscriptions.
In the future, Tina Arwin sought there will be more Indonesia's original content to be shown on various platforms. While the Hollywood content is still a monopoly game for US-based platforms, such as Netflix and Amazon Prime Video.
A similar answer said by Cam Walker. As he observed from Iflix point of view that is focused on providing Indonesia's original content, this is such an effective way to gain more users who are mostly in the middle to the low economy. While for the premium segment, still go with Netflix subscriptions or Cable TV.
Another highlight that is predicted to happen in the next few years is the M&A of some platforms. Recently, Iflix has secured investment from MNC Group, while in August MNC Group also launched its own streaming platform. When the competition gets ugly, the M&A potential will be very wide open.
Eventually, all depend on the marketing strategy, partnerships, and high-quality original content to acquire more users. Even though this segment is still open for fresh ideas, the complex industry constellation makes it hard for the new local player to compete.
–Original article is in Indonesian, translated by Kristin Siagian
Are you sure to continue this transaction?
processing your transaction....