Ini Dia Call of Duty: Black Ops III Dalam Video Trailer 1080p di 60FPS
Sejak Ghosts, arahan tema franchise shooter Activision pelan-pelan bergeser ke masa depan. Sebagian orang berasumsi, Advanced Warfare ialah jawaban publisher akan kepopularitasan Titanfall. Sayang empat game terakhir berturut-turut memberikan rasa serupa tanpa perbedaan signifikan di gameplay. Dan kita tahu, permainan Call of Duty teranyar sedang disiapkan.
Pada tanggal 23 April lalu, Activision memublikasi video teaser panjang berjudul Ember yang berperan sebagai latar belakang cerita Black Ops III. Di sana, publik mengomentari bagaimana setting Black Ops III sangat mirip dengan seri Deus Ex. Tapi saat itu, porsi permainan sendiri belum diperlihatkan, meski kemungkinan besar cukup serupa dari para pendahulunya. Tiga hari kemudian, Activision mengunggah Reveal Trailer secara perdana.
"Call of Duty: Black Ops 3 menghadirkan masa depan yang kelam dan berbahaya, di mana para prajurit Black Ops generasi baru terlahir dan garis antara kemanusiaan serta teknologi robotik militer membaur dalam pertempuran futuristik," tulis Activision. Deskripsi tersebut terasa sangat umum, hampir tidak menjelaskan detail mengenai permainan. Tapi setidaknya trailer disuguhkan di resolusi full-HD dan 60 frame rate. Saksikan di bawah.
"Senjata tidak miliki insting, senjata tidak mempunyai kesetiaan, senjata tidak menyimpan penilaian, hanya prajurit yang punya," kata seorang karakter, disusul alunan musik. "Apa jadinya jika prajurit menjadi senjata? Sejauh apa kita bisa mendorong teknologi, sebelum ia mulai mendorong balik?"
Info menarik: Call of Duty: Black Ops III Bawa Anda Lebih Jauh ke Pertempuran Masa Depan
Aksi baku tembaknya sangat meyakinkan dan dramatis, namun saya melihat bermacam-macam referensi dari jagat sci-fi berbeda dalam Black Ops III: Senapan gatling di tangan mekanik dari Deus Ex: Human Revolution, exoskeleton ala Elysium (juga muncul di Advanced Warfare), helm dan panah mirip senjata Prophet di seri Crysis, hingga adegan berlari di tembok mirip Titanfall.
Bersama dengan Reveal Trailer, Activision mengumumkan informasi pre-order beserta program beta access. Dari laporan GameSpot, ternyata Black Ops III merupakan permainan Call of Duty pertama yang menyajikan wanita sebagai salah satu karakter utama. Ia bisa dimainkan baik di mode campaign singleplayer maupun co-op. Dan developer Treyarch telah menyiapkan pilihan karakter lainnya.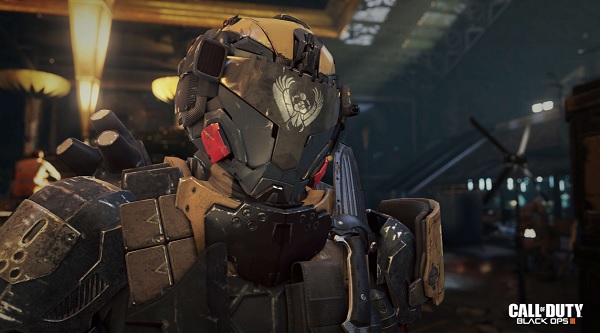 Call of Duty: Black Ops III akan dirilis tanggal 6 November 2015 di platform Xbox One, PlayStation 4 dan PC. Kebutuhan hardware komputer dapat dilihat di bawah.
OS: Windows 7 64-Bit / Windows 8 64-Bit / Windows 8.1 64-Bit
Prosesor: Intel Core i3-530 @ 2.93 GHz / AMD Phenom™ II X4 810 @ 2.60 GHz
Memori: 6 GB RAM
GPU: GeForce GTX 470 @ 1GB / Radeon HD 6970 @ 1GB
DirectX: Version 11
Network: Broadband Internet
Sound Card: DirectX Compatible
Sumber tambahan: PC Gamer. Gambar: CallofDuty.com.
Are you sure to continue this transaction?
processing your transaction....