Inilah Tiga Finalis Pemenang Ajang Hack@ON 2022!
Ketiga tim finalis tampil dengan ide mengesankan di ranah 'open banking'
Usai sudah rangkaian perhelatan hackathon persembahan Bank OCBC NISP bersama dengan DailySocial.id "Hack@ON 2022". Setelah melalui proses tahap final dan penjurian ketat yang diselenggarakan pada 25 September kemarin, Hack@ON telah resmi memilih 3 (tiga) tim pengembang yang memiliki inovasi terbaik dalam menjawab tantangan inovasi teknologi keuangan. Ketiga tim tersebut adalah Semboja (Juara 1), Async (Juara 2), dan Evellyn Verity Mesak (Juara 3). Seperti apa profil ketiga partisipan tersebut? Simak selengkapnya di bawah ini.
Dari ratusan ide yang masuk ke ajang Hack@ON, penjurian berlangsung dengan cukup ketat yang dilakukan oleh tim juri dari industri teknologi tanah air, dan dari pihak Bank OCBC NISP dan DailySocial.id sebagai penyelenggara seperti; Ka Jit - Director of Strategy Innovation Group Bank OCBC NISP, Komang Arthayasa - Information Technology Division Head Bank OCBC NISP, Altona - Business Incubation Lead Bank OCBC NISP, Farid Naufal - CEO Aruna, serta Rama Mamuaya - CEO DailySocial.id. Kelima juri pun sepakat menempatkan tim Semboja sebagai pemenang utama kompetisi Hack@ON 2022.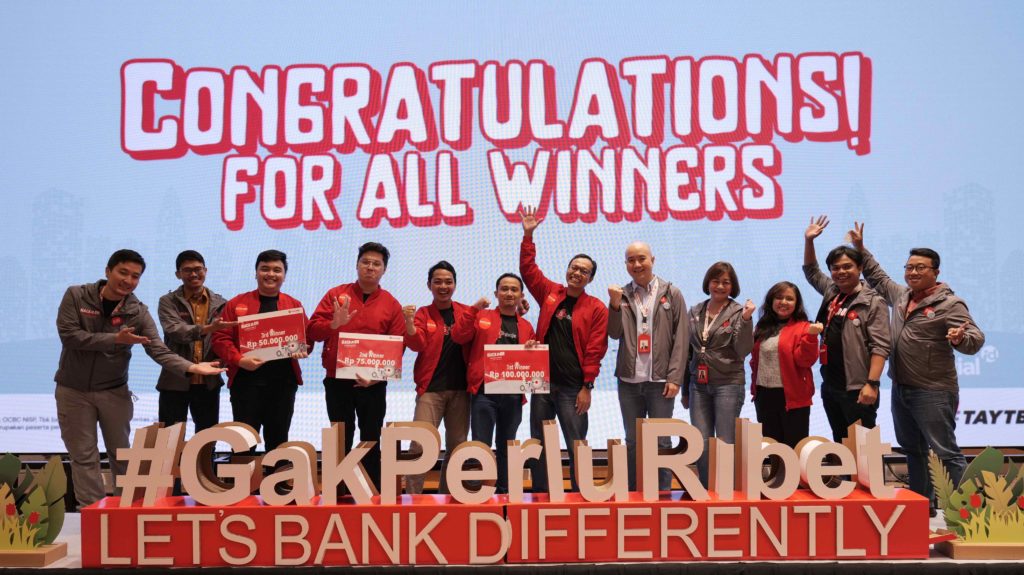 Tim Semboja yang digawangi oleh tiga software engineer asal Yogyakarta yaitu Gilang Jalu Selo WInoyo Tur, Andang Rian Dimas dan juga Havit Choirul Rovik ini tampil dengan ide mengesankan bertajuk "OCHA (OCBC CHat Assistant)" yang mengoptimasi fitur chat WhatsApp terintegrasi dengan layanan perbankan.
Inovasi dari pemenang posisi kedua, Async juga tak kalah menarik. Dengan mengusung ide "Infinancer", Async memungkinkan para digital content creator dan freelancer menikmati solusi teknologi keuangan yang disesuaikan dengan kebutuhan profesi. Terakhir, tim Evellyn Verity Mesak yang berada di posisi ketiga tampil dengan menawan yang bermanfaat bagi kaum pekerja dengan ide produk yang bernama EWA (Earned Wage Access), yang memungkinkan para pekerja untuk dapat menikmati fasilitas pembiayaan instan berbasis fixed income.
"Talenta digital saat ini tidak hanya berpusat di industri teknologi saja, tapi juga industri perbankan. Adopsi teknologi sudah menjadi bagian dari sebuah bisnis, sehingga kesempatan berkarir dapat dilakukan di berbagai bidang, tanpa terkecuali di bidang perbankan," ujar Julie Anwar selaku Head of Human Capital Bank OCBC NISP menanggapi kesuksesan perhelatan Hack@ON 2022.
Sebagai informasi tambahan, pemenang ajang Hack@ON 2022 ini akan memperoleh hadiah menarik yang disediakan oleh penyelenggara. Bagi tiga finalis di atas tadi akan memperoleh total hadiah sebesar Rp 225 juta. Untuk tim Semboja akan mendapatkan hadiah sebesar Rp 100 juta, tim Async berhak memperoleh hadiah sebesar Rp 75 juta, dan terakhir tim Evellyn Verity Mesak berhak untuk mendapatkan hadiah uang tunai Rp 50 juta.
Selamat atas ketiga finalis Hack@ON 2022 persembahan Bank OCBC NISP dan DailySocial.id. Sangat menarik untuk bersama kita nantikan perwujudan inovasi yang lahir dari ajang Hack@ON 2022. Sampai jumpa di perhelatan berikutnya!
Are you sure to continue this transaction?
processing your transaction....