Inilah Tiga Pemenang Finhacks 2017 #Codescape
Finhacks 2017 telah melahirkan tiga aplikasi inovatif yang membantu gaya hidup nasabah perbankan.
Setelah melalui berbagai rangkaian acara mulai dari Meetup Jakarta dan Mini Finhacks di tiga kota (Surabaya, Yogyakarta, Bandung), Finhacks 2017 #Codescape telah mendapatkan tiga aplikasi inovatif dalam gelaran final pada 26 - 27 Agustus 2017 di BCA Learning Institute, Sentul, Bogor.
Acungan jempol layak diberikan kepada para peserta di puncak ajang Finhacks 2017 #Codescape. Selama dua hari satu malam, sebanyak 60 tim berkumpul dan merealisasikan ide aplikasi yang mudah, aman dan menyenangkan bagi gaya hidup nasabah sehari-hari.
Hasilnya, aplikasi QuickTap dari tim Astaghfirullah keluar sebagai juara pertama dan berhak atas hadiah berupa uang tunai sebesar Rp 60 juta beserta MacBook Pro OLED Display Retina. Sedangkan juara kedua jatuh kepada tim Linksoft dengan aplikasi Kallet (KTP e-wallet) dan berhak atas hadiah uang tunai sebesar Rp 40 juta beserta MSI Gaming Notebook. Tim YadaYada dengan aplikasi SmartDocs menjadi juara tiga dan berhak atas hadiah uang tunai sebesar Rp 20 juta beserta Ricoh Theta S 360 Degree.
Finhacks 2017 #Codescape ini dihadiri oleh top management BCA antara lain Presiden Direktur BCA Jahja Setiaatmadja, Wakil Direktur BCA Armand W. Hartono, Direktur BCA Santoso, Direktur BCA Lianawaty Suwono dan Senior Executive Vice President Strategic Information Technology BCA Hermawan Thendean.
Selain itu hadir pula CEO & Founder DailySocial Rama Mamuaya, COO & CTO Kaskus On Lee, CEO Biznet GIO Dondy Bappedyanto, CTO Bizzy.co.id Norman Sasono, CTO Tiket.com Natali Ardianto dan CTO Pinjam.co.id Sofian Hadiwijaya yang terlibat sebagai dewan juri.
Finhacks 2017 #Codescape berhasil mengundang antusiasme para developer dan praktisi TI, terbukti dengan 685 ide inovasi aplikasi digital banking yang terkumpul dan total 60 tim yang terpilih untuk berkompetisi pada acara puncak Finhacks 2017.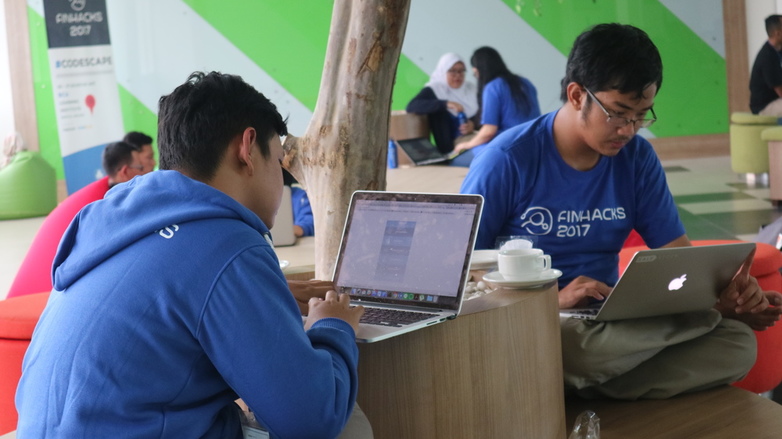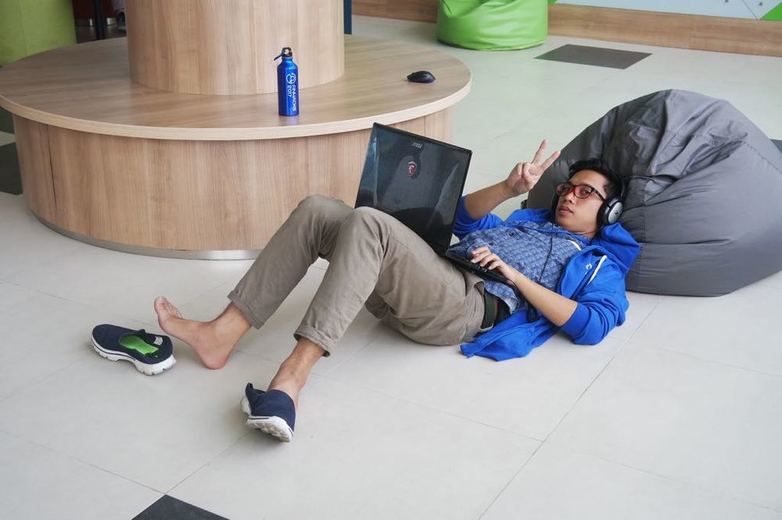 Esensi dari istilah #Codescape terasa hadir di BCA Learning Institute saat itu. Sembari ngoding mengembangkan ide inovasinya (code), para finalis Finhacks 2017 menyegarkan diri mereka dari rutinitas harian mereka (escape). Mereka terlihat bersenang-senang di tengah kolaborasi yang mereka lakukan dengan tim untuk memenangkan kompetisi, yang ditemani suasana hijau Sentul, Bogor.
"Melalui Finhacks 2017 #Codescape, kami ingin merangsang ide, kreativitas, dan inovasi para developer dan praktisi Teknologi Informasi dalam menciptakan aplikasi digital banking yang sesuai gaya hidup nasabah dan menjawab kebutuhan sistem pembayaran yang modern menggunakan teknologi terkini. Penyelenggaraan Finhacks #Codescape 2017 ini sejalan dengan misi perseroan yang ingin senantiasa hadir memenuhi kebutuhan nasabah dengan layanan perbankan yang mudah, aman, dan menyenangkan menggunakan Internet of Things yang sehari-hari digunakan," ujar Jahja Setiaatmadja, Presiden Direktur BCA.
-
Disclosure: Artikel ini adalah advertorial untuk rangkaian acara Finhacks 2017 #Codescape, yang didukung oleh BCA.
Are you sure to continue this transaction?
processing your transaction....