Sejumlah Inovasi untuk O2O Lazada Diperkenalkan di "LazMall Brand Future Forum"
Fitur yang dirangkum dalam Super Solutions ditujukan untuk membantu brand dan seller meningkatkan penjualan
Prayogo Ryza - 22 March 2019
Tahun ini Lazada genap berusia 7 tahun. Dalam rangkaian perayaan ulang tahunnya, mereka menggelar acara bertajuk "Lazada Brand Future Forum". Dalam acara tersebut pihak Lazada mengumumkan beberapa terobosan baru untuk LazMall, konsep O2O (Online to Offline) mereka, berserta kembali menegaskan visi dan misinya di pasar Asia Tenggara.
Di tahun 2019 ini Lazada menawarkan sejumlah solusi yang terangkum dalam "Super Solutions". Tujuannya untuk mengatasi tiga tantangan yang kerap dihadapi oleh brand dan seller yakni branding, pemasaran, dan penjualan. Super Solutions ini sengaja dikembangkan untuk seluruh brand dan seller LazMall, tidak memandang besar kecilnya usaha yang digeluti sehingga mereka bisa sama-sama bersaing di persaingan di pasar e-commerce yang semakin ketat. Semuanya bisa dijumpai dalam fitur LazMall yang diluncurkan Lazada tahun lalu.
"Tidak ada seller yang terlalu kecil untuk bercita-cita dan tidak ada brand yang terlalu besar untuk menjadi Super eBusiness. Itulah sebabnya kai sangat senang dapat meluncurkan Super Solutions yang membantu brand dan seller kami menjadi lebih gesit dalam mendigitalkan bisnis mereka dan menjangkau pelanggan dengan lebih baik," ujar CEO Lazada Group Pierre Poignant.
Super Solutions yang ditawarkan Lazada meliputi fitur-fitur baru seperti Store Builder yang memungkinkan brand dan seller membuat halaman/etalase yang disesuaikan dengan brand identity masing-masing. Fitur yang terlihat sederhana tetapi penting karena mampu menguatkan indentitas brand yang berperan menjaga loyalitas pengguna.
Lazada juga memperkenalkan Seller Pick, yang memungkinkan brand dan seller memiluh sendiri produk apa yang ingin dipromosikan kepada konsumen dan Golden Slot, sebuah fitur yang memungkinkan toko LazMall atau produk di LazMall muncul dalam pencarian teratas. Tak hanya itu Lazada juga akan memanfaatkan teknologi dari Alibaba untuk menghadirkan permainan, news feed, dan in-app live streaming yang diharpkan bisa meningkatkan konsumen engagement.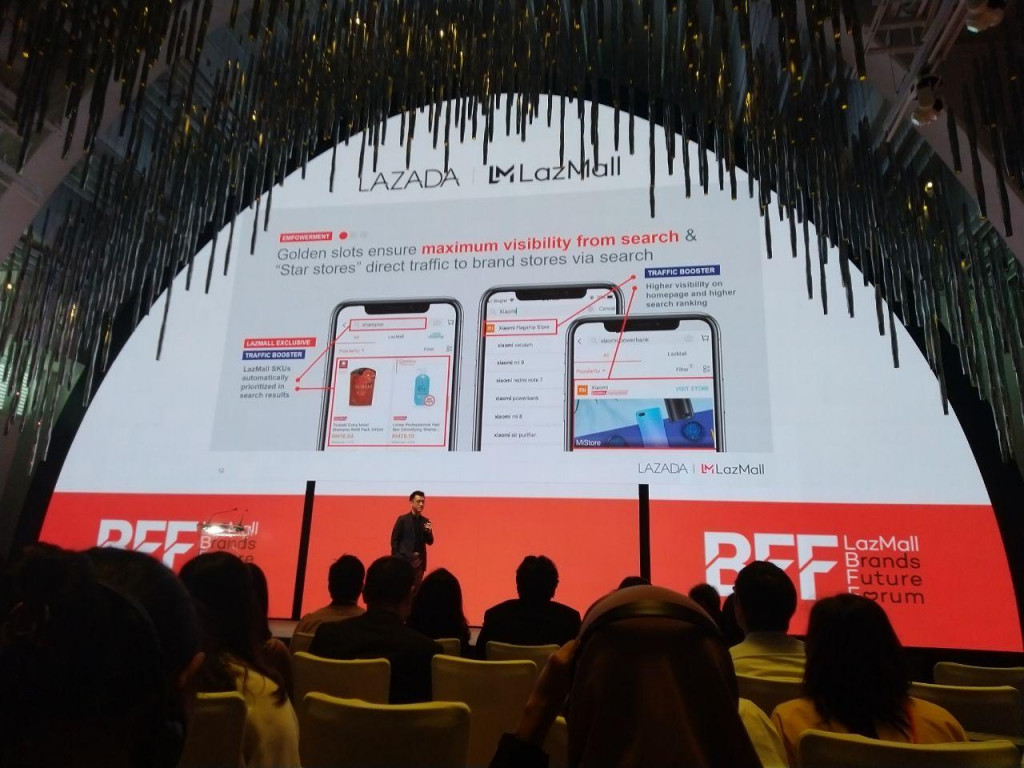 "Didukung oleh teknologi dan infrastruktur logistik Alibaba, selama setahun terakhir Lazada telah meluncurkan inovasi teknologi terdepan di industri seperti fungsi pencarian gambar, gim-gim yang melibatkan konsumen dan in app live streaming untuk menjadi satu-satunya platform Shoppertainment, di mana pelanggan dapat menonton, berbelanja, dan bermain," tutur Poignant
Selain itu Lazada juga memperkenalkan LazMall Guarantee, untuk meningkatkan pengalaman dan kepercayaan pembeli terhadap brand. Ada juga LazMall Self Sign-Up yang memungkinkan setiap brand mendaftar dan menawarkan barang mereka di LazMall. Tujuannya adalah untuk memberikan kesempatan bagi segmen usaha kecil menengah untuk berkompetisi secara global.
"Sejak LazMall diluncurkan pada 2018, kami telah melihat pertumbuhan yang luar biasa pada berbagai mitra brand utama kami. Kami ingin memperluas manfaat LazMall bagi lebih banyak lagi brand dan seller untuk mengangkat usaha e-commerce mereka. Kami ingin melatih dan mengembangkan mereka sehingga mereka dapat tumbuh bersama kami dan menjadi eBusinesses yang sukses dan berkelanjutan," tutur President Lazada GroupJing Yin.
Application Information Will Show Up Here
Are you sure to continue this transaction?
processing your transaction....