Intel Luncurkan Reference Laptop Bernama NUC M15
Ditujukan untuk pabrikan yang namanya belum sebesar HP, Dell, maupun sejumlah brand lainnya
Glenn Kaonang - 23 November 2020
Sebagian besar populasi dunia mengenal Intel sebagai produsen prosesor. Namun sebagian dari kita juga tahu bahwa mereka punya lini PC desktop mini bernama NUC (Next Unit of Computing), dan sekarang lini tersebut rupanya juga mencakup sebuah laptop.
Dijuluki Intel NUC M15, laptop ini dirancang untuk menjadi referensi desain bagi sejumlah pabrikan kecil, pabrikan yang pengalamannya belum sepanjang HP atau Dell di industri ini. Dengan kata lain, Intel tidak berniat menjual laptop ini ke konsumen secara langsung, melainkan memasoknya ke brand-brand seperti Maingear, Schenker, maupun XPG (sub-brand Adata).
Intel menawarkan dua konfigurasi untuk NUC M15: satu dengan prosesor Core i5-1135G7 dan RAM 8 GB, satu lagi dengan Core i7-1165G7 dan RAM 16 GB. Berhubung ini merupakan prosesor Intel generasi ke-11, GPU yang digunakan juga adalah GPU terintegrasi Intel Iris Xe yang jauh lebih mumpuni daripada sebelumnya.
Untuk storage-nya, semua tergantung masing-masing pabrikan yang berniat memakai NUC M15 sebagai referensi, tapi yang pasti tipenya adalah M.2 NVMe. Kedua varian NUC M15 sama-sama dibekali baterai berkapasitas 73 Wh yang diyakini mampu bertahan sampai sekitar 16 jam pemakaian.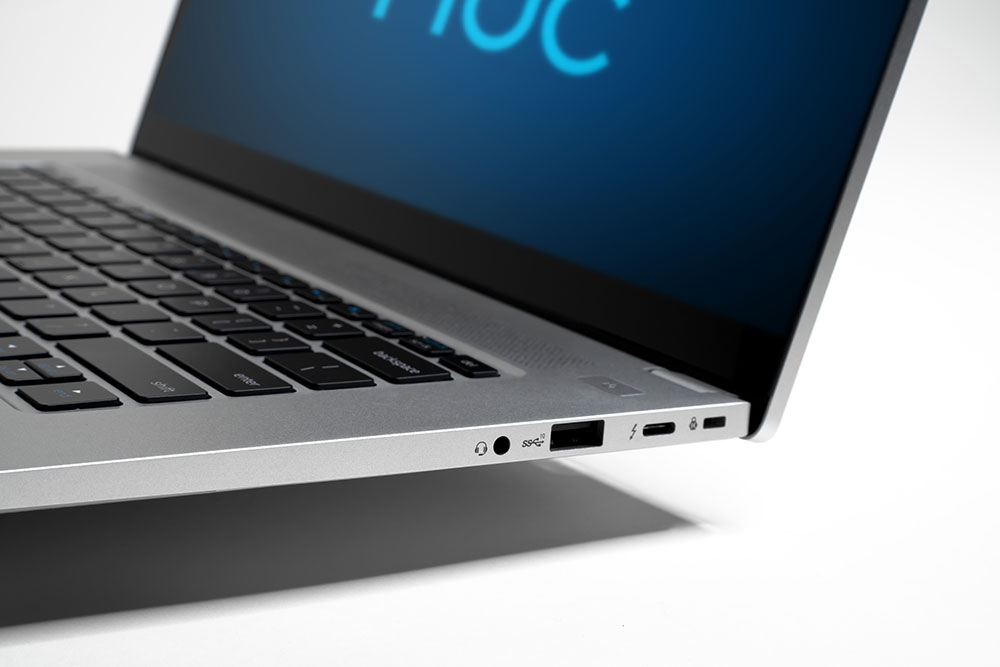 Sesuai namanya, M15 punya layar berukuran 15,6 inci, dengan resolusi 1080p dan opsi untuk menyematkan panel sentuh. Kalau melihat spesifikasinya, NUC M15 tidak jauh berbeda dari deretan laptop anyar yang dirilis oleh pabrikan seperti HP, Dell, Acer, Asus, atau Lenovo. Meski demikian, ukuran layarnya semestinya bisa menjadi daya tarik tersendiri di tengah-tengah laptop berukuran 13 atau 14 inci dari pabrikan-pabrikan besar itu tadi.
Secara fisik, M15 mengemas rangka aluminium unibody dengan tebal 14,9 mm dan berat 1,65 kg. Dimensinya boleh dibilang cukup ringkas, akan tetapi Intel memastikan bahwa M15 tetap melimpah perihal konektivitas; selain sepasang port USB standar, terdapat sepasang port USB-C (Thunderbolt 4) yang bisa digunakan untuk charging, serta sebuah port HDMI dan jack headphone standar.
Desain M15 secara keseluruhan mungkin terkesan terlalu generik, namun Intel tidak lupa membubuhkan sejumlah sentuhan manis, seperti misalnya sebuah indikator LED yang berada persis di bawah trackpad. Indikator ini bakal menyala biru ketika pengguna memanggil asisten virtual Alexa, persis seperti saat mereka menggunakan smart speaker Amazon Echo.
Untuk harganya, tentu saja keputusan ada di tangan masing-masing pabrikan, akan tetapi Intel memperkirakan harga NUC M15 ada di kisaran $999 sampai $1.499. Ini bukan pertama kalinya Intel menerapkan strategi serupa. Tahun lalu, mereka juga sempat merilis reference laptop lain bernama MAG 15 yang ditujukan untuk segmen gaming.
Sumber: The Verge dan Tom's Hardware.
Are you sure to continue this transaction?
processing your transaction....