Introducing Rupiah Token as a Stablecoin to Represent Rupiah
One Rupiah Token equals Rp1,-
Randi Eka - 15 May 2020
Rupiah Token (IDRT) is an Ethereum blockchain-based token with a value reflecting Rupiah. It is classified stable, which is a crypto asset with stable value - in this case, 1 to 1 value with the Rupiah. The value of 1 IDRT equal to Rp1, - both in purchases and sales.
In terms of each IDRT issued and circulating, PT Rupiah Token Indonesia (Rupiah Token) as the manager is required to add deposits in Rupiah to the custodian bank account. According to the audit report issued as of May 1, 2020, the total Rupiah Token in circulation has reached 72.7 billion with guarantees of the same value in Rupiah.
"Although there are lots of stablecoin circulating the crypto world, there is not a single Rupiah stablecoin on the blockchain [...] We aim to provide Indonesia with a safe and easy way for crypto trading using Rupiah in the blockchain on global exchanges," Rupiah Token's Anthony Thio explained.
The practice of StableCoin has actually been applied by many developers. For example in Singapore, there are Digix coins (DGC) supported by gold reserves, so 1 DGX is always equal to 1 gram of gold.
To date, IDRT has been channeled to dozens of exchange and crypto-wallet platforms; including the Binance, UPbit, PundiX, Zipmex, and TrustWallet portals.
In terms of IDRT, Zipmex's Co-founder & CEO, Marcus Lim said, "We are starting to see changes in the Asian economy related to the acceptance of digital and stable currencies. As China is preparing to launch its central bank's digital currency (e-RMB), we will see this trend spreading in Southeast Asia [...] Placing coins in Rupiah and bringing to all our markets a new foreign exchange service for the public. "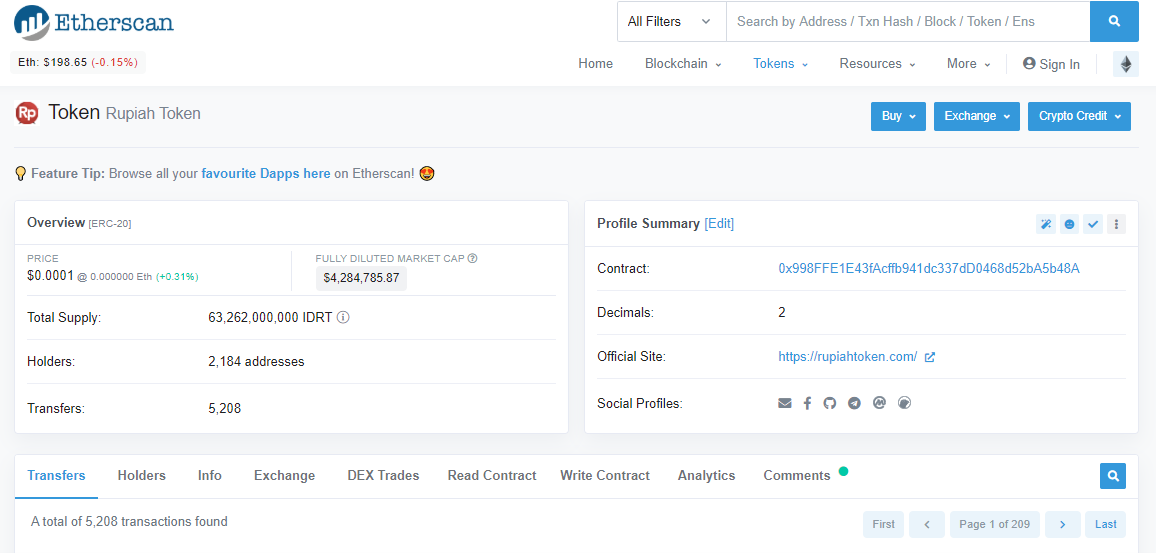 Highly Confident with cryptocurrency
Jeth Soetoyo is the Founder & CEO of RupiahToken, he is also the founder of a mobile application called Pintu which is designed for users in Indonesia in conducting cryptocurrency transactions.
In his discussion with the DailySocial team, Jeth expressed his opinion on the current trends in crypto assets. As for him, timing is important in market penetration. Moreover, people are getting interested in Bitcoin, when all expect a significant increase in its value.
He said, crypto-assets basically have proven to function well as alternative assets. He saw the resilience of Bitcoin several times recently as a value storage asset. Exemplified when several countries in South America which currencies have experienced massive inflation in recent years, the adoption of Bitcoin is very high there.
"I cannot predict the future of our own currency, but when the government issues debt at interest rates close to 0 it provides a strong potential scenario for high inflation. Usually, during this time (eg in the 1930s and 1970s) there is a tendency for interest shifting towards 'hard currencies' such as gold," Jeth said.
Jeth continued, "This year, Bitcoin is the best performing asset compared to other asset classes (including gold, equity, bonds, etc.). I believe that macro conditions now guarantee to see more of Bitcoin. I believe this did not happen in 2017 and there is no real reason for people to see Bitcoin with a more critical eye until now. "
Is it capable to increase crypto penetration?
Indonesian Blockchain Association's Supervisory Board, Steven Suhadi told DailySocial on his views. Personally, he is unsure about stablecoin, such as IDRT will increase people's enthusiasm for crypto investment. However, it might be useful to get people accustomed to the workings of cryptocurrencies, on how they are easily transferred, etc.
"Stable coins can provide a glimpse of view to the public, business, and government on blockchain-based digital currencies (also known as central bank digital currencies - CBDC)," he said.
He also emphasized that every bank entering the Indonesian market must comply with relevant government regulations, especially from BI and OJK.
– Original article is in Indonesian, translated by Kristin Siagian
Application Information Will Show Up Here