JD.id Sets Focus on the On-Demand Service Through JD Life
There are 12 categories, from installation, maintenance, to cleaning service
JD.id has entered the on-demand business through its latest unit, JD Life. There are 12 service categories in total, providing a variety of features to help with everyday life, from installation, maintenance, to cleaning services.
To order these services, users can use the JD.id website or application. All services are included in the JD Life category. The ordering process is similar to ordering any goods in general. After making a payment, the JD Life team or designated service provider partners will contact the customer in a maximum of 48 hours after that.
JD Life Head Operations Ryan Sebastian told DailySocial, "The range of JD Life services depends on each category, but currently, almost all major cities in Indonesia can order and enjoy JD Life services."
Regarding partners, Ryan also explained that JD Life collaborates with certain companies that provide services to perform some services. There are no further details of the partner companies. It is expected that the JD Life feature can be an extra value for them.
"Through JD Life's agreements with various national to multinational companies which also experts in their fields, we can ensure that our service standards and quality are always well standardized and professional," he added.
JD Life alone has actually been operated since 2019, he said, his team is optimistic that by the end of the year they can serve 35 thousand users' demand.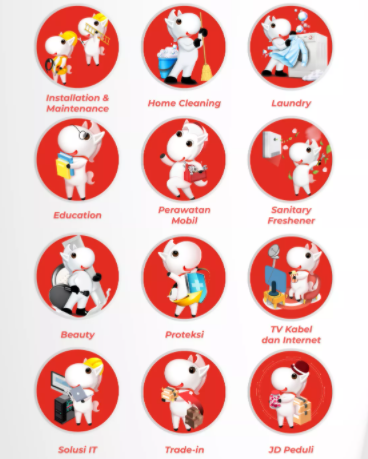 On-demand is not the latest innovation
Analyzing the past few years, on-demand services that facilitate people to order AC maintenance services, cleaning services, to laundry services have actually started to rise since the 2016s. The on-demand model was adapted and extended after Gojek, Grab, Seekmi, and several other players managed to achieve a market-fit product, aka being accepted by the market.
At that time, various applications appeared, starting from Tukang, Otomontir, Masto, ApotikAntar, KlikTukang, and others. Even startups in rural areas were trying to work on local markets around the area, for example, Tripy and Ponjek in Pontianak; or Yoofix and Hipcar in Yogyakarta. Until the last few months, there were still new players emerging, for example, Help Indonesia, D-Laundry, Sneakershoot, and HepiCar.
On the other hand, GoLife as part of Gojek's business unit in related fields was discontinued this year. They chose to deepen their core business and explore other businesses, such as ticketing, fintech, and video streaming. This means that there are dynamics - or even market changes - that have occurred, therefore, that it is considered less promising to continue, at least according to Gojek.
Responding to this, Ryan said that during this pandemic his company found an increase in interest in using related services.
"The fulfillment of the need for services is still very high during this pandemic period. Therefore, during this pandemic, JD Life focused on ensuring the provision of safe and comfortable services for our customers and service providers. On the other hand, we have also compiled a number of strategies and collaborations to enlarge and expand the scope of JD Life services," Ryan said.
D-Laundry's CEO Ridhwan Basalamah has a similar opinion, the impact of the pandemic can also be seen as an opportunity for on-demand services. He said, "The concern about Covid-19 infection has made people pay more attention to cleanliness, one of which is clothes, this should be used by laundry businessmen as a momentum to promote safe and comfortable services to the community."
–Original article is in Indonesian, translated by Kristin Siagian
Are you sure to continue this transaction?
processing your transaction....