JNE Luncurkan Aplikasi My JNE untuk Mudahkan Pengguna Pantau Kiriman
Sudah tersedia untuk platform Android, juga memiliki fitur pengecekan tarif dan pencarian kantor JNE terdekat
Aplikasi mobile merupakan salah satu cara yang bisa mendekatkan sebuah layanan dengan penggunanya. Selain penetrasi gawai yang cukup tinggi di Indonesia, aplikasi mobile bisa membawa sejumlah kemudahan dalam genggaman pengguna. JNE, sebagai salah satu pilihan layanan logistik baru saja meluncurkan aplikasi mobile mereka, My JNE.
Aplikasi My JNE sengaja dihadirkan JNE untuk memberikan pengalaman berbeda bagi penggunanya. Sekarang melalui aplikasi My JNE pengguna tidak perlu lagi mengakses situs JNE hanya untuk mengetahui informasi tarif pengiriman atau status pengiriman mereka.
"Kerena sekarang sudah era digital, untuk membantu serta memudahkan para pedagang maupun konsumen yang belanja online, salah satu cara yang akan digunakan, yakni menghadirkan aplikasi mobile. Aplikasi tersebut akan diberi nama My JNE, dan akan di-publish ke masyarakat dalam waktu dekat," ungkap VP of Marketing JNE Eri Palgunadi.
Saat ini aplikasi My JNE saat ini baru tersedia untuk gawai yang berjalan di atas platform Android. Namun Eri mengungkapkan bahwa My JNE juga akan hadir untuk gawai ber-platform iOS.
Lebih dekat dengan aplikasi My JNE
Seperti diungkapkan Eri, aplikasi My JNE memiliki semua fitur-fitur yang ada di situs JNE meliputi pengecekan tarif, pengecekan kiriman, mencari kantor JNE terdekat, dan fitur My COD bagi mereka yang ingin menjadikan JNE sebagai media pembayaran transaksi e-commerce.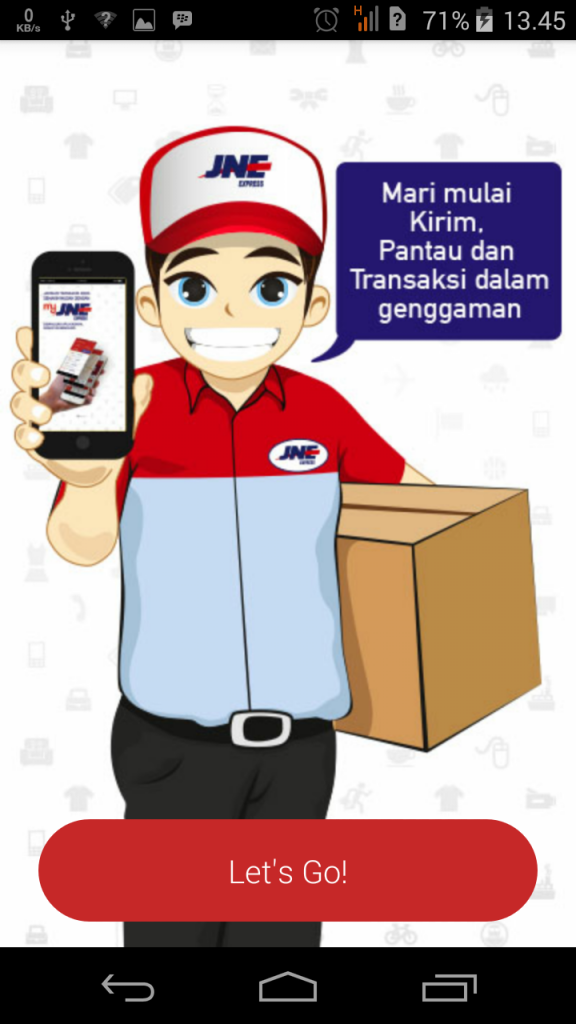 Selain fitur My COD dan My COD Wallet, semua fitur tidak mengharuskan pengguna masuk menggunakan nomor telepon dan kata sandi. Fitur-fitur seperti pengecekan tarif, kiriman dan mencari kantor JNE terdekat bekerja dengan baik. Untuk fitur My COD dan My COD Wallet belum kami coba karena mengharuskan adanya transaksi.
Dari segi desain My JNE cukup sederhana namun "eye catching". Didominasi warna merah, tata letak fitur-fitur pun terasa nyaman karena selalu di tampilkan di bawah layar. Di bagian atas fitur pengecekan tarif dan harga juga terdapat banner berisi informasi dan iklan dari JNE. Satu lagi yang mungkin bisa menjadikan aplikasi ini ramai digunakan adalah pengecekan tarif dan nomor resi cukup cepat dibandingkan dengan versi situsnya.
Application Information Will Show Up Here
Are you sure to continue this transaction?
processing your transaction....