English
Jogja's Sate Ratu Uses Online Channels to Acquire Tourists
Using social media and tourist review websites for medium promotion
Was established in 2015, the name "Sate Ratu" is now associated with other 'legend' culinary destinations in Yogyakarta, targeting foreign tourists. It's not an instant growth; with various perfectly-mixed satay seasonings, the business strategy is also well planned. We've come to the conclusion after talking with the culinary business owner, Fabian Budi Seputro.
He told DailySocial that he first started the business by optimizing online channels for promotion. Social media such as Instagram, Facebook, Twitter until recently launched a website; managed to introduce its products to potential buyers. In addition, a good relationship with consumers also helps Sate Ratu to get more impressions on the internet.
Online presence
Online presence (online presence) is a must for business, as Seputro said. It's not without reason, quite basic, because society trends are shifting. Search engines and social media have become a space where people ask questions. We might do so when planning a vacation to a city, the first thing is to googling about unique places, delicious culinary, and other things in there.
The digital strategy is not only about displaying product photos or videos online. There is a direct interaction with customers, in order to encourage them to make a review of their visit.
"When tourists come to Sate Ratu, I usually talk to them, sometimes they also document their presence and said their impressions of our cuisine. I sometimes ask them to give testimonials, through TripAdvisor," Seputro explained.
TripAdvisor is a travel directory site that covers global markets, becoming a reference for tourists from home and abroad in search of information about recommended objects by users.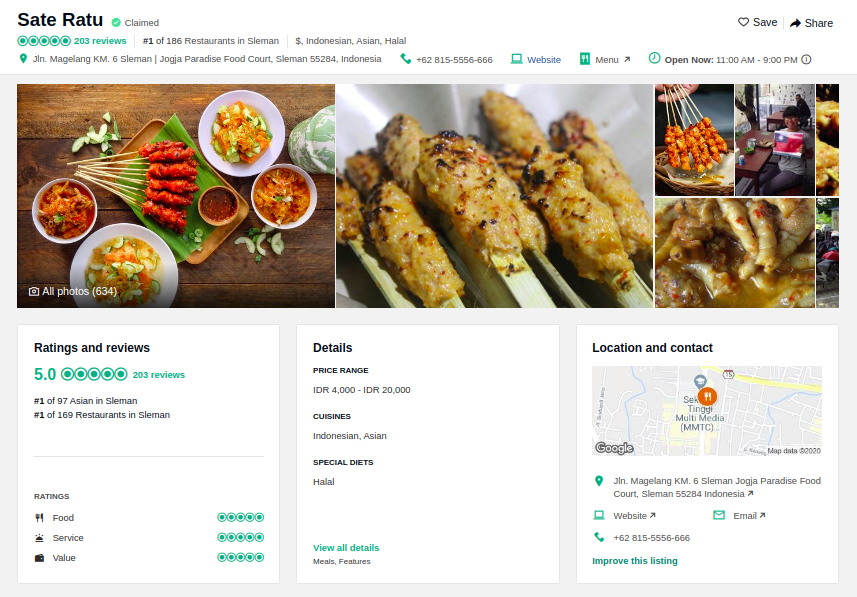 "Our location may not be so near to a crowd of foreign tourists like the Prawirotaman area in Yogyakarta, however, we are located on the main road where tourists will pass when going to the most popular attractions. Therefore, our detailed information is quite important on the internet - there is a chance for our place to be visited," he added.
Require research and data
Sate Ratu have no specific social media or digital marketing team, the existing accounts are simply managed by Budi. He also admitted to investing several times in promotions through Google Ads, though not in a large sum.
"I use Google Ads sometimes, usually for a specific target of international tourists. When there is a crowd of Singaporean tourists attending certain events, I'll target the advertising there. The results were effective in helping Sate Ratu to be seen," Seputro said.
In order for the investment wasted and misdirected, Budi must actively find the appropriate data. He must do some research to find moments in Yogyakarta which brings more tourists from abroad.
He also archived photos from tourists who stopped by his shop in its Instagram account. Currently, if you look at @sateratu, there are story-highlights illustrating a particular country's flag that contains photos and videos of the Sate Ratu reviewer from such countries. There are the United States, Venezuela, the Philippines, Germany, the Netherlands, and many others.
"Digital media is very effective in helping businesses expand - in the sense of reaching potential customers from a wider area," he added.
Strategy for business diversification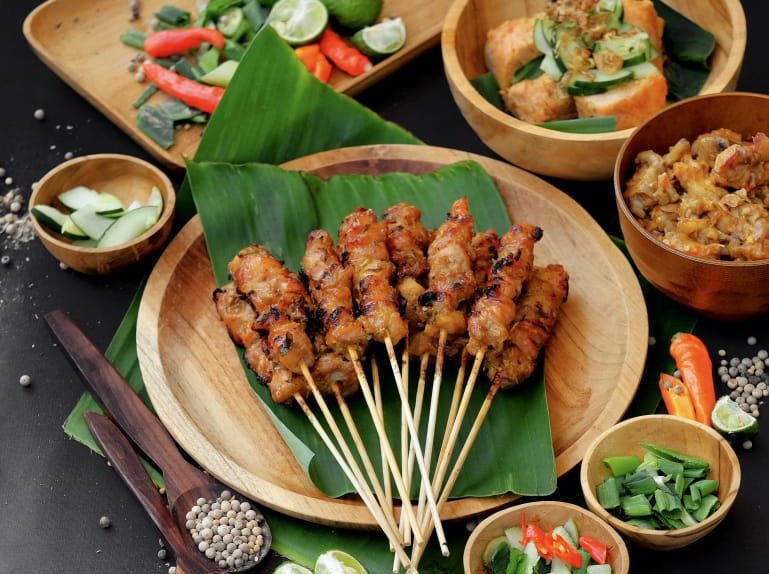 In fact, there are many satay sellers around Yogyakarta, moreover, especially the signature dish like Sate Klathak. Seputro also tried to present a product with a unique blend. He thought unique selling points like this are important for a business, especially the newcomers.
If the culinary products with a long time history can rely on mouth marketing for its popularity, the new players will have to struggle to introduce their products. Sometimes, unique and delicious dishes might not sell in the market without good marketing and business traction.
The use of digital channels is Sate Ratu's way to popularize its business products. Especially, since they're targeting a niche tourist,  although it's not limited for domestic tourists.
"Initially, the online promotion brought tourists to Sate Ratu, since then, we build interactions that made visitors increase our online presence. They post and give a review. Currently, reviews or posts from visitors are used for promotion, to be posted in other media," Budi said.
Although without any exact figures, Sate Ratu is regularly visited by hundreds of foreign tourists every month.
- This article is a part of the New Economy initiative. DailySocial is currently reporting on success stories of SMEs or non-technology businesses that capable to leverage growth through digital channels. Do you have some stories on the New Economy initiative? Feel free to share it with randi@dailysocial.id.
Original article is in Indonesian, translated by Kristin Siagian
Are you sure to continue this transaction?
processing your transaction....