Jojonomic Raises Advance Funding Led by Finch Capital
Focused on developing and completing product ecosystem
A startup of SaaS developer for business management, Jojonomic, today (1/21) announced an advanced funding. The value is still undisclosed. It was led by Finch Capital, supported by the previous investors, East Ventures and Golden Gate Ventures.
The main focus is to complete business solution ecosystem, make it easier to integrate data, expand customer base, and develop an advanced machine learning technology. Jojonomic will collaborate with Finch Capital in financial technology and international network to support business and product development.
Finch Capital is a venture capital that focuses on providing fund for startup. They've acquired customer base in Jakarta with main focus on startup providing innovation for transformation in financial sector.
"Seven hundred thousand SMEs in Indonesia are facing difficulty in manual financial management resulting ineffective business process. It's impactful for wasting time, difficulty in planning and financial management. Jojonomic handled this issue by providing business management platform and fund. This business model has been successfully implemented by US and European companies," Hans De Back, Finch Capital's Partner, which soon to join Jojonomic's board.
Since the establishment, Jojonomic has known in B2B sector by its JojoExpense solution, mobile expense management system service. Through the first solution, Jojonomic has supported professionals to achieve purposeful work with automation and to boost manual monitoring process, such as financial report.
Aside from JojoExpense, Jojonomic is currently producing other products, in order to improve employees performance (JojoTimes), manage company's procurement (JojoProcure), create cashless ecosystem (JojoCashCard), and handle digital document with easier approval.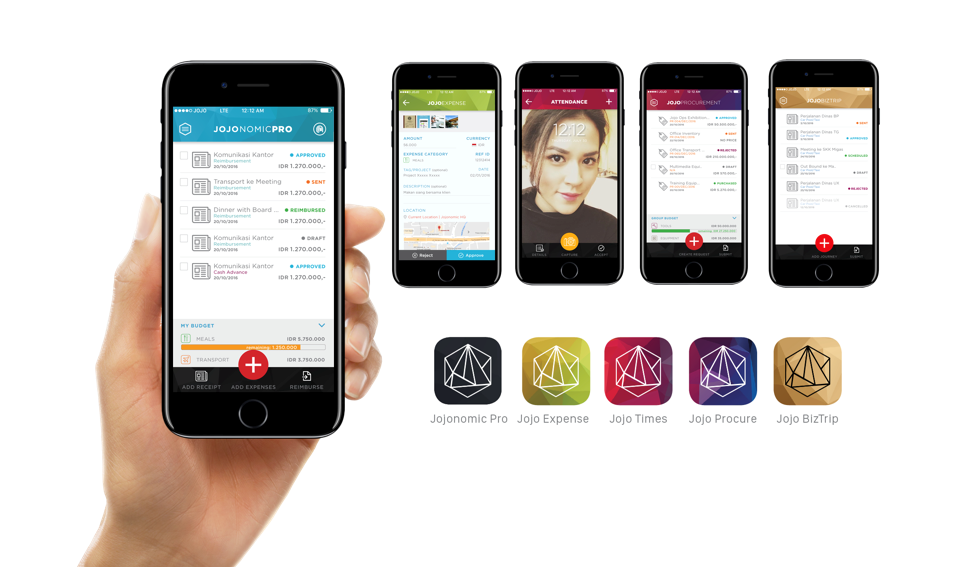 All those solutions are connected into one integrated platform (JojonomicPro) designed to change the company's working habit in managing business financial and employees productivity.
"By using Jojonomic, employees are to improve productivity quality and focus on their main job, the rest of administration process will be handled in our platform. We're very excited with investor support to achieve our mission to make people on earth working passionately and happy," Indrasto Budisantoso (Asto), Jojonomic's Founder & CEO explained.
Seeing many global services previously used by the company, Jojonomic create its product to be compatible with other platforms, such as SAP, Oracle, Microsoft Xero, and OpenBravo. Currently, Jojonomic app system has connected with five major banks in Indonesia to facilitate payment system and reimbursement, provide a complete financial management solution.
Jojonomic has acquired dozens of active users and supported companies and corporates in various sector, from technology unicorn to the Indonesian biggest gas and oil company.
Willson Cuaca, Managing Partner East Venture added, "We've been a loyal supporter of Asto and Jojonomic team since day one, and they're continue to prove the execution and agility skills answering product market fit with diversification from SMEs to corporate. The funding is our confidence collateral to Jojonomic for them to achieve their mission.
– Original article is in Indonesian, translated by Kristin Siagian
Application Information Will Show Up Here
Are you sure to continue this transaction?
processing your transaction....