KlikTeknik Focus on Selling Engineering and Industry Equipment
A succession of existing offline business
The potential of E-commerce is still being explored, one of the idea is by targeting specific niche, like KlikTeknik. KlikTeknik is an e-commerce service which provides technical and industrial equipment. The portal targets individuals (B2C) as well as corporations (B2B) in finding tools and equipment for various industries and businesses by reliable suppliers.
"KlikTeknik provides a variety of machine, tools, and heavy equipment, particularly for agriculture, lumber, garage, construction, and home supply," said Steven Bernardi Koentono, KlikTeknik's CEO and Founder.
likTeknik has two mechanisms. First, to sell the goods directly from the warehouse - KlikTeknik is currently operating offline store because it is still considered important in technical and industrial equipment shopping. Second, KlikTeknik connects customers with goods and sent directly by partnered suppliers / importers / agents.
Succession of traditional sales business process
KlikTeknik was founded in 2015 by Koentono. The journey begins from continuing parents business engaged in engineering and industrial tools in Central Java (offline stores). Before deciding to create an online channel, Koentono conducted a consumer survey, resulting in many of (other) regional consumers face difficulties in finding the spare part needed due to limited stock in their area with unreasonable price.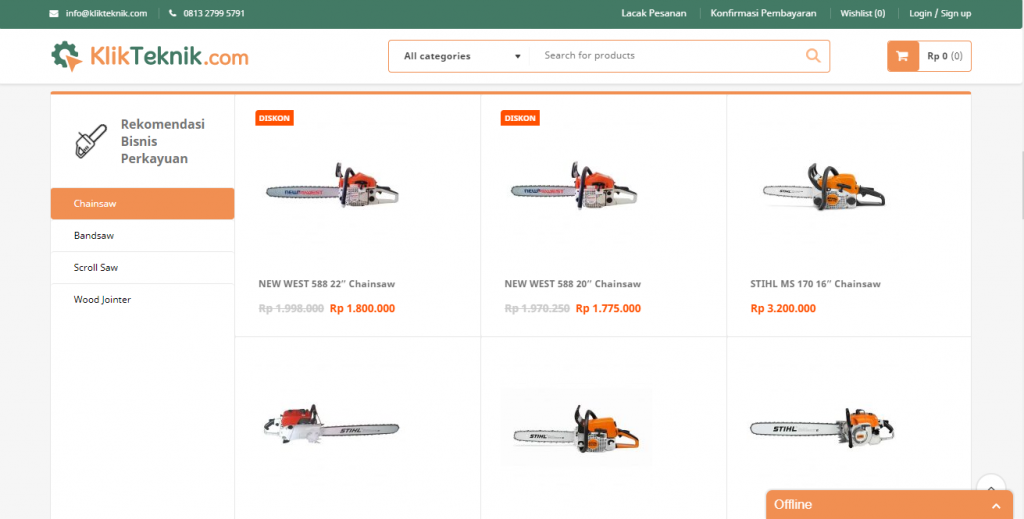 One of KlikTeknik pages
Before an actual jump into its own site, Steven tried to sell spare parts in Tokopedia. In a few months, he gets positive feedback and understands the problems and limitations for consumers to meet the needs of spare parts in the physical store.
"I developed KlikTeknik aiming in providing consumer with access to find any kinds of engineering and industrial tools from various agents / importers / principals and making it easer for consumers to shop online," Koentono said.
KlikTeknik has been handling over at least 70,000 customer, business and individual, per month, with the amount of 500 transactions for average. KlikTeknik.com has become trusted partner of PT KUBOTA Indonesia to be a sole distributor for its online marketing products.
"In the future, we plan to develop mobile application to facilitate consumers in accessing and shopping at KlikTeknik.com. We also plan to work with payment providers, banks, retailers, and government agencies such as cooperatives in providing practical and reliable payment services to reach more consumers," Koentono added.
- Original article is in Indonesian, translated by Kristin Siagian
Are you sure to continue this transaction?
processing your transaction....