Lewat Situs Twitch 2015 Retrospective, Twitch Beberkan Perkembangan Pesatnya
Lebih dari 550 ribu penonton aktif secara bersamaan, menghabiskan 421 menit setiap bulannya
Glenn Kaonang - 12 February 2016
Berawal dari sebuah situs bernama Justin.tv sampai akhirnya diakuisisi Amazon pada tahun 2014, Twitch merupakan salah satu revolusi paling fenomenal di sepanjang sejarah industri gaming. Situs livestreaming game ini juga berkontribusi besar dalam memopulerkan budaya dimana menonton orang bermain game itu tidak kalah asyik dibanding memainkan game itu sendiri.
Sebesar apakah Twitch sekarang? Baru-baru ini, perusahaan pimpinan CEO Emmett Shear itu merilis situs khusus berisikan ulasan perkembangannya selama tahun 2015. Secara total ada 241 miliar menit video yang di-stream, dengan rata-rata 1,7 juta broadcaster setiap bulannya dan 550 ribu penonton yang aktif secara bersamaan.
Menurut data yang dikumpulkan ComScore, Twitch juga terbukti lebih populer ketimbang YouTube di kalangan para gamer. Dirata-rata, penonton Twitch menghabiskan 421 menit setiap bulannya. Bandingkan dengan YouTube yang hanya 291 menit.
Twitch juga berandil besar dalam perkembangan industri esport. Terbukti dari tiga game yang paling banyak ditonton sepanjang tahun 2015, yakni League of Legends, Counter-Strike: Global Offensive dan Dota 2. Daftar 10 besar game terpopuler di Twitch ini diikuti oleh Hearthstone, Minecraft, H1Z1, Destiny, World of Tanks, World of Warcraft dan FIFA 15.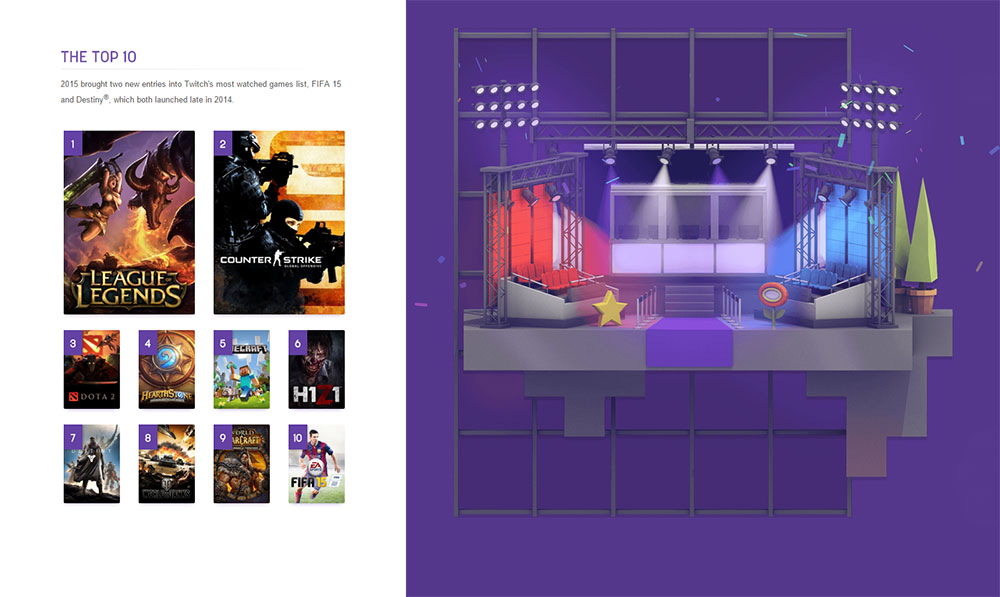 Sebaliknya, esport juga menjadi penyumbang view terbesar buat Twitch. Di bulan Agustus, tepatnya saat turnamen internasional CS:GO dan LoL berlangsung hampir bersamaan, ada lebih dari 2 juta penonton yang mengakses Twitch secara berbarengan. Dari sisi broadcaster, bulan November adalah puncaknya, dimana 35.610 orang menyiarkan video gaming-nya secara bersamaan.
Di saat yang sama, Twitch juga mengungkapkan fakta yang cukup mengejutkan, yakni bagaimana perangkat mobile juga berkontribusi besar atas pertumbuhan Twitch hingga di titik ini. Sepanjang tahun 2015, aplikasi mobile Twitch diunduh lebih dari 1 juta kali, dan 35 persen dari total penonton setiap bulannya mengakses lewat perangkat mobile.
Game mobile pun perlahan juga mulai mendulang popularitas di Twitch. Utamanya adalah Vainglory yang merupakan game berjenis MOBA untuk Android dan iOS. Sampai akhir Desember kemarin, lebih dari 4 juta menit dihabiskan pengguna Twitch untuk menonton game ini.
Prestasi Twitch ini mustahil dicapai tanpa pertumbuhan komunitas penggunanya yang terus meluas. Total ada lebih dari 9,1 miliar pesan yang dikirim di sepanjang tahun 2015, atau kalau dirata-rata, 17.446 pesan per menitnya.
Masih ada banyak informasi yang cukup menarik dari Twitch 2015 Retrospective ini. Kalau Anda tertarik, silakan kunjungi situsnya langsung.
Sumber: VentureBeat.