Lodi Adopts Cainiao's Concept to Increase Warehouse Utility through Technology
Currently fundraising for Series A worth of 68 billion Rupiah
Logistic startup industry is having a newcomer of fulfillment and last-mile delivery service named Lodi. Actually, Lodi has been established in late 2018 and began operating the next year.
Lodi offers a concept similar to Cainiao, Alibaba's giant logistic in China, of course, with more localized services.
Lodi's Managing Director, Zico Gosal explained, logistics players have been relied on heavy assets, having warehouses in several areas with its own fleet on running the business.
Meanwhile, not all their assets, warehouse, for example, possessed high utility. When it's empty, there's an overhead cost. This concept is not applicable in the digital technology era.
Therefore, the Cainiao concept with light asset and collaborative spirit with other logistics players in the fulfillment center, also the last-mile delivery, is more suitable for adoption.
"We're currently focused on expanding our warehouse location by looking for partners due to our goal to reduce logistics costs," he told DailySocial.
Lodi has been connected with fulfillment partners such as DB Schenker to provide a 10,500 square meters warehouse located in Marunda, North Jakarta using the shared user concept. Another warehouse is a 4 thousand square meters area located in Cawang.
DB Schenker is a global logistics player with more than 40 years of experience. Its entrance to the North Jakarta warehouse location brought high optimism for Lodi to attract more partners.
In that capacity, Zico claimed Lodi could accommodate 50 thousand orders every day. However, it's still on progress in order to be achieved.
Lodi's business model and user target
In addition to acquiring warehouse owners to rent their property to Lodi, the company also partners with logistics companies for last-mile delivery to consumers. The big names, such as JNE, SiCepat, Lion Parcel, and First Logistic.
Lodi is targeting users from brand owners, resellers, and sellers in the marketplace or social commerce platforms with over 100 daily order capacity. It's different with capacity under 100 orders. It's a condition where sellers still capable to handle using in-house.
Chief Commercial Officer, Dina Effendy added, from the current upper limit, they usually solve the problem by recruiting more people. Whereas, they should prioritize business development.
Lodi is here to offer a solution, for all their products to be entrusted and the entire shipping process will be handled directly by Lodi.
"Users can use the dashboard we provided to monitor the entire movement of incoming orders. All systems are integrated. When goods are stored in warehouses, they can immediately be restocked," Effendy added.
They did not mention how many sellers have used Lodi as an option for fulfillment. When the user find interest in Lodi's solution there is a contract system for a year.
Throughout this year, Lodi is to focus on adding the next warehouse location in Java. They targeting to have an additional 2 thousand square meter warehouse. Next year, they're going to expand to Sumatra and Sulawesi.
They're also to enhance warehouse functions, in order to store more complex products such as frozen food, chemicals, and medicines, for more users can use Lodi.
Lodi has secured seed funding from local investors with undisclosed value. These fresh funds were obtained in its initial stage. Zico admitted that the company is currently looking for series A funding worth of US$3 million to US$ 5 million (around Rp41 billion to Rp68 billion).
Lodi team now consists of 40 people, almost half of which were commercial teams.
"We have started a roadshow looking for investors, it is estimated for two to three more months to be announced," he explained.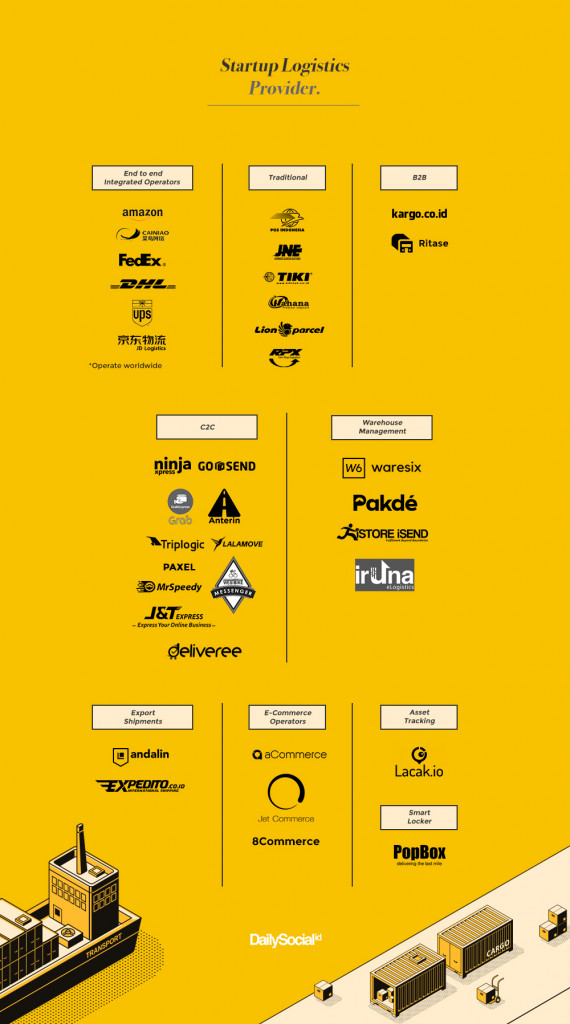 –Original article is in Indonesian, translated by Kristin Siagian
Are you sure to continue this transaction?
processing your transaction....