Loket Luncurkan "Loket Live", Mudahkan Pengelolaan dan Monetisasi Acara Online
Sebagai strategi menyambut "new normal" di industri hiburan
Pandemi tidak menghentikan startup teknologi pengembang layanan manajemen acara Loket untuk berinovasi. Fitur baru bertajuk "Loket Live" hari ini (19/5) diresmikan, memungkinkan para penyelenggara mengelola acara online mereka.
Di dalamnya sudah mencakup beberapa layanan, mengintegrasikan sistem manajemen tiket dan streaming video dengan dukungan teknologi GoPlay. Diharapkan dengan platform ini dapat membuat acara online yang diselenggarakan dapat dihelat secara profesional.
Loket Live juga sekaligus melengkapi layanan Loket bagi para event creator, mulai dari pembuatan konsep dan persiapan acara, pembuatan halaman event virtual, pendistribusian tiket, penyelenggaraan halaman streaming video, hingga analisis laporan setelah acara selesai.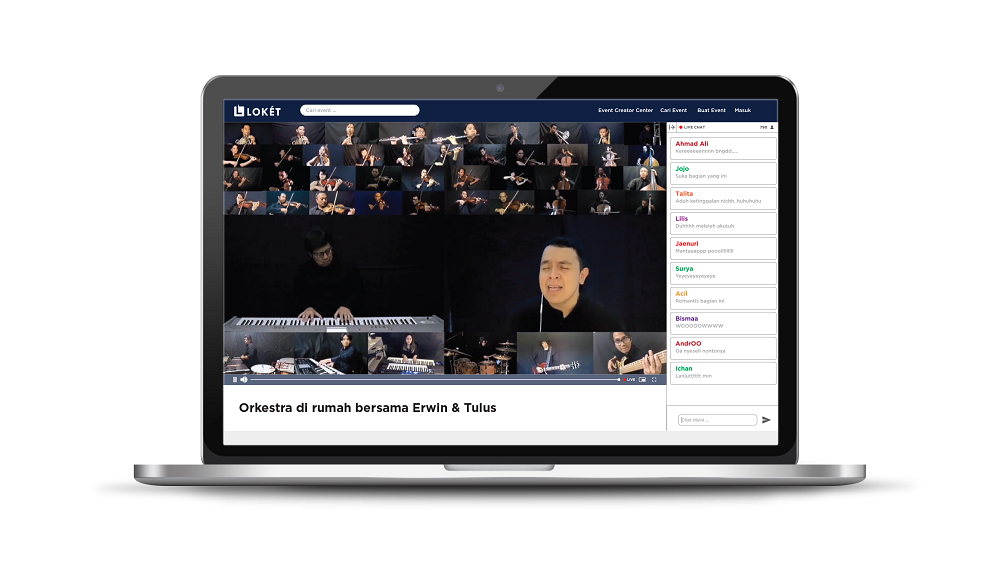 Head of Loket Tubagus Utama mengungkapkan bahwa situasi pandemi secara langsung memberikan imbas yang cukup besar bagi industri event dan hiburan, termasuk juga para pekerja yang terlibat di dalam ekosistem ini.
"Secara konsep, kami membawa eksklusivitas ke event virtual dengan menerapkan sistem penjualan sebagaimana dalam event offline, dengan satu tautan untuk satu transaksi tiket; yang hanya bisa digunakan oleh satu perangkat konsumen," ujarnya.
Selain mendistribusikan tiket acara online secara lebih luas, konsep tiket berbayar ini menurut Bagus menjadi kunci penting bagi keberlangsungan industri.
VP Commercial Loket Ario Adimas menambahkan, ke depannya layanan Loket Live juga bisa digunakan oleh para penyelenggara acara dengan berbagai skala event.
"Seperti halnya layanan self-service yang kami terapkan dalam pembuatan event di Loket, kami akan membuka layanan ini seluas-luasnya kepada seluruh event creator. Kami juga optimis bahwa event online akan menjadi 'new normal' yang terus diminati bahkan setelah pandemi ini berakhir. Hal ini terbukti dari lonjakan jumlah pembuatan event online di Loket hingga 2000 event dalam kurun waktu sebulan terakhir," jelas Dimas.
Application Information Will Show Up Here
Are you sure to continue this transaction?
processing your transaction....