M Cash Creates Enterprise Partnership Program to Support Digital Kiosk Marketing
Starting with partnership with Bank Permata and Pos Indonesia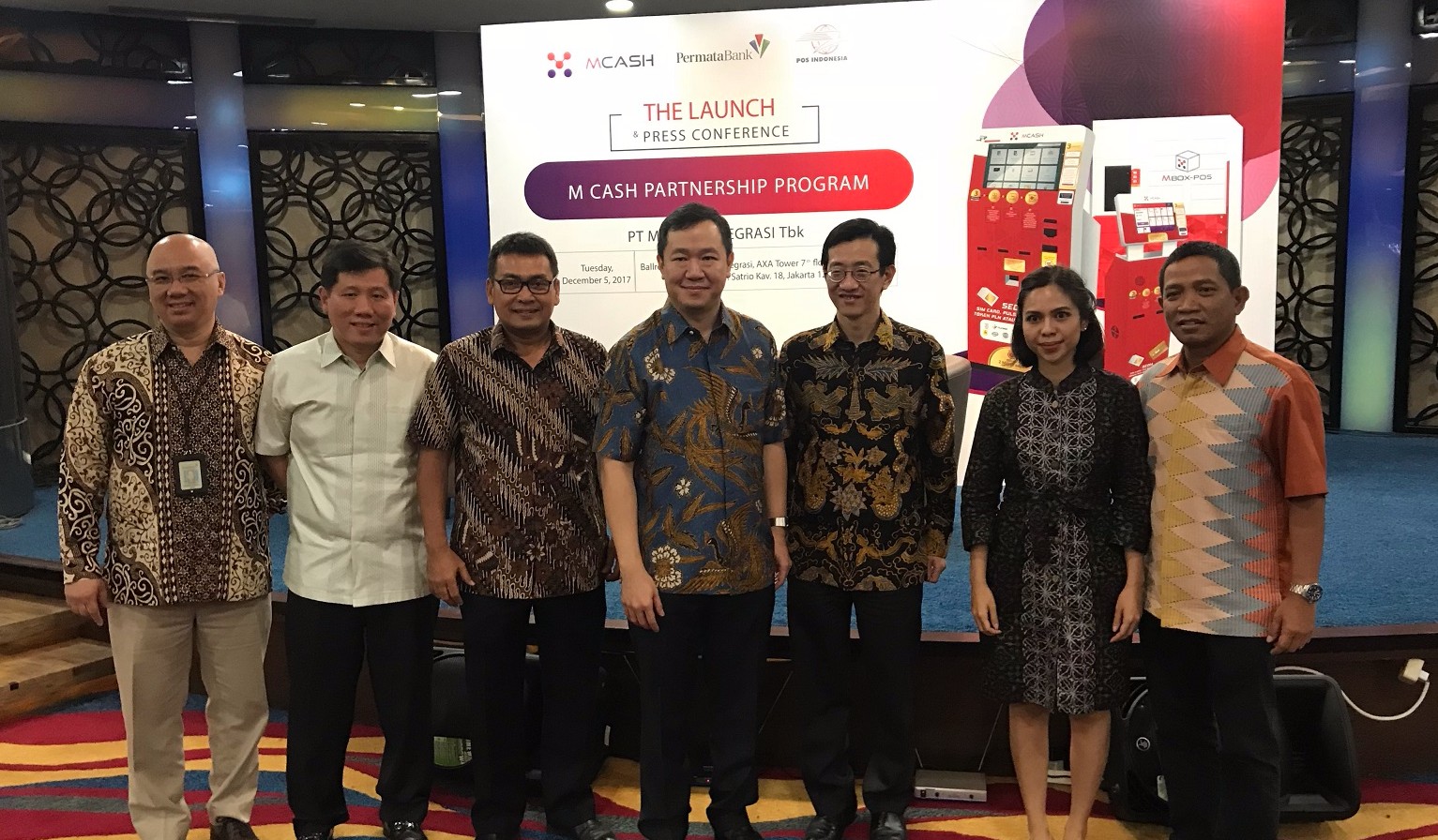 Bank Permata and Pos Indonesia management in M Cash official announcement of partnership program / M Cash
Digital kiosk provider M Cash push its business performance by launching M Cash Partnership Program targeting enterprise player to market digital kiosk machine in their area.
The partnership aims to enrich kinds of services and products offered by enterprise players, for them to follow the rapid growth of digital and e-commerce business in Indonesia.
This program allows enterprise partners to market their digital products in each business areas by offering electronic, (Electricity) PLN, multifinance, cable TV, transportation ticket, entertainment, attraction rides, games and restaurant vouchers.
A unique feature of M Cash digital is the ability to produce physical card such as telco starter pack, e-toll and gift cards.
"We see this program as an innovation to tighten the competitive act of enterprise players in order to develop more and stay relevant in the growth of market interest," said Martin Suharlie, M Cash's President Director, on Tuesday, (12/6).
In its implementation, M Cash offers two partnership packages called "Paket Kios Grosir". For a mini kiosk package, including a slot of card dispenser up to 200 cards, is offered at 30 million rupiahs. For a large-scale kiosk package with 4 slots of card dispenser up to 200 cards per slot is offered at 75 million rupiahs.
In financing, M Cash team up with Bank Permata as banking partner. With 2,5 million seed funding, enterprise partners can start digital kiosk business. The loan interest rate is 9.0% per year through Public's Business Credit (KUR) scheme up to three years tenor.
"The program along with Bank Permata vision to be a pioneer in providing innovative financial solution for Indonesians. We will continue to explore all synergi potential with numerous partners to optimize Bank Permata's intermediate function for all business players," Bianto Surodjo, Bank Permata's Retail Director, said.
Besides Bank Permata, M Cash also announces partnership with Pos Indonesia to provide digital box/locker service starting next year. Charles Sitorus, Pos Indonesia's Information and Technology's Director explained through this service, companies are expected to provide faster and efficient delivery service.
It will be easier for consumers. For the digital box, is not only available in public companies, but also in various locations which easier to find. It has flexibility to be developed into a daycare in public places such as shopping centers.
"Therefore, looking at the potential, Pos Indonesia set this service as a strategic innovation in adopting digital era development in Indonesia and strengthening company's network and services in the future," said Sitorus.
Pos Indonesia currently has 58,700 service points and 4,700 post offices all around Indonesia.
–
Original article is in Indonesian, translated by Kristin Siagian
DailySocial.id adalah portal berita startup dan inovasi teknologi. Kamu bisa menjadi member komunitas startup dan inovasi DailySocial.id, mengunduh laporan riset dan statistik seputar teknologi secara cuma-cuma, dan mengikuti berita startup Indonesia dan gadget terbaru.