Game
Mari Bermain Sebagai Petani Bali Dalam Spirits of the Rice Paddy
Sudah lama budaya Bali memukau perhatian dunia. Bali terkenal akan seni tari, drama, pahatan serta keindahan alamnya. Sejak dahulu, penduduk Bali menggunakan sistem irigasi canggih untuk menghidupi lahan persawahan, dipadu prinsip religi serta tanggung jawab sosial. Hal tersebut menginspirasi developer asal Texas dalam meracik sebuah board game unik.
Mereka adalah APE Games, studio spesialis permainan berbasis kartu dan tabletop yang telah berkiprah semenjak tahun 1997. Memanfaatkan platform crowdfunding Kickstarter, mereka perkenalkanlah Spirits of the Rice Paddy. Permainan akan mengadu Anda bersama pemain lain untuk membangun dan merawat sawah. Tapi mengapa tentang bercocok tanam? Anggap saja Spirits of the Rice Paddy sebagai versi fisik sekaligus mode multiplayer Harvest Moon.
Tugas Anda tak cuma bercocok tanam. Hewan ternak bisa digunakan untuk membangun tembok dan memindahkan batu besar, mereka juga dapat memakan hama berbahaya serta memupuk tanaman. Lalu Anda perlu memerangi rumput liar agar tidak merusak padi. Yang terpenting, air harus dikelola dan dihemat dengan jitu. Anda tidak sendiri, para roh siap membantu pemain dengan sihir dan kemampuan spesial.
Disajikan berupa permainan board a la Monopoly atau Warhammer, satu set Spirits of the Rice Paddy terdiri dari buku peraturan 12 halaman, papan utama, papan pemain; terdapat serangkaian kartu, tembok, gerbang, pekerja, ternak; kemudian ada balok hama, gulma, pupuk dan lain-lain. Ia menyuguhkan gameplay simulasi agrikultur, khusus pecinta tabletop game.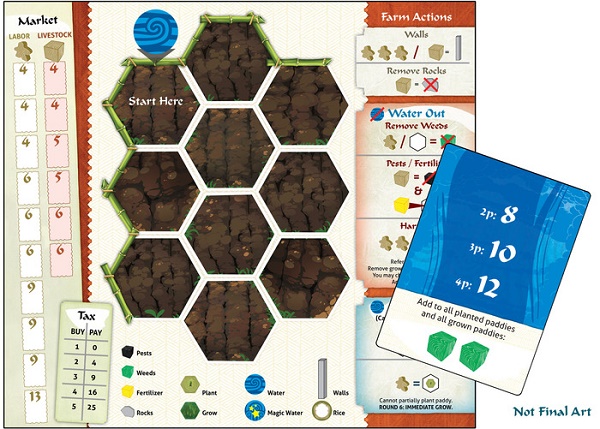 Info menarik: Microsoft Akan Hidupkan Kembali Seri Game Strategi Klasik, Apakah Itu?
Ada sebabnya mengapa APE Games mengadopsi konsep roh, atau istilah permainannya, Spirits. Ia hadir dalam bentuk kartu, menjadi bentuk interaksi antara game dengan pemain. Spirits menciptakan puzzle unik, membuat Spirits of the Rice Paddy berbeda tiap kali dimainkan (padahal ia bukan video game).
Kartu Spirits menentukan giliran pemain untuk mendapatkan air - komoditas paling berharga dalam permainan. Semakin tinggi angka pada kartu, kekuatan juga kian besar. Bermain dengan kartu berangka besar memberikan efek ampuh, namun pemain berkartu kecil dulu-lah yang pertama memperoleh air. Air dibutuhkan untuk menanam pohon dan padi.
Selain itu, Anda bisa menyewa pekerja dan membeli ternak, serta jangan lupa membayar pajak. Spirits of the Rice Paddy berjalan selama tujuh ronde, dan petani dengan jumlah padi terbanyak akan menjadi pemenangnya.
Spirits of the Rice Paddy dibuat oleh Philip duBarry, yang turut mendesain permainan Revolution! dan Courtier, dari tahun 2010. Di laman Kickstarter, sepaket permainan tabletop ini dapat dibeli seharga mulai dari US$ 40.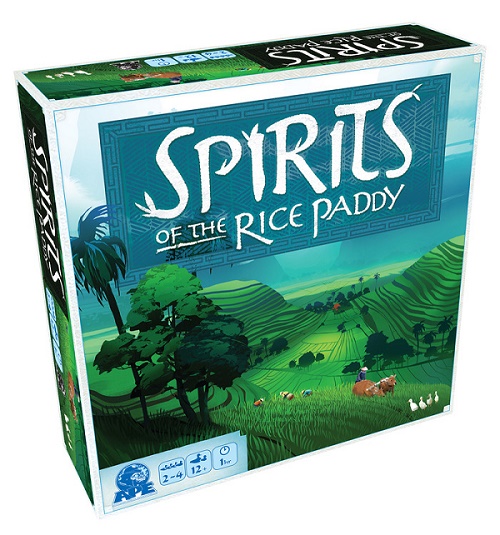 Are you sure to continue this transaction?
processing your transaction....