MDI Ventures to Release Two More Managed Funds in 2020
In order to support Indonesia's digital ecosystem from the early stage to the later stage
Corry Anestia - 20 January 2020
MDI Ventures is to release two more managed funds to enhance Telkom Group's startup investment portfolio from early-stage to the later stage.
MDI Ventures' Head of Investor Relations & Capital Raising, Kenneth Li said to DailySocial that this step was taken due to the first-round fund distribution has run out in four years.
"True, that is the plan. However, I'm not in the position to share the details because the process is just begun," he added.
In early December 2019, Telkom Group through MDI Ventures with South Korea-based KB Financial Group established a new managed fund named Centauri Fund.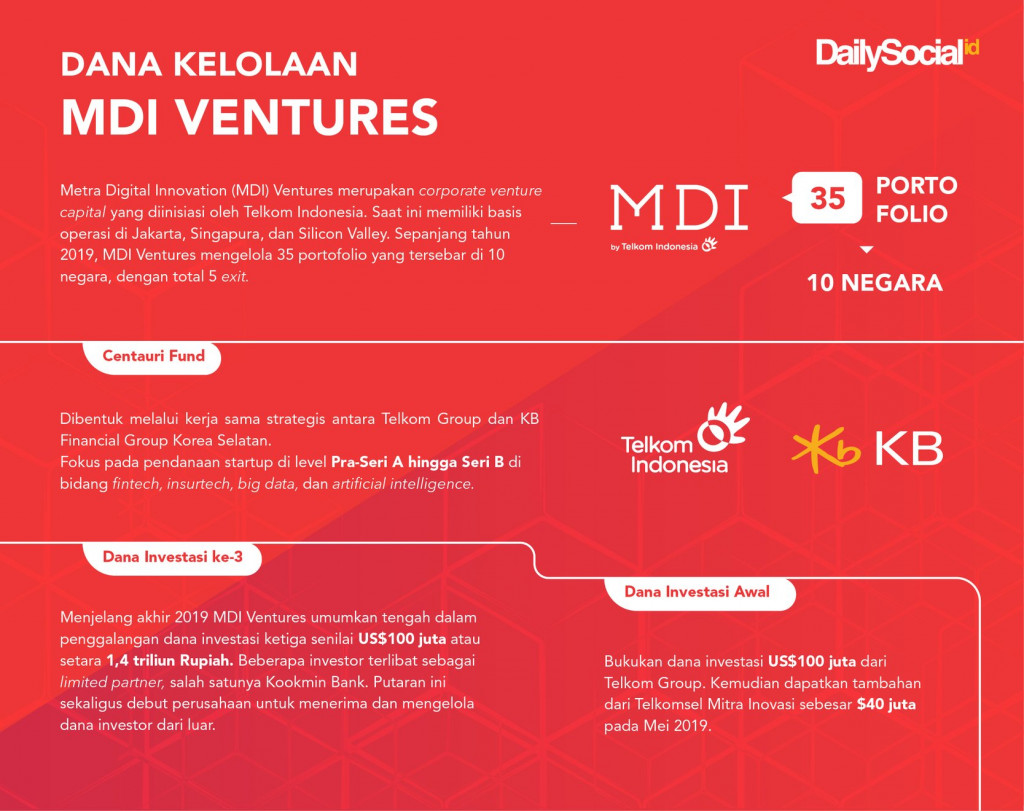 Prior to this, halfway through 2019, Telkomsel, a subsidiary in cellular business, created an investment arm named Telkomsel Mitra Inovasi (TMI) managed by MDI Ventures.
Kenneth affirmed the plan of two new managed funds would create diversity in Telkom Group's investment portfolio and its subsidiaries.
"Centauri focused on Series A and B. Meanwhile, TMI has a specific requirement from Telkomsel to be a single LP fund and more CVC style with synergy requirement," he added.
In terms of funding, he said the company is to make another fundraising on every new managed fund.
"[Fundraising] Rp1.4 trillion is only for Centauri Fund. Each fund, [the allocation] is different. Later [there will be] another fundraising," he said.
–Original article is in Indonesian, translated by Kristin Siagian
Are you sure to continue this transaction?
processing your transaction....