Mekari Conference Fokus Bantu UKM Memulai Tranformasi Digital
Acara akan diselenggarakan pada 25 April 2019 di The Kasablanka Jakarta
Di berbagai skala, mulai dari UKM hingga korporasi, bisnis dihadapkan dengan persaingan yang sengit. Untuk bisa terus bertahan, salah satu hal yang banyak direkomendasikan pakar ialah melibatkan teknologi ke dalam proses bisnis. Salah satu tujuannya agar dapat menjangkau dan terhubung dengan pangsa pasar yang lebih luas.
Guna membantu bisnis dalam mengoptimalkan teknologi, pengembang layanan SaaS bisnis Sleekr, Jurnal dan KlikPajak akan mengadakan acara bertajuk "Mekari Conference". Acara tersebut akan menjadi konferensi bisnis dan teknologi yang dihadirkan untuk menginspirasi bisnis dalam melakukan transformasi digital.
Mengangkat tema besar "Powering Indonesian SMEs with Technology", Mekari Conference akan mengundang founder, CEO, dan pakar di bidang human resources dari beberapa perusahaan ternama untuk berbagi. Beberapa perusahaan yang dijadwalkan mengisi sesi adalah Blue Bird, Tiket.com, Bukalapak, LinkedIn Indonesia, Bridestory, Hijup dan masih banyak lagi. Beberapa perwakilan dari kalangan pemerintah, seperti Dirjen Pajak, juga turut diundang.
"Di sinilah (Mekari Conference) kami bisa menunjukkan dukungan untuk kemajuan dan perkembangan bisnis lewat pemanfaatan teknologi. Dengan teknologi para pengusaha atau pemimpin perusahaan dapat bekerja lebih efektif dan efisien, serta fokus dengan kemajuan bisnisnya," sambut CEO Sleekr Suwandi Soh.
Acara ini ditargetkan dapat menghadirkan 2000 peserta, dari kalangan pengusahaan dan eksekutif di Indonesia. Adapun acara akan diselenggarakan pada tanggal 25 April 2019 bertempat di Main Hall The Kasablanka Jakarta.
Di samping mendapatkan pengetahuan dan tips untuk pengembangan bisnis, harapannya acara ini juga dapat memberikan pada kesempatan setiap peserta untuk membangun jejaring dan mitra bisnis. Saat ini pendaftaran peserta untuk Mekari Conference masih dibuka.
Informasi lebih lanjut dan pendaftara, kunjungi situs resminya melalui tautan https://mekariconference.com.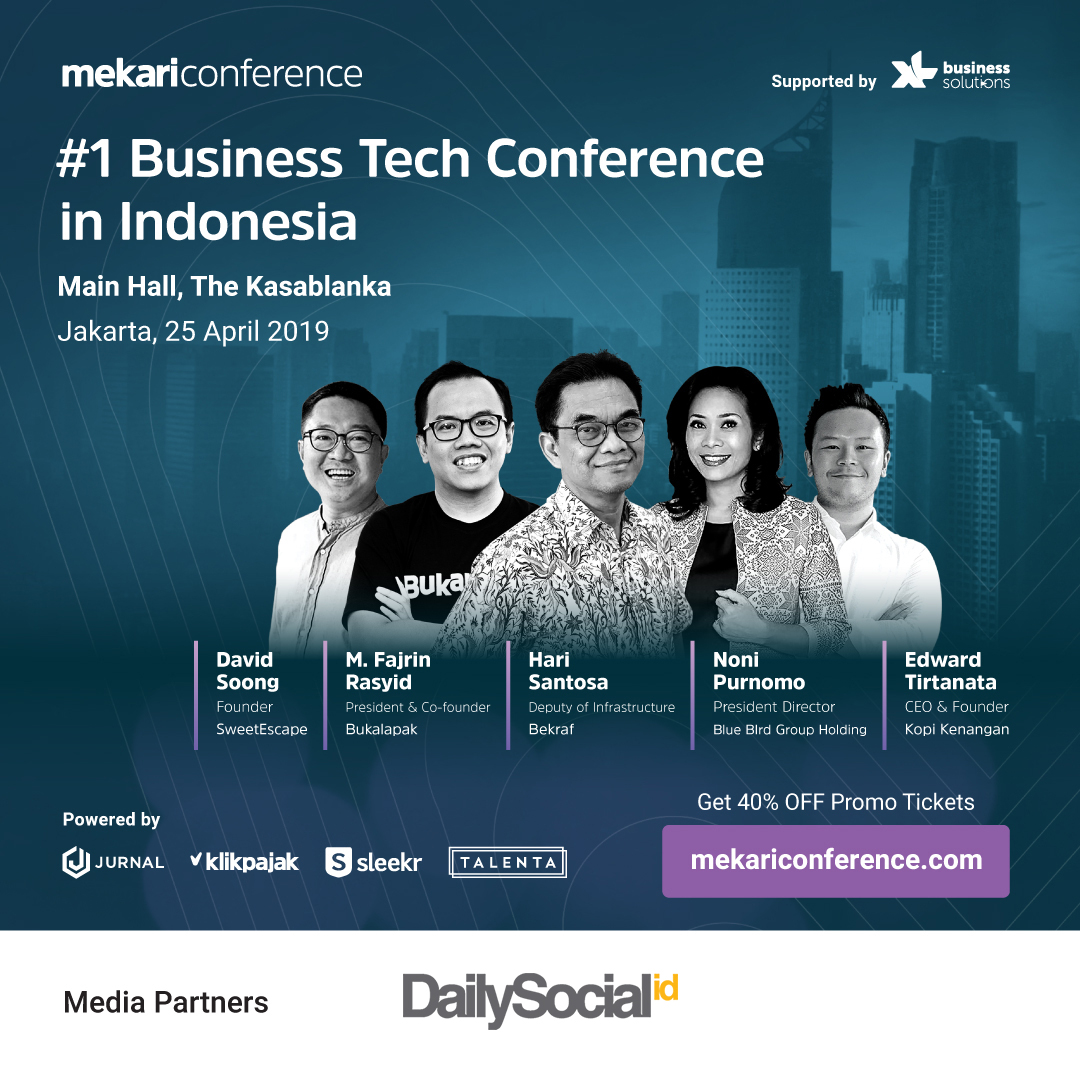 --
Disclosure: DailySocial merupakan media partner Mekar Conference
Are you sure to continue this transaction?
processing your transaction....