Memetakan Posisi Indonesia di Pertumbuhan Industri Podcast Global
Industri podcast di Tiongkok memiliki banyak model bisnis, sementara industri podcast di Amerika Serikat kebanyakan hanya mengandalkan iklan
Di antara industri konten kreatif yang terus melejit selama beberapa tahun terakhir, salah satu yang menjadi rising star adalah konten audio podcast. Sebuah riset bertajuk "Global Podcasting Market by Genre, by Formats, by Region, Industry Analysis and Forecast, 2020 - 2026" menyebutkan bahwa ukuran pasar podcast global diperkirakan akan mencapai $41,8 miliar pada tahun 2026, mengalami pertumbuhan pasar sebesar 24,6% CAGR dalam periode tersebut.
Secara sederhana, podcast adalah file audio digital yang dapat diunduh pengguna — atau di beberapa aplikasi, streaming — dan dengarkan melalui internet, biasanya tersedia sebagai seri yang dapat dengan mudah diterima oleh pendengar. Meskipun podcast sangat beragam dalam hal konten, format, nilai produksi, gaya, dan panjang, semuanya didistribusikan melalui RSS, atau Really Simple Syndication, format standar yang digunakan untuk menerbitkan konten. Dalam hal podcast, RSS berisi semua metadata, karya seni, dan konten acara.
Menurut beberapa sumber, podcasting bermula dari blogposting yang dikembangkan oDavid Winer dan Christopher Lydon pada awal 2000-an. Winer membuat kanal RSS yang mengumpulkan rekaman audio wawancara antara mantan wartawan NPR, Christopher Lydon, dengan ahli teknologi dan politikus. Dalam kurun waktu yang sama, Adam Curry memperkenalkan program Daily Source Code yang saat itu didistribusikan lewat iPod.
Hal ini menarik minat seorang jurnalis Ben Hammersley yang kemudian membahas animo masyarakat terkait maraknya penyebaran konten audio dan secara tidak sengaja menemukan terminologi podcasting [singkatan dari iPod dan broadcasting]. Pada masa awalnya, pasar ini berfokus pada audiens khusus atau niche dan topik individu -- seperti televisi kabel atau blog -- berbeda dengan radio yang ditujukan untuk audiens massal, jadi harus memiliki konten dengan daya tarik luas.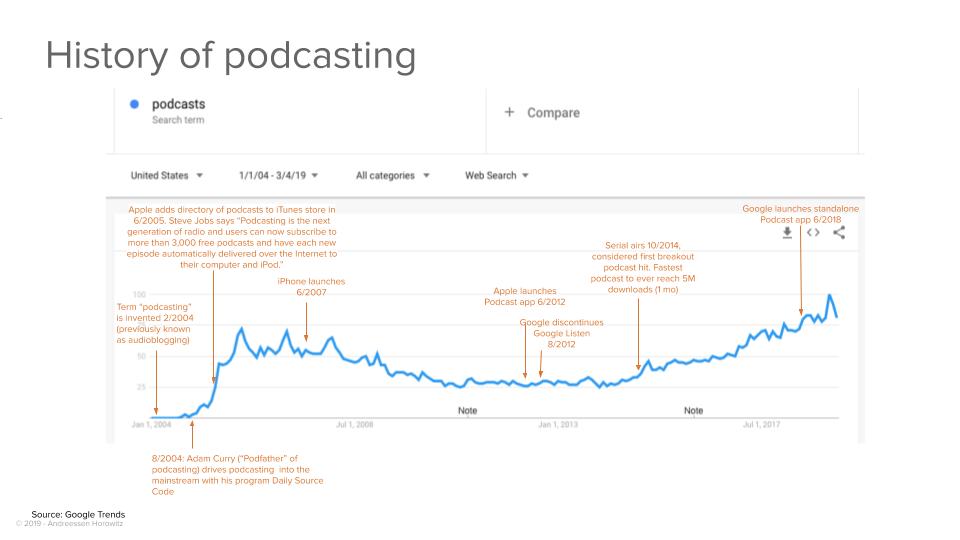 Pada tahun 2005, Apple merilis versi 4.9 yang mendukung distribusi podcast dalam semua platformnya. Ketika itu, Steve Jobs mengatakan, "Podcasting adalah generasi radio berikutnya, dan pengguna sekarang dapat berlangganan lebih dari 3.000 Podcast gratis dan setiap episode baru secara otomatis dikirimkan melalui Internet ke komputer dan iPod mereka."
Welcome to Premium Content
Become a DailySocial.id Subscription, you can get unlimited access to discover the best minds of innovation and to perceive the finest tech journalism products in Indonesia. Learn more
Single Article

Access anytime, only this article.

Starting at

Rp 7,000 /article

Subscription

Unlimited access premium content.

Starting at

Rp 150,000 /month
Login or create account to access premium content
Are you sure to continue this transaction?
processing your transaction....