Jika startup Anda telah memberikan pembuktian performa baik pasca seed funding –salah satunya ditunjukkan dengan traksi konsumen yang terus meningkat—sehingga membuat investor dan dewan direksi merasa lega, maka babak selanjutnya kini bisa dimulai persiapkan. Yakni mencari pendanaan seri A, dengan tujuan untuk mengakselerasi laju bisnis lebih kencang.
Dalam menemukan investor untuk pendanaan seri A, rekam jejak serta apa yang telah ditorehkan sebelumnya akan berpengaruh besar pada penilaian konsumen.
Nah sekarang apakah Anda benar-benar siap meraup pendanaan $2 juta-$15 juta (estimasi secara umum total pendanaan seri A)? Investor akan melirik jika Anda sebagai founder telah memahami apa yang mereka dambakan, dan berikut ini penjelasannya.
Daya tarik produk
Para pemodal ventura jelas tidak ingin uangnya terbakar sia-sia. Salah satu yang mereka nilai adalah bagaimana akselerasi dari pertumbuhan pengguna produk. Investor juga menginginkan data yang jelas mengenai besaran user engagement terhadap produk Anda. Meski skala perusahaan Anda kecil, namun mereka menginginkan pertumbuhan produk yang besar.
Kualitas dan solidaritas tim
"When your team is all-stars, no one behaves like a rockstar," kata seseorang di dunia maya.
Investor juga ingin mengetahui dapur startup Anda. Mereka akan berpikir dua kali jika Anda tidak memiliki tim yang siap membuat produk berkualitas, meski mungkin tim Anda berisi individu-individu dengan pencapaian mentereng di CV. Kuncinya, mereka dengan senang hati mendanai Anda jika SDM di startup Anda siap beradaptasi, dinamis dan memiliki skill-set yang sesuai dengan kebutuhan bisnis.
Jejaring kuat (di bidangnya)
Jika sudah menjajaki satu kolam bisnis, jangan ragu untuk menyelam di dalamnya. Jejaring yang kuat di dalam sebuah kolam komunitas nyatanya adalah modal besar untuk menarik pendanaan.
Amartha, startup pengembang platform peer-to-peer landing, baru saja mendapat pendanaan seri A dari Mandiri Capital Indonesia (MCI) sebesar US$ 2 juta. Diakui pihak MCI, penilaian mereka salah satunya dikarenakan Amartha memiliki jaringan kuat untuk menyentuh masyarakat unbanked—berkaitan erat dengan model bisnis yang dijalankan.
Selain itu, apakah Amartha punya cara lain untuk mengundang kerja sama dengan venture capitalist di seri A?
Lebih lanjut, Co-founder & CEO Amartha Andi Taufan Garuda Putra akan menjelaskan soal ini di acara #SelasaStartup bertajuk "How to Get Series A Funding?" yang diselenggarakan oleh DailySocial pada hari Selasa, 21 Maret 2017 bertempat di kantor DailySocial.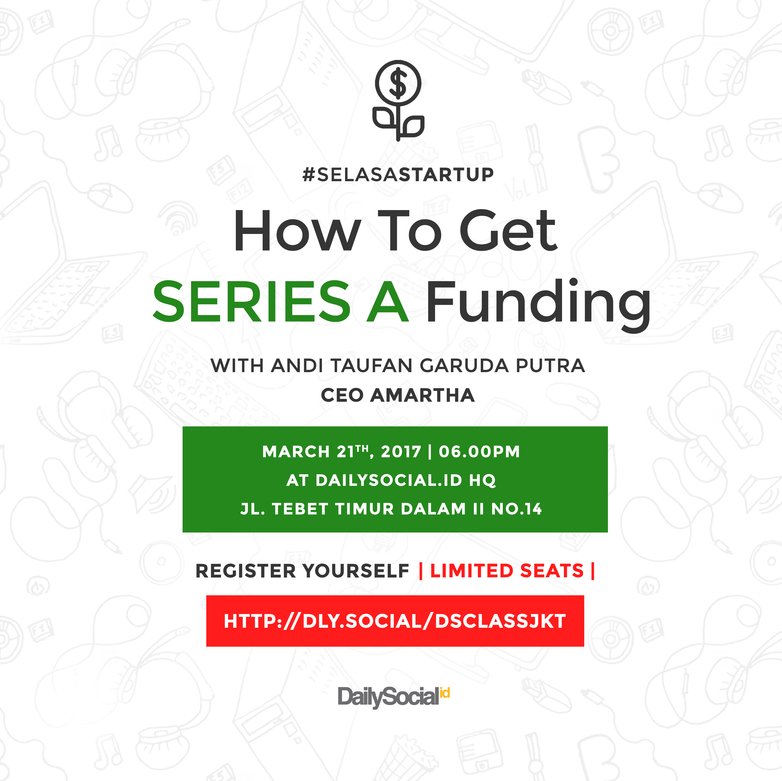 Talkshow santai ini akan mengajak Anda untuk berbincang dan berdiskusi dengan para pegiat industri startup, dengan sesi networking dan coffee time yang hangat di dalamnya. Dan perlu diingat, acara ini gratis, hanya untuk Anda para tech and startup enthusiast!
Anda dapat langsung mendaftarkan diri Anda untuk #SelasaStartup di sini.
DailySocial.id adalah portal berita startup dan inovasi teknologi. Kamu bisa menjadi member komunitas startup dan inovasi DailySocial.id, mengunduh laporan riset dan statistik seputar teknologi secara cuma-cuma, dan mengikuti berita startup Indonesia dan gadget terbaru.