Mengantisipasi Filmnya, Game Guardians of the Galaxy Dirilis untuk Perangkat Mobile
Guardians of the Galaxy adalah seri komik Marvel yang pertama kali diperkenalkan di tahun 1969. Ia kembali muncul dalam kemasan dan cerita yang lebih modern pada tahun 2008. Berbasis dari seri komik terbaru inilah film Guardians of the Galaxy dibuat. Untuk mengantisipasinya, game Guardians of the Galaxy: The Universal Weapon diluncurkan ke device mobile.
Dalam The Universal Weapon, publisher Marvel Games mengajak Anda melakukan petualangan baru bersama Star-Lord, Rocket, Groot, Gamora dan Drax. Pertempuran disajikan secara real-time, dan Anda bisa menjelajahi enam dunia berbeda yang menawarkan lebih dari 60 level. Guardians of the Galaxy: The Universal Weapon juga memiliki beberapa mode permainan berbeda seperti Battle Mode dan Arena Mode.
Awalnya, Anda akan memulai petualangan sebagai karakter Star-Lord. Seiring berjalannya game, Anda akan merekrut karakter-karakter baru, termasuk empat orang guardian lain. The Universal Weapon adalah sebuah spin-off dengan jalan cerita mandiri - tidak mengadopsi film maupun komiknya, walaupun ia masih bisa disebut sebagai permainan movie tie-in.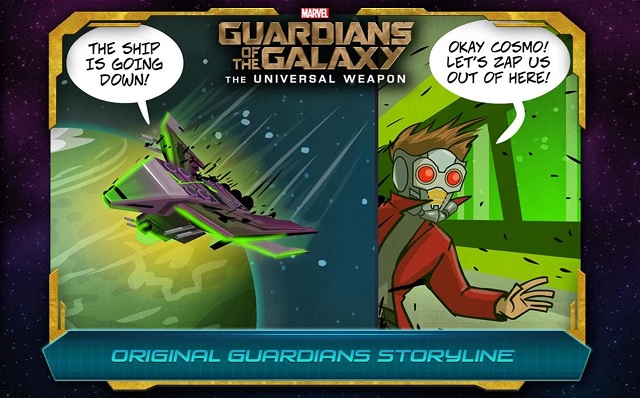 Info menarik: The Witcher Battle Arena, MOBA Persembahan CD Projekt Red Untuk Gamer Mobile
Berbicara kepada Polygon, Aaron Norstad yang bertanggung jawab sebagai produser The Universal Weapon menjelaskan, "Kami telah mengembangkan permainan ini sebelum kami tahu apapun tentang filmnya, selain dari tanggal rilis. Memang dari awal kami berencana untuk melepasnya bersamaan dengan film [Guardians of the Galaxy]. Kami juga ingin agar game tidak memiliki jalan cerita yang sama dengan filmnya."
The Universal Weapon di-setting dalam sebuah waktu alternatif. Walaupun mengambil referensi dari komik dan film, Anda tidak harus membaca atau menontonnya terlebih dulu untuk dapat menikmati permainan ini. Dan sang produser meracik The Universal Weapon agar mampu menyuguhkan mekanisme permainan yang asik, melalui banyak karakter berbeda.
"Kami mengerti bahwa jagad [fiksi Guardians of the Galaxy] sangat kaya akan karakter, tapi kami tahu gameplay utama haruslah fokus ke lima orang guardian," kata Norstad. Tiap karakter memiliki kemampuan berbeda yang membuat mereka unggul dalam pertempuran, dan pemain bisa bereksperimen dan mengkombinasi sesuka hati.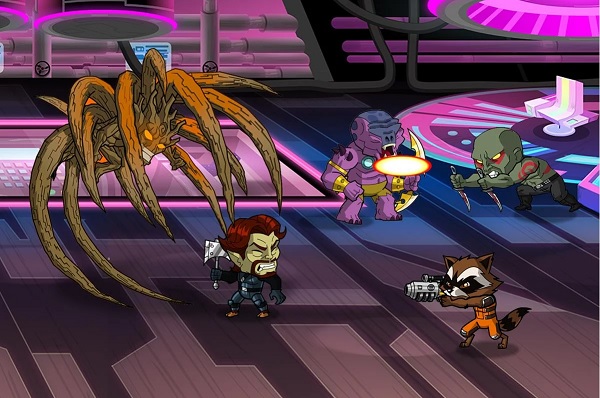 Norstad memberikan contoh dari skill yang dimiliki Groot - makhluk campuran antara manusia dengan pohon. Groot adalah karakter terkuat dalam tim Guardians of the Galaxy, dan dapat menerima serangan lebih banyak dibandingkan kawan-kawannya. Tapi ia juga bisa berperan sebagai 'healer' yang mampu mengobati karakter lain.
Info menarik: Selain PlayStation 4, Remake Game Grim Fandango Juga Akan Dirilis Untuk PC, Mac & Linux
Marvel Games fokus pada kreasi dan pengembangan tiap karakter agar mereka tetap seimbang, memberikan gaya permainan yang berbeda tiap kali pemain memilih individu berbeda - berdasarkan dari kemampuan yang mereka miliki.
Guardians of the Galaxy: The Universal Weapon sudah tersedia untuk Windows Phone, perangkat Apple dan Android dengan harga US$ 5 di app store masing-masing.
Sumber gambar: Google Play.
Are you sure to continue this transaction?
processing your transaction....