Sebelum Valve mendominasi pasar, Microsoft sudah lebih dulu berkecimpung di industri gaming. Ada lebih dari 130 IP video game dipegang oleh mereka. Tapi semenjak Microsoft mengalihkan fokus ke Xbox dan home console current-gen, genre strategi yang biasa menjadi andalan lama-lama terabaikan. Kabar baiknya, tak semua harapan penggemar strategi sirna begitu saja.
Beberapa langkah sang raksasa gaming untuk menghidupkan real-time strategy mulai terlihat. Mereka membeli Rise of Nations dari 38 Studio yang kini bangkrut, lalu 'memperkenankan' Steam merilis kembali Age of Empires III, Age of Mythology dan Rise of Nations. Dan dari laman Microsoft Careers, Microsoft sedang mencari Senior Software Engineer untuk 'menghadirkan penerus franchise game strategi tercinta ke generasi gamer selanjutnya.'
Tapi franchise apakah yang dimaksud? Beberapa judul di atas merupakan game-game strategi legendaris Microsoft Game Studios, di-rebranding sebagai Microsoft Studios. Selain nama-nama tersebut, Microsoft memegang franchise Black & White, BattleTech, Shadowrun, Zoo Tycoon yang termahsyur, serta membantu publikasi seri Close Combat.
Apapun permainannya dan siapapun orang yang terpilih nanti akan bergabung ke studio baru Microsoft spesialis genre strategi, bernama Decisive Games. Berdasarkan tulisan mereka, game kemungkinan besar didesain multiplatform, untuk Windows PC dan Xbox. Kemudian dipertegas oleh daftar persyaratan di bawahnya, "Familiar dengan DirectX 11 atau rendering API Xbox 360 atau Xbox One."
Info menarik: Prediksi Konsumsi Game Asia Tenggara Hingga 2017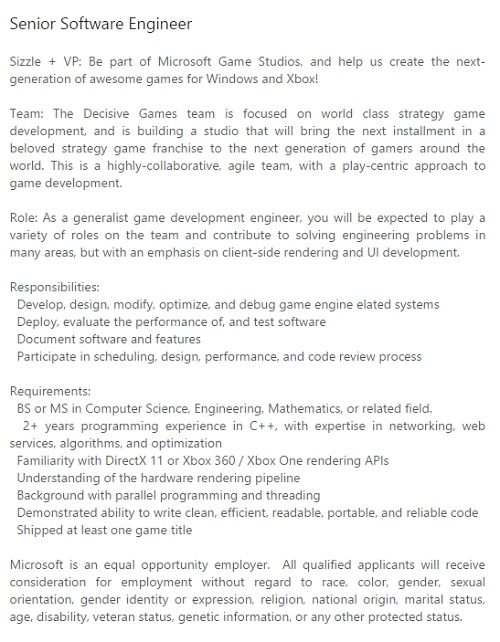 Selain game strategi klasik, Microsoft juga dilaporkan mempunyai niatan mengembalikan franchise lain. Tahun lalu, bos Xbox Phil Spencer mengunjungi kantor developer Rare di Inggris. Rare ialah anak perusahaan Microsoft, berjasa menciptakan Donkey Kong Country, GoldenEye 007, Banjo-Kazooie serta Battletoads. Kabar mengenai pengajuan trademark judul terakhir itu memercik spekulasi di kalangan fans.
Kemudian di podcast Inner Circle minggu kemarin, Ken Lobb selaku Creative Director Microsoft Studios sempat menyebut nama secara spesifik setelah ditanya. "Jadi apakah ada Banjo, Viva, Balst Corps dan Battletoads selanjutnya? Ya, suatu hari nanti. Dan saya pikir alasan mengapa Battletoads dihidupkan lagi ialah karena kami melihat sebuah nilai, jadi kami perbarui lagi merek dagangnya," jelas Lobb.
Berita ini bukanlah pengumuman resmi, dan kecil kemungkinan permainan akan dilepas di waktu dekat - baik game strategi atau mungkin sekuel Battletoads. Saya sendiri mengharapkan penerus Age of Empires. Menurut Anda, kira-kira franchise permainan Microsoft apa yang segera kembali setelah absen panjangnya?
Via IGN & Destructoid. Gamber header: Steam.
Are you sure to continue this transaction?
processing your transaction....