Microsoft Gratiskan Office Untuk iOS dan Rilis Versi iPhone
Bambang Winarso - 7 November 2014
Kabar gembira datang dari raksasa software Microsoft yang pada hari ini mengumumkan banyak hal baru. Namun dari sederet kejutan yang dihadirkan, salah satunya yang paling menarik adalah digratiskannya penggunaan Office untuk semua platform iOS, artinya Anda tak perlu harus berlangganan Office 365 untuk menikmat segala fitur Microsoft Office.
Perubahan drastis yang diterapkan oleh Microsoft ini jelas sebuah kejutan besar khususnya bagi seluruh pengguna Office di seluruh dunia terutama pengguna perangkat iOS. Bukan hanya soal ketidaan biaya, namun juga keluarnya beberapa penambahan baru yang juga dirilis hari ini.
Betul sekali! selain menggratiskan Office untuk iOS (mencakup Office untuk iPad dan iPhone), Microsoft juga merilis aplikasi Word, Excell, PowerPoint yang berdiri sendiri khusus untuk perangkat iPhone.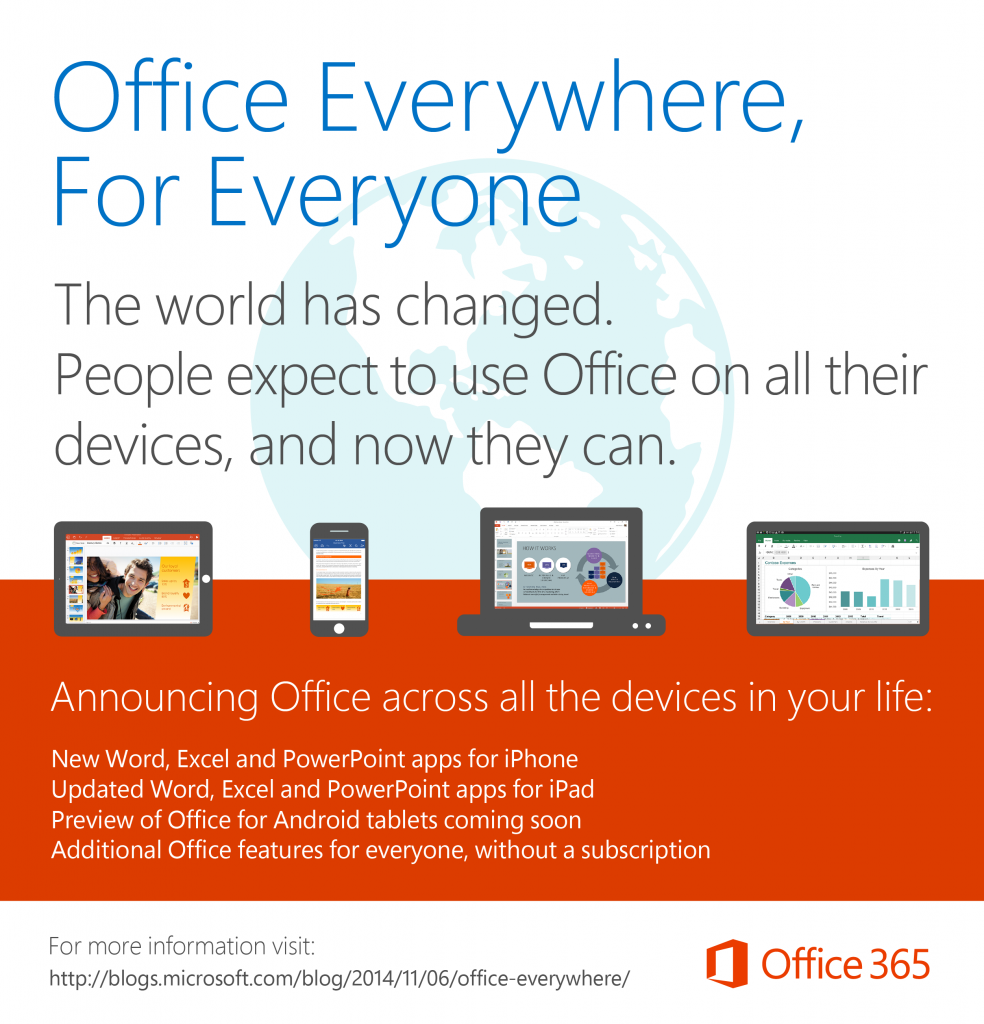 Fitur yang dibawa oleh ketiga aplikasi, secara umum sama dengan fitur yang dimiliki platform lain, namun tentu telah memperoleh sentuhan baru guna mengoptimalkan sisi tampilan mengingat perbedaan ukuran perangkat. Utamanya, ketiga aplikasi menawarkan fungsinya masing-masing yang unik sebagai pendukung kerja dan produktivitas.
Word, Excell dan PowerPoint untuk iPhone dapat Anda unduh di App Store mulai hari ini, jika Anda perhatikan ketiganya memulai debut pada tanggal 6 November 2014 alias fresh from the oven, masih hangat!
Info Menarik: Penjualan Redmi 1S di Lazada Capai Angka 85 ribu Unit
Tak berhenti sampai di situ, kampanye Office Everywhere, For Everyone yang diusung oleh Microsoft juga menghadirkan update terbaru untuk ketiga aplikasi Office versi iPad. Sayang Microsoft tidak menjabarkan lebih lanjut perubahan apa saja yang ditawarkan.
Kejutan Microsoft masih berlanjut, kali ini untuk platform yang bersebrangan dengan iOS yakni pengguna tablet Android. Berdasarkan informasi yang disampaikan oleh Microsoft, bahwa saat ini tim-nya sedang menggodok aplikasi Office untuk platform tersebut.
Jadi, untuk mendapatkan aplikasi yang tepat guna, Microsoft mengundang Anda khususnya yang menggunakan tablet Android untuk mengikuti program Android Preview yang dapat Anda akses di tautan ini. Ikutan ya, kapan lagi berkesempatan mencicipi versi perdana Office untuk tablet Android.
Digratiskannya Office untuk iOS menjadi indikasi bahwa Microsoft tak ingin kehilangan daya pikat di tengah-tengah persaingan industri piranti lunak yang cukup ketat. Minggu lalu Microsoft juga menggandeng Dropbox sebagai upaya untuk memberikan keleluasan bagi pengguna layanan mereka dalam menyimpan data secara online ataupun integrasinya.
Sumber berita Ubergizmo.
Are you sure to continue this transaction?
processing your transaction....