Monk's Hill: "Funding Gap" Picu Pendiri Startup Asia Tenggara Jual Perusahaannya Lebih Cepat
155 startup Asia Tenggara diakuisisi tahun 2017, sementara yang IPO di periode sama hanya 9 perusahaan
Corry Anestia - 18 September 2018
Selain perkembanganstartup di 2017, Monk's Hill Ventures dalam laporan terbarunya yang bertajuk The State of Southeast Asia Tech Report 2018 juga menyoroti terjadinya gap pada pendanaan (funding gap) industri startup Asia Tenggara, khususnya dari Seri A ke Seri B dan selanjutnya, dalam beberapa tahun terakhir. Gap itu disebut memicu penjualan perusahaan lebih cepat.
Menurut Director Mountain Partners Malaysia AJ Azizuddin, pendanaan startup di Asia Tenggara sebetulnya sangat berkembang, tetapi masih ada gap besar. Misalnya, pendanaan untuk Seri A banyak dan merata, namun perbedaannya sangat jauh dengan pendanaan di Seri B dan C.
"Ini artinya ada banyak hal yang perlu dilakukan oleh venture capital (VC) dalam melihat situasi ini," ungkap Azizuddin.
Sepanjang 2017 pendanaan putaran awal (seed) diberikan sebanyak 148 kali, putaran Seri A sebanyak 55 kali, sedangkan Seri B hanya 23 kali.
Partner Golden Gate Ventures Michael Lints mengakui, adanya gap pada putaran pendanaan, khususnya antara Seri A dan B. Menurut Lints, gap ini membuat startup jadi terlalu cepat untuk diakuisisi perusahaan lain.
"Saya rasa bakal butuh tiga tahun atau lebih sebelum kawasan Asia Tenggara mengalami banyak aksi exit, apalagi kalau melihat dari bertumbuhnya kawanan startup unicorn. Lihat saja data global, butuh tujuh hingga delapan tahun sebelum perusahaan mampu menciptakan nilai dari pemegang saham yang sesungguhnya," papar Lints.
Data startup yang exit di tahun 2017
Di laporan ini, Monk's Hill juga menyoroti fenomena exit atau situasi ketika sebuah startup dicaplok dalam bentuk merger atau akuisisi (M&A). Dalam tiga tahun terakhir, jumlah startup yang exit dilaporkan semakin meningkat di Asia Tenggara.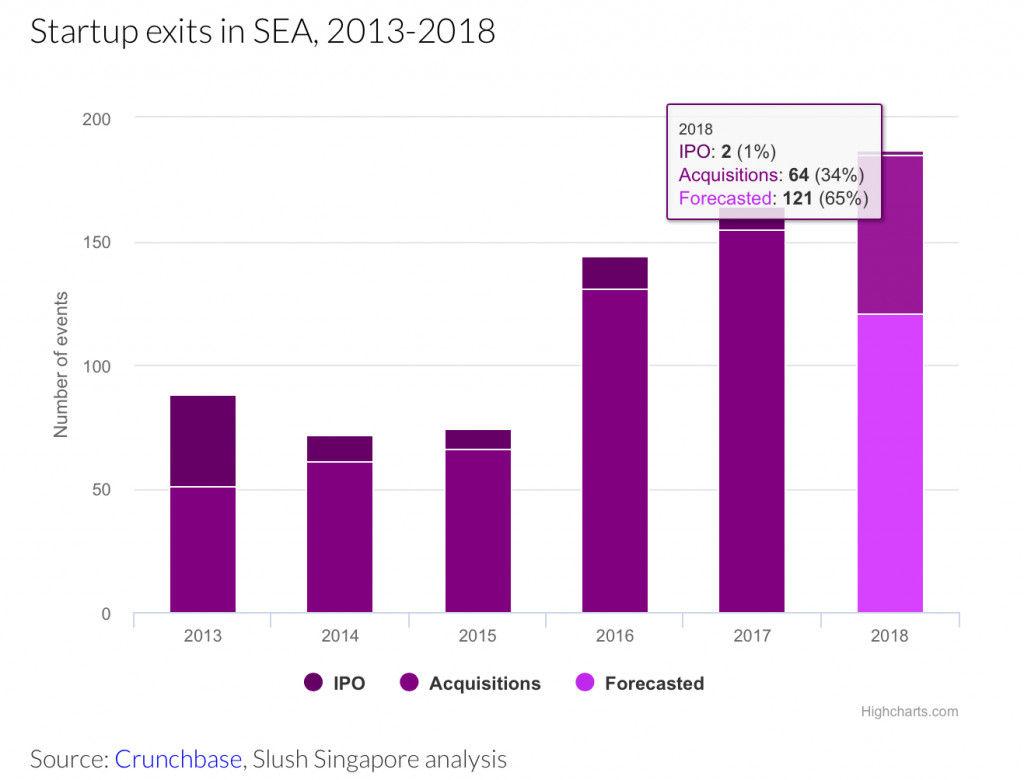 Tercatat hanya ada sembilan startup secara resmi melakukan Initial Public Offering (IPO) di Asia Tenggara di tahun 2017, sementara 155 startup lainnya diakuisisi di periode yang sama. Berdasarkan data periode 2013-2018, tren akuisisi semakin meningkat.
Startup yang menjadi perusahaan publik lewat IPO mengalami tren naik turun selama periode 2013-2018. Tercatat ada 37 IPO di 2013, kemudian turun di 2014 (11 buah) dan 2015 (8 buah). Tren startup IPO naik lagi menjadi 13 buah di 2016, lalu turun di 2017 (9 buah).
CEO 1337 Ventures Bikesh Lakmichan menyebutkan, langkah exit melalui proses M&A akan terus berlanjut ke depannya. Hingga Juni 2018, sudah ada 64 akuisisi dan diperkirakan mencapai 121 akuisisi di sepanjang tahun ini.
"Banyak startup yang percaya diri untuk memulai langkah baru dengan akuisisi. Saya pikir tantangan pada valuasi menjadi faktor utama banyak startup yang menunda untuk exit. Tidak semua exit didominasi oleh Tiongkok. Saya rasa kita perlu melihat firma private equity global masuk ke permainan ini," ungkap Lakmichan.
Are you sure to continue this transaction?
processing your transaction....