Nike Berhasil Ciptakan Sepatu Back to the Future Berteknologi 'Power Lace'
Yoga Wisesa - 22 October 2015
Berdasarkan film Back to the Future Part II karya Robert Zemeckis, sewaktu Marty McFly berkunjung ke tahun 2015 di tanggal 21 Oktober, seharusnya sudah ada jalan tol di udara, mobil terbang, serta robot montir. Penggambaran film terhadap masa depan memang tidak sepenuhnya akurat, namun beberapa orang terus berusaha merealisasi visi sang sutradara.
Mungkin ada dua device futuristis Back to the Future yang paling banyak mendapatkan sorotan. Pertama ialah skateboard terbang, dan kedua, tentu saja adalah sepasang sneaker Nike berteknologi power lace. Maksudnya? Tali di alas kaki tersebut mampu mengikat sendiri setelah dikenakan. Kira-kira empat tahun silam, sepatu itu diperkenalkan dengan nama Nike Mag 2011, dan dirilis secara terbatas. Walaupun sangat mirip, ia hanyalah sekedar replika dari 'Air McFly'.
Lalu di awal tahun 2015, Tinker Hatfield selaku desainer kembali membahas Mag di event #AgendaEmerge. Di sana, ia dan timnya mengkonfirmasi upaya menggarap versi lebih canggih lagi dari Air McFly, lengkap dengan fitur tali otomatis. Hatfield berjanji buat menyelesaikan proyeknya tahun ini, meskipun tidak menyebutkan tanggal pastinya. Ternyata Nike punya kejutan.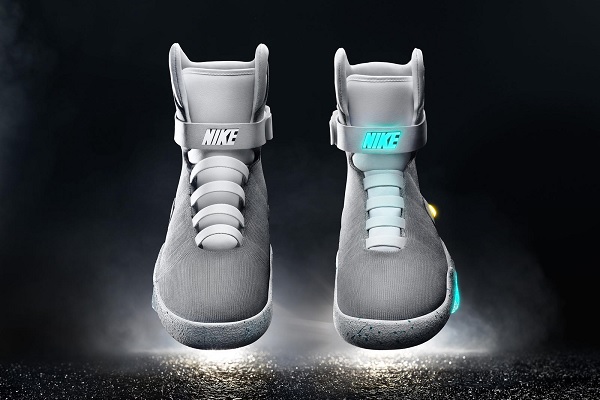 Bertepatan dengan momen saat Marty McFly melangkahkan kaki di masa depan, juga disebut Back to the Future Day oleh fans, Nike mengumumkan bahwa mereka berhasil menciptakan unit pertama dan sudah mengirimkannya ke aktor Michael J. Fox. Mewakili Nike, presiden sekaligus CEO Mark Parker menyampaikan rasa bangganya, "Yang awalnya dibuat sebagai fiksi, kami mengubahnya jadi fakta. Teknologi baru ini akan memberi manfaat untuk semua altet."
Info menarik: Ayo Simak Aksi Perdana Hoverboard Buatan Lexus
Nike menerangkan, power lace sendiri merupakan 'kombinasi dari ide penemuan yang umum dengan teknologi digital'. Mag memiliki sistem responsif, mampu mendeteksi gerakan pengguna dan beradaptasi demi menyajikan kenyamanan dan topangan terbaik. Penasaran seperti apa cara kerja power lace dan bagaimana respons Michael J. Fox? Silakan simak video di bawah.
Menariknya, Mag hanyalah sebuah permulaan. Nike tampaknya berniat mengimplementasikan teknologi itu ke beragam cabang olahraga, mencoba menghimpun komentar dan masukan dari para atlet terkait sistem power lace - sembari mencari tahu dampak dan potensi apa yang dapat dibuka olehnya.
Versi 2015 Nike Mag ini diluncurkan secara terbatas, cuma bisa dimiliki secara lelang di tahun depan. Seluruh uang hasil penjualannya akan didonasikan ke yayasan Michael J. Fox Foundation for Parkinson's Research.
Sumber: Nike.