NZXT Sentry 3 Memungkinkan Anda Mengkustomisasi Kecepatan Fan PC dengan Sentuhan Jari
Yoga Wisesa - 4 April 2014
Jika Anda merupakan pengguna PC tulen - mereka yang gemar merancang dan merakit komponen dari awal, Anda pasti mengerti betapa pentingnya sistem pendinginan komputer. Tidak sedikit orang berinvestasi dengan banyak biaya untuk mencari solusi terbaik, bahkan pendingin ini juga menjadi fokus utama para produsen hardware ternama dunia.
Sayangnya walaupun sistem pendingin PC kian bervariasi dan canggih, baik dengan teknologi fan, cairan hingga nitrogen cair untuk mereka yang ekstrim, hanya ada sedikit platform yang dibuat khusus agar pengguna bisa memonitor sistem pendingin mereka. Dan hal itulah yang mendorong NZXT menciptakan Sentry 3 Touchscreen Fan Controller sebagai penerus dari tipe sebelumnya.
Info menarik: NZXT H440, Case PC Full-tower Dengan desain Simpel Namun Elegan
Sentry 3 memadukan lima channel fan dengan user interface (UI) intuititif yang memberikan Anda kontrol penuh pada fan di dalam PC. Sebagai jendela kustomisasi, Sentry 3 memiliki layar sentuk berukuran 5,4-inci. Itu artinya Sentry 3 lebih lebar sekitar 33 persen dari layar sistem controller fan yang saat ini tersedia di pasar.

Sebelumnya NZXT telah memperkenalkan PowerSlide Bar dimana user bisa mengatur kecepatan fan secara langsung. Interface ini kembali hadir dalam Sentry 3 dengan layout yang familiar: di sebelah kiri Anda bisa melihat kecepatan fan dalam satuan RPM (rotations per minute) serta suhu. Kemudian di sebelah kanan, di bawah PowerSlide Bar, terdapat tombol untuk mengakses fan satu per satu.
Penampilan interface ini bukan hanya intuitif, namun juga mudah dimengerti bahkan bagi konsumen awam. Jika Anda tidak mau ambil pusing untuk mengkustomisasi tiap-tiap fan, Sentry 3 memiliki fitur channel linking dimana setting yang Anda buat diaplikasikan untuk seluruh kipas.
Info menarik: Hearthstone: Heroes of Warcraft Telah Dirilis Untuk iPad di Wilayah Tertentu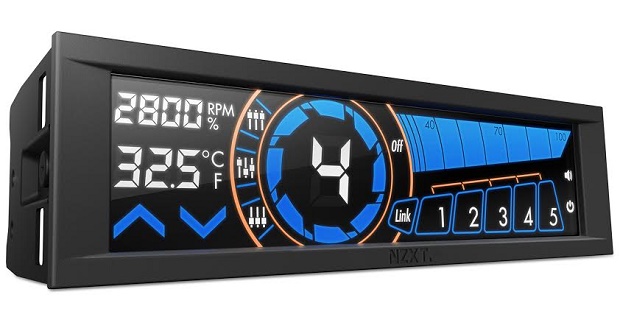 Satu channel Sentry 3 mendukung daya 15 Watt - tingkat daya listrik setinggi ini sudah lebih dari cukup untuk menangani jenis kipas komputer apapun yang tersedia sekarang. Seperti produk Sentry Mix 2, NZXT telah membenamkan teknologi anti-konslet dalam Sentry 3. Dengan begitu perangkat ini mendapatkan pertahanan dari bahaya arus singkat, undervoltage maupun overvoltage. Menjaga Anda dan komputer tetap aman.
Sentry 3 ditempatkan dalam slot optical drive kosong di PC. Jika Anda menginginkan 'mode stealth', Anda bisa mematikan panel LCD sistem kontrol pendingin ini - tentu saja tanpa menonaktifkan fan dan setting yang sudah Anda tentukan. Anda bisa menyimak demonstrasi Sentry 3 dalam video di bawah ini.
NZXT Sentry 3 akan mulai tersedia di pasar lokal dalam waktu dekat. Produk ini dibanderol dengan harga yang sangat ekonomis, 'hanya' US$ 37.
Are you sure to continue this transaction?
processing your transaction....