Berita
OpenSignal: Telkomsel Masih Jadi Operator Terbaik di Indonesia
Smartfren mulai menggeliat, unggul di kategori Kecepatan Pengunduhan Keseluruhan dan Ketersediaan Jaringan 4G
OpenSignal kembali menerbitkan laporan State of Mobile Networks Indonesia untuk bulan Juni 2018. Laporan ini memberikan gambaran tentang kualitas dan kuantitas jaringan operator seluler di Indonesia. Sebagaimana laporan sebelumnya di bulan Desember 2017, Telkomsel memimpin di hampir semua aspek. Bedanya kali ini Smartfren mulai menunjukkan tajinya dengan memenangkan kategori Kecepatan Pengunduhan Keseluruhan dan Ketersediaan Jaringan 4G.
Metodologi yang digunakan OpenSignal adalah rangkuman speedtest menggunakan aplikasi OpenSignal di periode 1 Februari - 1 Mei 2018 dengan pengukuran 11,7 juta kali dengan 1,2 juta alat uji.

Telkomsel menguasai kategori Kecepatan Pengunduhan 4G, Kecepatan Pengunduhan 3G, Kecepatan Pengunggahan 4G, Latency 4G, dan Latency 3G. Kecepatan rata-rata pengunduhan di jaringan 4G Telkomsel mencapai 12,86 Mbps, di jaringan 3G mencapai 4,99 Mbps, dan kecepatan pengunggahan 4G mencapai 7,26 Mbps.  
Smartfren sendiri, karena jaringannya hanya untuk 4G dan tidak lagi mengakomodasi 3G, berhasil memenangkan dua kategori. Meskipun demikian, patut diapresiasi bahwa Kecepatan Pengunduhan 4G Smartfren mencapai 9,83 Mbps, lebih unggul dibanding XL Axiata yang sebelumnya membuntuti Telkomsel.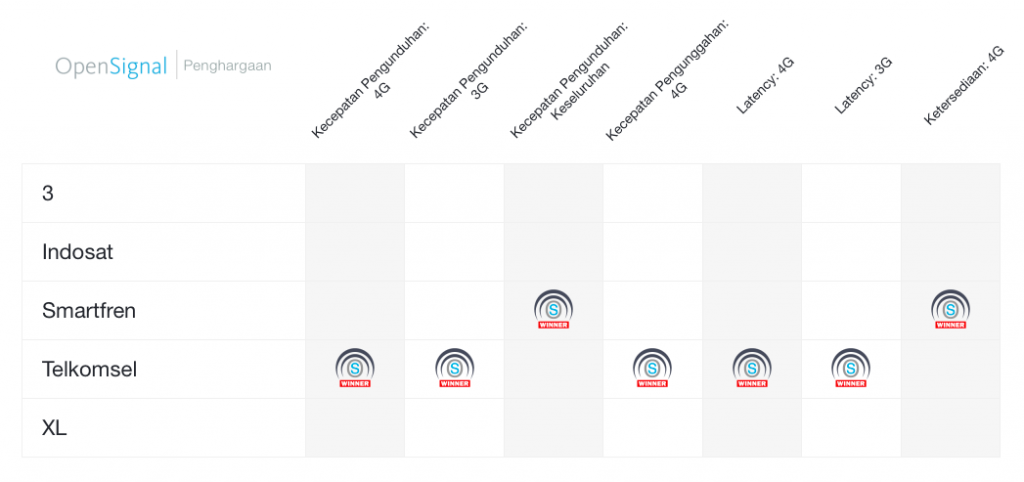 Laporan tersebut juga menunjukkan Indosat Ooredoo adalah operator dengan kualitas jaringan "terburuk". Indosat berada di posisi bawah untuk hampir semua kategori. Satu-satunya "keunggulan" Indosat dibanding Telkomsel adalah persentase jaringan 4G dibandingkan total jaringan keseluruhan yang mencapai 70%. Smartfren sebagai pemenang kategori ini mencatatkan angka 92%, sedangkan Telkomsel masih stagnan berada di posisi paling bawah kategori ini dengan 69%.
Secara regional, OpenSignal mencoba memetakan kualitas dan kuantitas jaringan untuk sejumlah kota dengan hasil yang tak jauh berbeda. Meskipun Telkomsel terus mendominasi, Smartfren mulai memberikan kejutan, khususnya di kota Makassar dan Surabaya.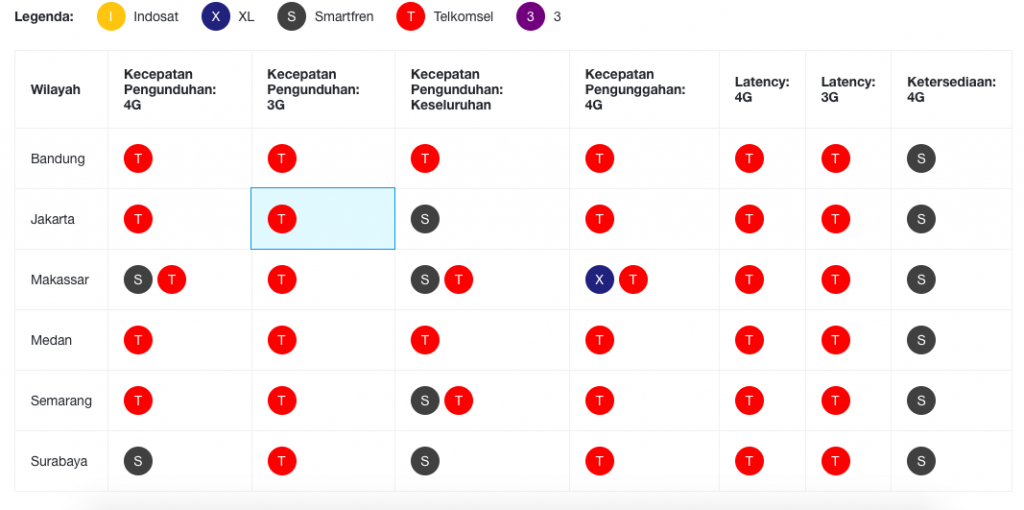 Are you sure to continue this transaction?
processing your transaction....