[Panduan Pemula] Mengetahui Nilai Tukar Mata Uang Melalui Spotlight di iOS 9
Aditya Daniel - 29 September 2015
iOS 9 belum ada sebulan dirilis namun Apple sudah buru-buru mengeluarkan update iOS versi 9.0.1 untuk menyapu bug-bug yang ada. Dengan segudang kecanggihan yang ditawarkan, tak heran jika adopsi iOS 9 diklaim oleh Apple menjadi yang tercepat. Hal ini didukung dengan data dari App Store bahwa iOS 9 kini sudah terinstall pada lebih dari 50% perangkat iOS aktif yang terakhir diukur pada 19 September lalu.

Meski tak banyak perubahan secara visual yang hadir pada iOS 9 namun sistem operasi perangkat iPhone, iPad dan iPod Touch ini kian canggih. Salah satu bagian iOS yang menjadi semakin pintar selain Siri adalah Spotlight.
Spotlight berfungsi ibarat mesin pencari pada perangkat iOS dan pada iOS 9. Anda bahkan bisa mengetahui berapa kurs nilai tukar rupiah terhadap mata uang asing melalui Spotlight.
Info Menarik: Inilah Cara Mencicipi Aplikasi News di iOS 9
Tentu banyak sekali aplikasi di App Store yang menawarkan fitur serupa namun jika Anda ingin dengan cepat mengetahui kurs nilai tukar rupiah atau mata uang lainnya, Spotlight adalah jalan tercepat, inilah caranya:
Akses Spotlight dengan cara swipe ke bawah atau ke kiri dari Homescren.
Masukkan jumlah nominal serta kurs mata uang yang ingin dicari, misalnya 1 USD to IDR untuk mencari kurs 1 Dollar Amerika terhadap Rupiah atau 30 MYR to IDR untuk menghitung kurs 30 Ringgit Malaysia terhadap Rupiah.
Spotlight akan secara otomatis menampilkan hasilnya.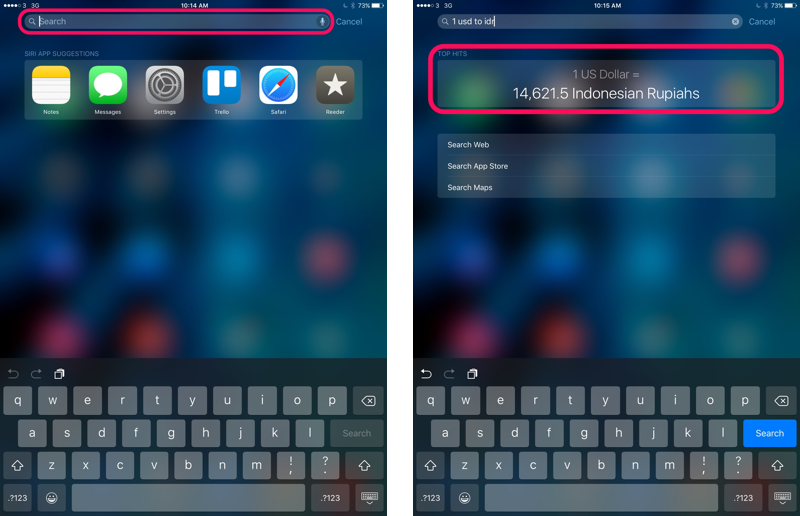 Meski hasil yang ditampilkan sangat sederhana namun cara ini merupakan cara tercepat ketimbang harus menggunakan aplikasi. Dan jika Anda memperlukan informasi lebih lanjut seperti sejarah pergerakan nilai tukar mata uang yang dicari, Anda bisa tap pada hasil yang ditampilkan oleh Spotlight dan Safari akan menampilkan hasil pencariannya untuk Anda.
Panduan Pemula untuk menghitung kurs nilai tukar antar mata uang menggunakan Spotlight adalah satu dari sekian banyak tips dan trik iOS 9 yang akan kita bahas di Trenologi. Masih banyak tips dan trik bermanfaat lainnya yang akan kita bahas, jadi jangan lupa selalu baca Trenologi ya!