Platform Marketplace NFT "Paras Digital" Peroleh Pendanaan 71,8 Miliar Rupiah
Pendanaan diperoleh melalui Initial Dex Offering dan investasi sejumlah investor
Corry Anestia - 8 November 2021
Platform marketplace NFT Paras Digital memperoleh pendanaan tahap awal (seed) sebesar $5 juta atau sekitar 71,8 Miliar Rupiah. Pendanaan ini diperoleh melalui Initial Dex Offering (IDO) dan investasi sejumlah investor.
Sebagaimana disampaikan dalam blognya, beberapa investor yang terlibat dalam putaran ini di antaranya Black Dragon Capital, Dragonfly Capital, Moonwhale Capital, Digital Renaissance, GFS Ventures, Global Coin Research, OKEx Blocdream Ventures, serta beberapa venture capital dan angel investor lainnya.
Menurut Co-founder Rahmat Albariqi, pendanaan ini akan digunakan untuk meningkatkan skala bisnisnya, termasuk memperluas vertikal aset NFT pada NEAR Protocol, seperti komik, game, dan mainan.
"Popularitas NFT terus meningkat tahun ini, dan kami melihat ada banyak peluang yang belum kami temukan. Kami yakin riset [pasar] dan perluasan ke vertikal baru dapat menjaga nilai NFT. Dengan menambah nilai ke aset digital, kami dapat menciptakan perubahan besar bagi NFT di masa depan," ujar pria yang akrab disapa Riqi ini.
Paras didirikan pada akhir Desember 2020 oleh Rahmat Albariqi and Afiq Shofy Ramadhan, dan sepenuhnya dikembangkan oleh tim dari Indonesia. Sebelum memperoleh pendanaan, Riqi mengaku telah mengerjakan beberapa proyek bersama kreator untuk membuat dan merilis IP mereka pada NEAR Protocol.
Pihaknya ingin membuka kesempatan bagi siapapun yang memiliki semangat mengembangkan IP miliknya di dunia kripto. Saat ini, Riqi bersama tim tengah mendorong pengembangan crypto-natives IP yang akan dibangun di atas Paras.
"Kami ingin mencoba menjadi pelopor transformasi pada game, komik, mainan, dan karya lewat kemampuan smart contract dan teknologi blockchain. Maka itu, kami ingin membuka banyak akses dengan menawarkan konten melalui berbagai media," tuturnya.
Beberapa platform lokal juga mulai menginisiasi platform NFT berbasis marketplace. Dua di antaranya Tokomall milik Tokocrypto dan Kolektibel.
Proyek digital comic dan target pasar
Dihubungi secara terpisah, Riqi mengungkap bahwa pihaknya saat ini tengah menggarap tiga proyek digital comic dengan menggunakan NFT. Proyek perdananya Paras Comic baru saja meluncur yang mana kontennya dikerjakan oleh kreator in-house.
Adapun, mayoritas pengguna Paras berasal dari kalangan crypto-native dan tech savvy. Namun, Riqi menyebut platformnya mulai digunakan oleh kalangan early adopter yang belum awam terhadap teknologi blockchain dan cryptocurrency.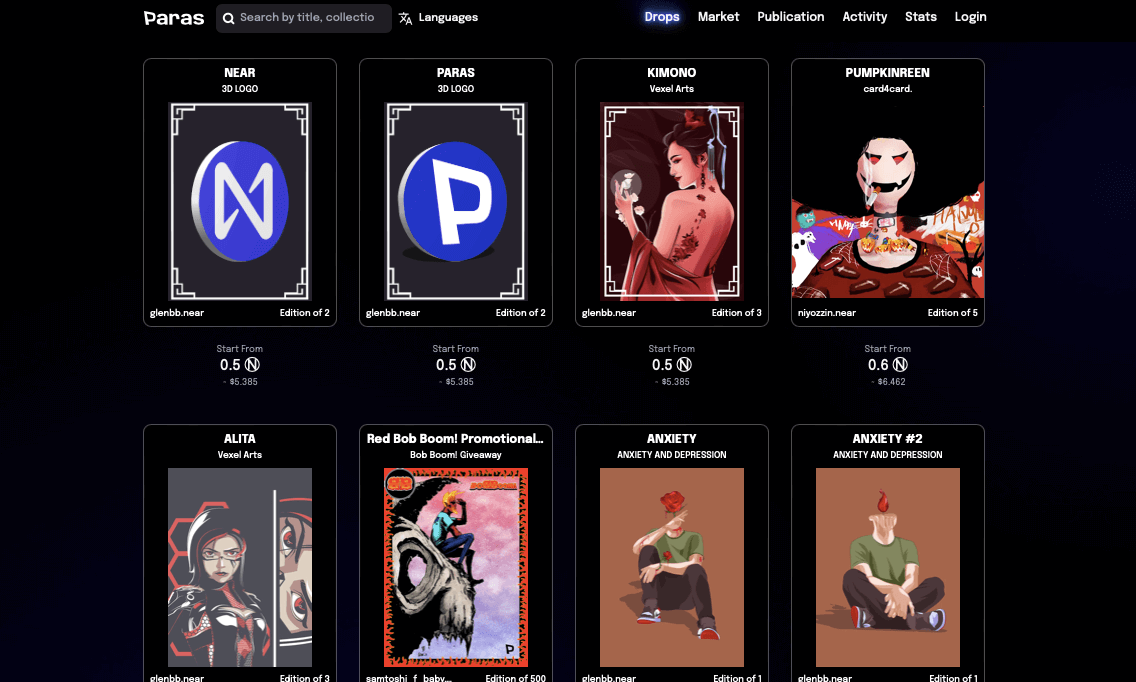 "Kami membidik pasar pop-culture enthusiast, seperti fandom dan gamer dengan fokus pada Tiongkok dan Asia Tenggara. Hingga saat ini, total volume penjualan kami mencapai $550 ribu dari total 400 ribu transaksi," tuturnya. Mengingat Paras dibangun di atas NEAR Protocol, transaksi jual-beli ini baru bisa menggunakan cryptocurrency NEAR.
Riqi menilai volatilitas kripto tetap menjadi tantangan tersendiri. Apalagi ketika pasar kripto menurun, otomatis transaksi dan penjualan akan mengikuti. Kendati begitu, ia mengaku bersemangat menekuni dunia kripto mengingat selalu ada hal baru di ekosistem blockchain.
"Ini yang mengharuskan kami untuk constantly learning and innovating. Meski kebanyakan core team Paras berasal dari Indonesia, kami tetap harus update tentang inovasi yang terjadi di belahan dunia sana. Belum lagi bicara soal perbedaan waktu antara Indonesia dan beberapa negara yang menjadi 'epicenter blockchain' seperti Lisbon dan Amerika Serikat," tambahnya.
Are you sure to continue this transaction?
processing your transaction....