Penyimpan Berbentuk Koin Kaca Ini Bisa Tampung 360 Terabyte Data Selamanya
Koin memori ini mengusung kaca berstruktur nano, gunanya ialah untuk menaruh data berukuran besar secara lima dimensi .
Yoga Wisesa - 18 February 2016
Dengan naiknya pemakaian perangkat canggih oleh konsumen, meningkat pula kebutuhan terhadap ruang data. IDC memperkirakan, manusia akan menghasilkan 40 zettabyte (lebih dari 36 miliar terabyte) di tahun 2020. Untungnya banyak talenta cemerlang berusaha untuk terus memperkecil wujud fisik medium dokumentasi data, dan satu lompatan besar belum lama diungkap.
Para peneliti dari Optoelectronics Research Centre di University of Southampton memamerkan sebuah perangkat penyimpanan canggih, berbentuk koin kecil dari kaca. Meskipun mungil, satu unitnya sanggup menampung 360 terabyte. Hebatnya lagi, device beserta informasi-informasi yang ada di dalamnya dapat tetap terjaga hingga miliaran tahun. Dengan keunikannya itu, para ilmuwan tak segan-segan menamainya 'kristal memori Superman'.
Koin memori ini mengusung kaca berstruktur nano, gunanya ialah untuk menaruh data berukuran besar secara lima dimensi via teknik penulisan femtosecond laser. Sturktur super-kecil di sana aktif mengatur banyaknya cahaya yang melewati lapisan-lapisan kaca. Ia memodifikasi polarisasi sinar, dan dapat dibaca melalui kombinasi mikroskop optik serta polariser - mirip cara kerja kacamata Polaroid.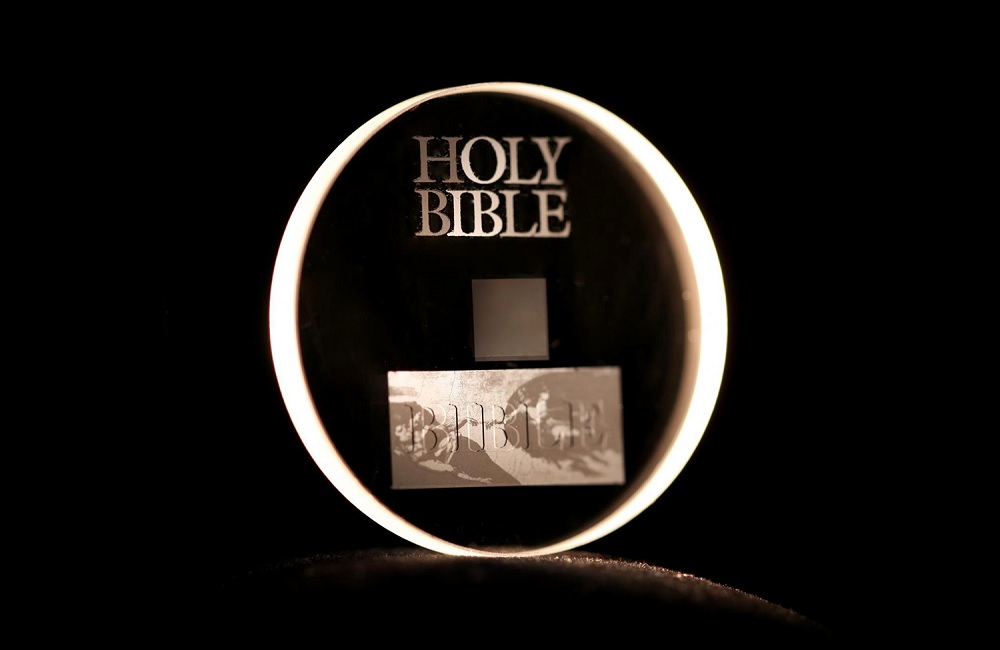 Dokumen direkam dengan menggunakan laser, untuk menciptakan gelombang cahaya yang sangat kuat dan pendek. File ditulis di tiga lapis titik berstuktur nano, masing-masing berjarak lima micrometer (sepersejuta meter). Lima dimensi sendiri mengacu pada prodedur encoding, posisi struktur 3D ditambah faktor ukuran dan orientasi. Teknik ini pertama kali dipakai dan sukses didemonstrasikan buat menyimpan berkas teks digital sebesar 300Kb di tahun 2013.
Selain sanggup mengamankan 360TB data, koin kaca memori tersebut pada dasarnya abadi jika ditaruh di ruang bertemperatur normal - atau sekitar 13,8 miliar tahun di 190° Celcius, dan mampu menahan suhu sampai 1.000° Celcius. Dengan desain super-portable serta daya tahan sangat tinggi, perangkat dapat dimanfaatkan oleh organisasi-organisasi besar seperti lembaga arsip nasional, museum dan perpustakaan.
"Sangat membahagikan ketika kami sadar telah menciptakan teknologi yang berguna untuk melestarikan informasi dan dokumen, yang bisa disimpan buat generasi masa depan," tutur Professor Peter Kazansky dari Optoelectronics Research Centre. "Penemuan ini juga dapat melindungi bukti-bukti adanya peradaban manusia: apapun yang telah kita pelajari tidak akan terlupakan."
Beberapa dokumen terpenting di sejarah manusia juga sudah diunggah ke sana, misalnya Universal Declaration of Human Rights, Opticks karya Isaac Newton, Magna Carta serta Bibel King James. Saat ini tim sedang mencari partner untuk mengembangkan dan mengomersialisasikan penemuan mereka itu.
Sumber: Southhapton.ac.uk.