Gadget
Perangkat Mac Kini Dua Kali Lebih Rentan Terinfeksi Adware Dibanding Windows
Sistem keamanan built-in di Mac ternyata masih kurang efektif menangani malware berjenis adware dan PUP.
Beberapa tahun silam, kepopuleran OS Windows menyebabkannya jadi sasaran utama 'pengembangbiakan' virus dan segala macam malware. Kompatibilitas ke beragam format file, ditambah lagi jenis pengguna PC yang majemuk membuatnya rentan terinfeksi. Sementara itu, user platform lain, seperti Mac dan Linux, dapat bernafas lebih lega karena kondisi ini mengalihkan perhatian kriminal di dunia maya dari sistem mereka.
Namun seiring berjalannya waktu, keamanan Windows terus meningkat. OS semakin canggih dalam mendeteksi malware. Kewaspadaan pengguna memang tetap dibutuhkan, tapi cukup berbekal akal sehat, pada dasarnya kita tak perlu memasang software anti-virus pihak ketiga karena Windows sudah memiliki perkakas kemanannya sendiri, misalnya Firewall serta proteksi live terhadap malware. Dan kini, malah Mac yang ternyata lebih rentan terinfeksi adware dibanding Windows.
Berdasarkan laporan State of Malware 2020 yang dipublikasikan oleh Malwarebytes Labs, resiko keamanan di Mac meningkat tajam di tahun 2019, dengan komparasi hampir mencapai 2:1 dibanding Windows. Kita bisa melihat bagaimana ancaman di Mac melojak 400 persen baik bagi konsumen biasa maupun kelas bisnis. Deteksi malware per sistem juga naik secara signifikan: dari 4,8 di 2018 menjadi 11,0 di 2019 - dua kali lipat Windows PC dengan 5,8 di tahun 2019.
Alasan mengapa para kriminal belakangan menyerang Mac secara lebih gencar ialah karena peningkatan jumlah adopsi OS di tahun lalu. Selain itu sistem keamanan built-in OS ini ternyata masih kurang efektif menangani malware berjenis adware dan 'program-program yang tak diinginkan' (PUP), sehingga membuka peluang bagi software-software jahat untuk menyusup ke perangkat Mac.
Malwarebytes menjelaskan bahwa tipe resiko di Mac sangat berbeda dari Windows. Ketika Windows harus berhadapan dengan malware tradisional yang sebagian besar ditargetkan pada segmen bisnis, mayoritas ancaman di Mac muncul dari keluarga adware dan PUP. Di sepanjang tahun 2019, hanya ada satu insiden yang melibatkan metode mengelabui pengguna buat mengunduh dan membuka software/program berbahaya.
Daftar malware yang paling mengancam OS Mac di 2019 bisa Anda simak di bawah. Di sini Anda dapat melihat bagaimana adware dan potentially unwanted programs seperti NewTab, PCVARK, MacKeeper menempati daftar lima besar.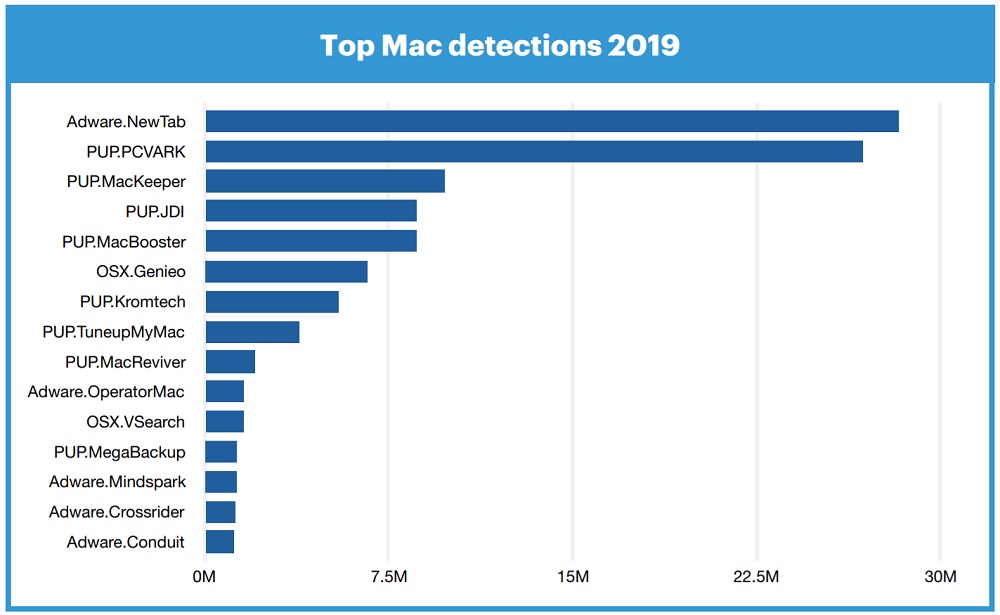 Meski banyak orang menganggap adware dan PUP tidak seberbahaya malware tradisional - misalnya ransomware, jumlah mereka meningkat pesat dan saat ini sangat mengganggu pengguna Mac. OS tersebut tak lagi bisa dikatakan imun terhadap malware. Menurut Malwarebytes, adware dan PUP di Mac jadi kian agresif dan memperlihatkan 'tujuan serta perilaku berbahaya'. Mereka juga kian pintar dalam menghindari sistem keamanan Apple yang ketat.
Via PC Gamer.
Are you sure to continue this transaction?
processing your transaction....