Pesawat Luar Angkasa NASA Tujuan Pluto Ditenagai Chip PlayStation Pertama?
Yoga Wisesa - 17 January 2015
Apakah Pluto sebuah planet, atau sebongkah asteroid? Sudah lama para ilmuwan memperdebatkannya. Namun mereka setuju bahwa Pluto ialah salah satu objek terbesar di orbit terluar tata surya kita. Tahukah Anda, ternyata NASA telah memulai misi ke Pluto bertahun-tahun lalu? Dan hebatnya lagi, pesawat ruang angkasa itu didukung teknologi lawas.
Pada tahun 2006, NASA meluncurkan pesawat ulang alik bernama New Horizons tujuan Pluto. Probe itu masuk ke mode 'tidur' untuk menghemat tenaga. Di minggu ini, New Horizons terbangun dari siklus hibernasi ketiga sekaligus terakhir. Ia kini berada sekitar 3,5 miliar mil atau 5,6 juta kilometer dari matahari, padahal New Horizons hanya dibekali prosesor yang digunakan dalam PlayStation generasi pertama.
Chip tersebut bermodel MIPS R3000, dan bertanggung jawab menangani sistem pemandu hingga kendali mesin pendorong. Namun jangan bayangkan tim NASA sekedar membeli seunit PlayStation, mencabut chip dan menempelkannya pada pesawat angkasa mereka. Ketika PSX memanfaatkan CPU R3051 33MHz, New Horizons mempunyai CPU Mongoose-V 12MHz.
Alasan NASA memilih MIPS R3000 adalah karena ia dapat diperintah dengan simpel serta berukuran lebih kecil dibanding arsitektur CPU lain saat itu. Chip juga diperkuat dengan radiasi, diproduksi oleh perusahaan spesialis aeronautika Synova asal Florida. Racikan Synova memastikan ia selalu aktif dan minim kerusakan.
Info menarik: PlayStation 4 Edisi Ulang Tahun ke-20 Ditawarkan Lebih Dari Rp 200 Juta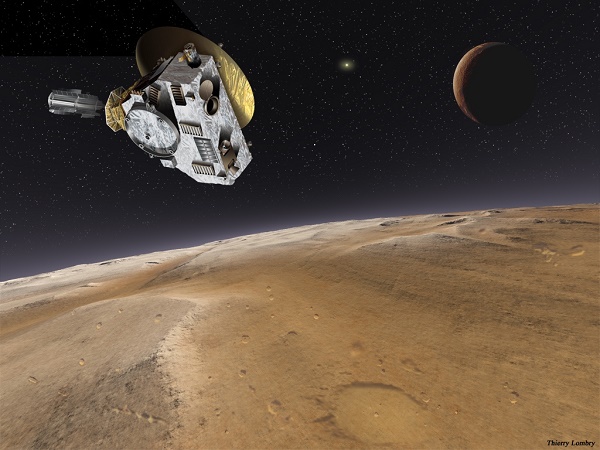 Mongoose-V berbasis MIPS R3000 bisa menganalisa posisi, menyalurkan perintah ke sistem pesawat berbeda, mengumpulkan dan memproses data instrumen, hingga mengirim data-data kembali ke Bumi. Tanpa awak manusia, kerusakan kecil akan memberikan dampak besar terhadap seluruh misi NASA. Untungnya CPU tersebut memiliki teknologi algoritma otonomi canggih, memungkinkan probe membenahi masalah secara otomatis atau menghubungi operator NASA.
New Horizons sebenarnya membawa kargo penting di antara delapan benda unik lain. Di tempat penyimpanan rahasianya tersimpan abu ahli antariksa Clyde Tombaugh, sosok yang berjasa menemukan Pluto di tahun 1930.
Lalu ada daftar nama 434.000 orang dalam CD 'Send Your Name to Pluto', CD-ROM berisi staf proyek New Horizons, koin 25 sen negara bagian Florida (tempat peluncurannya), koin 25 sen Maryland (tempat probe dibuat), potongan kecil SpaceShip One, dua bendera Amerika dan perangko tahun 1991 bertuliskan 'Pluto: Not Yet Explored'.
Sayang NASA tidak menyertakan CD game Metal Gear Solid atau Castlevania, seandainya saja ada alien yang kebetulan menemukan pesawat luar angkasa ini...
Sumber: Imagination Technologies & Phys.org. Gambar header: Wikipedia.org.
Are you sure to continue this transaction?
processing your transaction....