[Pic of The Day] Asia Pasifik Akan Jadi Pasar Penting Twitter
wiku - 2 June 2014
Tidak dapat dipungkiri pengguna internet Asia termasuk Indonesia memang gemar berjejaring sosial atau menggunakan layanan internet dengan unsur sosial, salah satunya adalah Twitter.
Data stastistik yang disusun oleh Statista mencantumkan bahwa Asia akan menjadi pasar penting bagi Twitter. Prediksi yang diajukan sampai dengan tahun 2018, dimana Asia Pasifik akan mengalahkan beberapa negara lain untuk pengguna aktif dan naik dari tahun ke tahun.
Meski tidak disebutkan secara gamblang namun Indonesia yang masuk wilayah Asia Pasifik tentu menjadi bagian penting di pasar Asia Pasifik untuk pengguna aktif Twitter.
Asia Pasifik sendiri diprediksi akan mengalahkan Eropa, Amerika Utara, Amerika Selatan serta wilayah Timur Tengah dan Afrika.
Lebih lengkap tentang prediksi pengguna aktif Twitter berdasarkan wilayah bisa di cek di gambar berikut ini.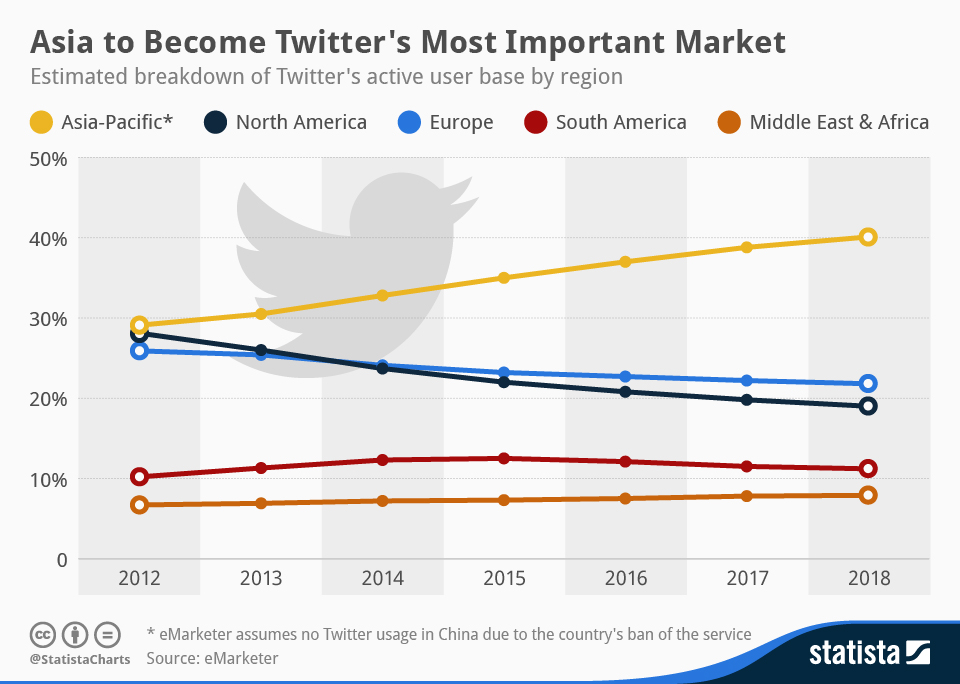 Sumber: Statista dan Imago. Gambar header: Celebrate via Shutterstock. Klik gambar infografis untuk memperbesar.
—
Kolom Pic of the Day (PoD) adalah kolom yang menghadirkan gambar pilihan yang dikutip dari situs Imago. Gambar berupa tabel, infografis atau yang lainnya ini akan berkisar seputar dunia digital. Diharapkan pilihan informasi ini bisa memberi manfaat, ide atau informasi berguna bagi pembaca TRL.