Pintu is Confident to Encourage User Interest into Crypto Assets
It's already registered in BAPPEBTI and secured funding in its debut
The lack of Indonesian public knowledge on blockchain and cryptocurrency concept becomes the main reason for PT Pintu Kemana Saja to launch Pintu. It's a platform designed specifically for crypto assets transactions through the smartphone in a practical and efficient way, expected to acquire more users.
Pintu's Marketing Manager, Kyrie Canille told DailySocial that the current platforms are using a complicated user interface and many technical terms not available for daily use. As the challenge arose, Pintu intends to solve the problem.
"Pintu intends to solve this problem by providing the easiest way (such as a portal) to access crypto and blockchain technology with UI / UX that is easy to make the experience seamless and supported with a high level of security."
One thing that distinguishes Pintu from its competitors is a feature that focuses on mobile applications. Pintu provides an infrastructure that allows users to trade, send and store crypto assets via smartphones.
The simple and practical user interface allows users to purchase and sell their crypto assets instantly, easily and without obstacles. For the user convenience, transactions of sending crypto assets between fellow Pintu users will not be charged.
In addition, Pintu also supports unlimited conversion between rupiah and stablecoin which is called Rupiah Token (IDRT). By using IDRT, it is easy for users to send rupiah on blockchain forms such as Ethereum and Binance Chain. Users can also use IDRT to trade on global crypto exchanges such as Liquid.com, Binance, Uniswap, and others.
"Pintu is basically a crypto wallet and crypto exchange that allows users to safely store and carry out transactions. Pintu also supports BTC, ETH, USDT, BNB, and IDRT. All crypto prices displayed on Pintu are final prices, there are no additional costs associated with buying or selling crypto in the Doors application," Kyrie said.
In Indonesia, there are several well-known platforms for buying and selling crypto assets. Two of them are Indodax and Tokocrypto. Indodax as one of the pioneers of related platforms has acquired around 1.8 million users with dozens of types of traded crypto assets.
Pintu launches amid the fading trend of the crypto market. According to the presentation of Indodax's CEO Oscar Darmawan, there was a significant decline throughout 2019, especially compared to the peak popularity in 2017. Nevertheless, the valuation is still considered to have the highest performance compared to other investment assets.
Officially registered in BAPPEBTI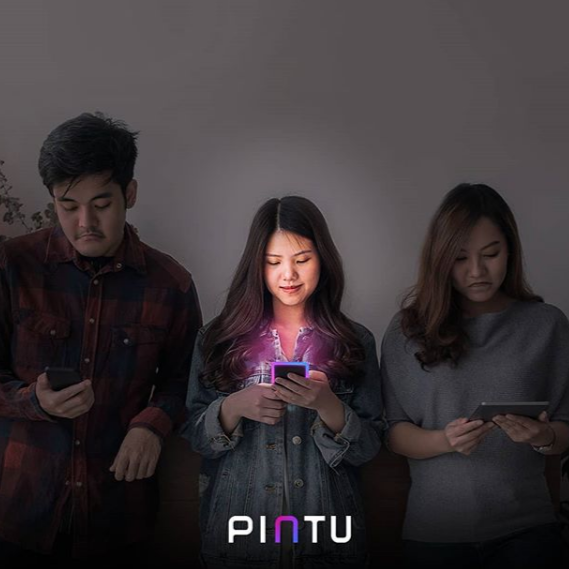 Pintu has been officially registered and supervised by the Commodity Futures Trading Regulatory Agency (BAPPEBTI). Officially launched late last March 2020, the company claims to have 100 active users. Pintu has also established partnerships with communities and media partners to the blockchain ecosystem in Indonesia.
Furthermore, the company expects to expand partnerships, starting with payment gateway providers and remittances that make it possible to add payment options on the platform.
"Our main goal is to provide everyone with reliable and easy access to an open financial system. For monetization strategies, Pintu collects small fees from rupiah and crypto withdrawals. We also focus on providing safe and easy ways for users to buy, sell, and save their crypto assets," Kyrie added.
In 2020 the company has achieved several targets, including developing the Pintu application as a platform to introduce more massive blockchain technology to the public by offering an educational interface, so users can become more familiar with the technology.
Pintu also wants to overcome obstacles related to remittances for Indonesian workers abroad. Through the platform, the user can later buy BTC, IDRT, USDT, BNB, or ETH through crypto ATMs, Point-of-Sales (POS), or OTC crypto abroad and then can exchange it for rupiah before sending their money to families in Indonesia.
"Our target in 2020 is to become the best crypto application in Indonesia. We have secured the seed funding stages whose details we cannot disclose. We are still opening opportunities for investors who are interested in investing in our platform," Kyrie said.
–Original article is in Indonesian, translated by Kristin Siagian
Application Information Will Show Up Here
Are you sure to continue this transaction?
processing your transaction....