Platform Logistik Prahu-Hub Mudahkan Pengiriman Barang Antar Pulau
Menjangkau pengiriman dari Sabang sampai Merauke
Masih besarnya biaya pengiriman dalam negeri menjadi salah satu alasan mengapa platform digital logistik Prahu-Hub didirikan. Berdiri sejak tahun 2017, mereka hadir sebagai marketplace yang didesain untuk membantu masyarakat Indonesia yang ingin mengirim barang menggunakan kontainer.
Kepada DailySocial

Founder Prahu-Hub Benny Sukamto

mengungkapkan, saat ini untuk biaya pengiriman dalam negeri biayanya cukup besar dan lebih sulit dibandingkan pengiriman barang ke luar negeri. Tingginya biaya logistik tentunya akan berpengaruh terhadap melemahnya kekuatan dagang dalam negeri dan meningkatkan ketergantungan kepada luar negeri.
"Prahu-Hub hadir sebagai marketplace yang mempertemukan pengirim barang domestik antar pulau (shipper) dan penyedia jasa pengiriman (ekspedisi, pelayaran, dan trucking). Dari pemesanan yang terjadi di marketplace kami, akan dikenakan biaya administrasi yang dibebankan kepada partner kami, dalam hal ini adalah penyedia jasa pengiriman," kata Benny.
Secara khusus Prahu-Hub memfokuskan hanya kepada pengiriman domestik antar pulau saja. Hal ini yang membedakan layanan Prahu-Hub dari layanan logistik lainnya.
Saat ini Prahu-hub telah memiliki lebih dari 400 pengirim barang yang telah menggunakan layanan, dan setiap minggu situs web telah dikunjungi 1500 calon pengirim barang. Layanan Prahu-Hub mencakup dari Sabang sampai Merauke. Prahu-Hub juga telah melayani lebih dari 900 pengguna yang telah menggunakan platform sebagai jasa pengiriman barang kepercayaan mereka.
Untuk mempercepat pertumbuhan bisnis, perusahaan belum memiliki rencana untuk melancarkan kegiatan penggalangan dana. Namun Prahu-Hub tidak menutup kemungkinan jika adanya investor yang tepat untuk bergabung bersama membangun bisnis Prahu-Hub.
"Untuk penggalangan dana, kami belum merencanakan secara spesifik. Tetapi kami membuka komunikasi dengan investor yang share our view and want to grow together," kata Benny.
Pandemi dan Alibaba Netpreneur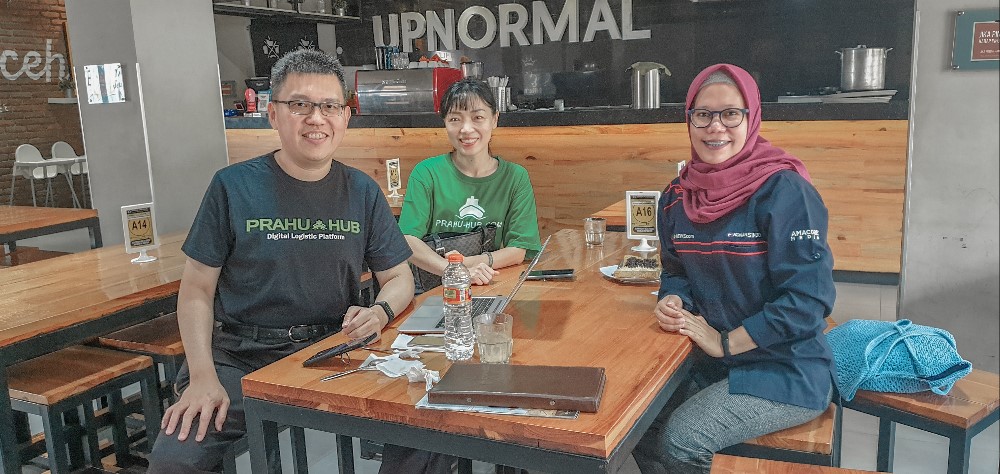 Disinggung seperti apa pertumbuhan bisnis Prahu-Hub saat pandemi, Benny menegaskan logistik adalah salah satu sektor yang dapat bertahan di masa pandemi ini. Tetapi ketersediaan barang dan kebutuhan barang memang mengalami penurunan di luar pulau, tidak hanya di pulau Jawa selama masa pandemi ini. Sehingga banyak sedikit akan berpengaruh pada volume pengiriman antar pulau.
Tahun 2019 lalu Prahu-Hub terpilih menjadi Alibaba Netpreneur dari Indonesia. Banyak pengalaman kemudian yang didapatkan oleh Prahu-Hub, startup yang didirikan oleh Benny Sukamto, setelah sepuluh tahun tinggal dan bekerja di Amerika Serikat di bidang software intelegensi bisnis, Benny kembali ke Indonesia dan mengembangkan bisnis logistiknya.
"Dengan mengikuti Netpreneur training class #1 dari Indonesia di kantor pusat Alibaba, saya mendapatkan banyak pengalaman memulai suatu startup dan mentransformasi perusahaan "brick and mortar" into digital company to survive in the long run," kata Benny.
Are you sure to continue this transaction?
processing your transaction....