Ponsel Flip Legendaris Nokia 2720 Siap Meluncur Kembali
Walaupun masih tergolong feature phone, Nokia 2720 tetap menyimpan berbagai fitur pintar.
Yoga Wisesa - 6 September 2019
Absen selama beberapa tahun, brand Nokia dibangkitkan kembali oleh HMD Global di tahun 2016. Sejak saat itu, sang perusahaan asal Finlandia mencoba mengejar ketinggalannya dengan menggarap beragam model smartphone - dari mulai entry-level sampai varian ber-setup tiga kamera. HMD juga menyadari bahwa merek Nokia punya sejarah panjang di ranah penyediaan perangkat telekomunikasi.
Di beberapa kesempatan, HMD bahkan memanfaatkan sisi sentimental dan nostalgia dalam meracik produk. Hasil dari konsep ini ialah versi baru Nokia 3310 (disingkap di MWC 2017) dan Nokia 8110 yang populer berkat kemunculannya di film The Matrix. Kali ini di acara IFA 2019, HMD Global mengumumkan penjelmaan modern dari ponsel flip Nokia 2720. Ia mungkin belum bisa mengusung gelar 'smartphone', tapi ada banyak fitur pintar yang produsen tanamkan di sana.
Seperti tipe 3310 dan 8110, Nokia 2720 anyar masuk dalam ke lini Nokia Originals, terdiri dari perangkat-perangkat klasik yang memperoleh sentuhan modern. Nokia 2720 Flip terlihat mirip seperti pendahulunya, lengkap dengan engsel flip di bagian tengah, tombol-tombol navigasi fisik dan numerical pad di bawahnya. Namun jika dikomparasi, ia punya penampilan yang lebih ramping dan memiliki layar internal lebih lebar, yaitu 2,8-inci.
Tanpa perlu membuka, Anda bisa melihat jam, siapa yang menelepon dan mengirim pesan via panel eksternal. Untuk menjawab panggilan, Anda hanya tinggal membuka layar. Lalu ketika sudah selesai berbicara, tutup kembali lid-nya
Satu aspek yang jadi andalan HMD di Nokia 2720 Flip adalah daya tahannya. Tubuh ponsel ini terbuat dari bahan polikarbonat yang dijanjikan mampu 'menangani' benturan sehari-hari. Lalu produsen sengaja memanfaatkan tombol-tombol berukuran besar agar mudah ditekan dan dicapai jari.
Menariknya lagi, produsen tak melupakan faktor keamanan. HMD menyediakan pula tombol darurat di sisi samping, fungsinya ialah buat menelepon lima orang terdekat sembari mengaktifkan mode loudspeaker.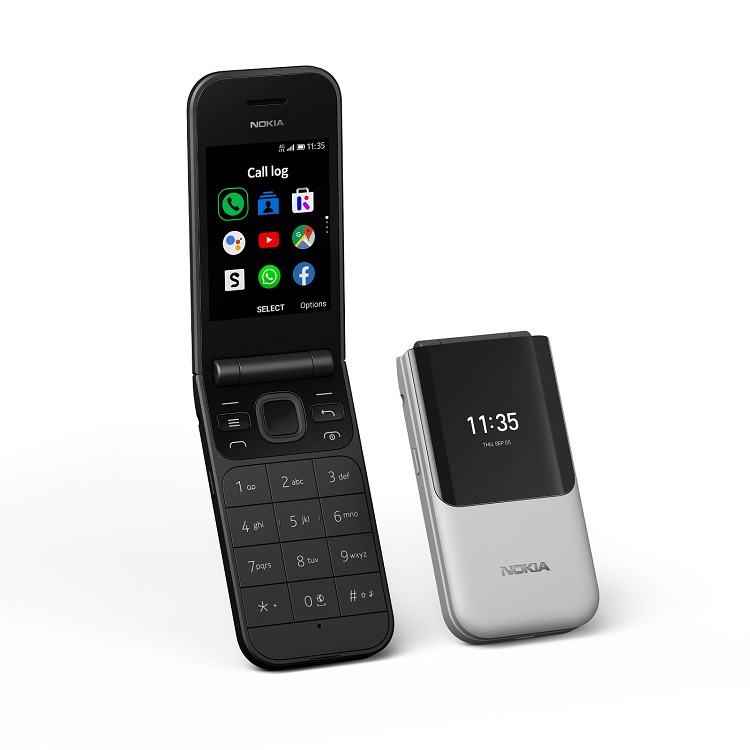 Walaupun masih tergolong feature phone, HMD membekali Nokia 2720 dengan sistem operasi KaiOS yang menyimpan bermacam-macam fitur dan app ala ponsel pintar. Di sana ada fungsi search Google, aplikasi Google Maps, WhatsApp, YouTube, Facebook, hingga Google Assistant. Lewat Assistant, Anda dipersilakan melakukan panggilan atau mengirim pesan tanpa perlu mengetik manual.
Selain itu, Nokia 2720 turut ditopang konektivitas 4G dan bisa terhubung ke hotspot Wi-Fi, serta memiliki baterai yang sangat awet, dengan waktu standby mencapai 28 hari.
HMD berencana untuk mulai memasarkan Nokia 2720 Flip di bulan September ini. Produk dibanderol seharga € 90 atau kisaran US$ 100 dan ditawarkan dalam dua pilihan warna, yakni hitam serta abu-abu.
Via The Verge. Gambar: NokiaPowerUser.