Potential Synergy of Startups and Retails to Realize "New Retail" in Indonesia
Resulting in new customer experience in shopping
New retail is a term popularized by e-commerce giant Alibaba to describe the combination of online and offline retail through digitizing the trade process or what is called the retail value chain. The goal is to provide a better user experience (UX) for the benefit of merchants, consumers, as well as various partners involved in business processes.
Based on the CGAP study, the new retail concept democratizes several dimensions in the trading business, including (1) supply chain and distribution logistics, (2) value-added services for producers/retailers, (3) an integrated shopping experience for consumers.
With its financial resources and capabilities, Alibaba develops all these aspects independently. But what if we are faced with the opposite condition, when digital transformation met the legacy business processes, change cannot be done quickly - with various limited resources.
Potential synergy
The realization of new retail, especially in Indonesia, can be done with a synergy between technology startups and retail companies. This synergy may be started by identifying the most fundamental aspect of new retail itself, which is none other than building a data warehouse. The collected data will be used for various needs such as predictive analysis.
If we look deeper, there are several data that can be used in the retail business process to help the decision-making system, including payment/transaction data, product data, promotional data, and logistics/supply chain data.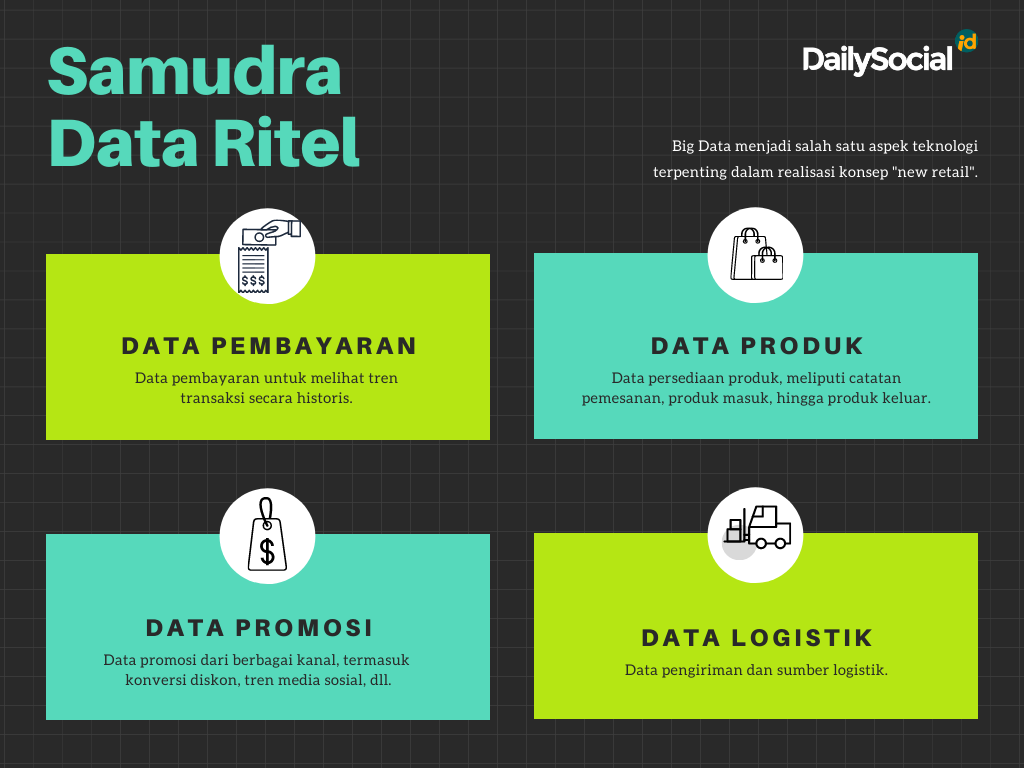 Not only the digitization process performed by many traditional retailers, but these data must also be integrated by each party to produce comprehensive insights. For example, between product data, transaction trends, and a logistics system to help retailers ensure the food stock always in prime condition.
Technically, there must be good connectivity between the point of sales applications that accept transactions from consumers, applications for available items in warehousing units, to supply chain applications that connect retailers with their partners.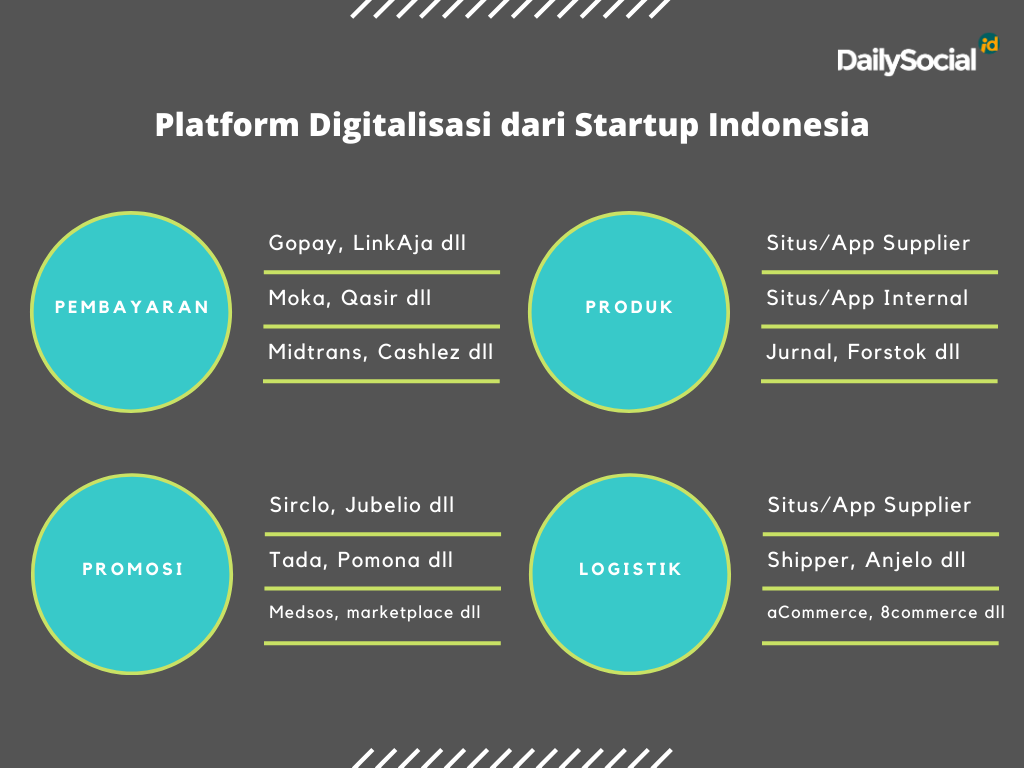 The use of digitization tools will significantly convert data settings that are produced or managed by retailers. The existing platforms are generally open, allowing integration with other digital services. For example, a financial recording application that can be integrated with a cashier system or digital wallet transaction dashboard via an API connection.
Research conducted by Accenture also shows a trend of accelerating digital transformation in the retail and FMCG sectors during the pandemic. There are ten aspects to be captured, from the willingness to decompose consumer data into knowledge, improving sales management, to improving the partner ecosystem.
DSResearch's survey on FMCG/retail companies also shows roughly the same results. The transformation vision launched a breakthrough that opens the potential for new products/services and adapts to the trend of consumer needs.
Collaboration form
Studying the form of digital transformation from the DSResearch report above, there are several models that retail companies can adopt when collaborating with startups. The first form is system adoption, simply put retailers only need to become premium customers of digital services provided by startups. Several platforms provide flexibility to customize needs at a limited level.
The second form is through strategic partnerships. In Indonesia, for retail companies or FMCG, this practice does not seem common, it's just that some have done it. Companies with greater scale and capability can participate in startup development - generally through ownership, aka the company becomes a shareholder (either majority or minority). This model allows vision alignment between companies, therefore, they can synergize more closely.
The third is through sharing platforms, some startups are dependent on business partners in terms of product fulfillment. Especially for those who develop an online-to-offline based system.
New consumer experience
Through the omnichannel platform, retailers can enter the digital platform to serve more users. Stores that provide fresh ingredients, for example, could just enter the HappyFresh ecosystem, even some popular e-commerce services have also started to accommodate similar services. Apart from being delivered, the grocery application also has the option to be picked up at the store, so that an offline shopping experience is still possible.
When people shop, they will have three experiences, shopping preparation, shopping process, and after shopping. In the shopping preparation stage, several activities start from listing groceries, finding inspiration to buy new items, looking for/seeking promos, to selecting the retail store you want to visit.
While in a retail store, they are exposed to several activities. Starting from circling the shelves to find items to purchase. In this process, there are several innovations that might be developed, such as a store mapping application or as simple as a product information application - users can scan the code printed on a product to view various information, from price, content, to the distribution process (this will affect fresh produce such as vegetables). Continue with the payment process and claim a discount if there are certain promos.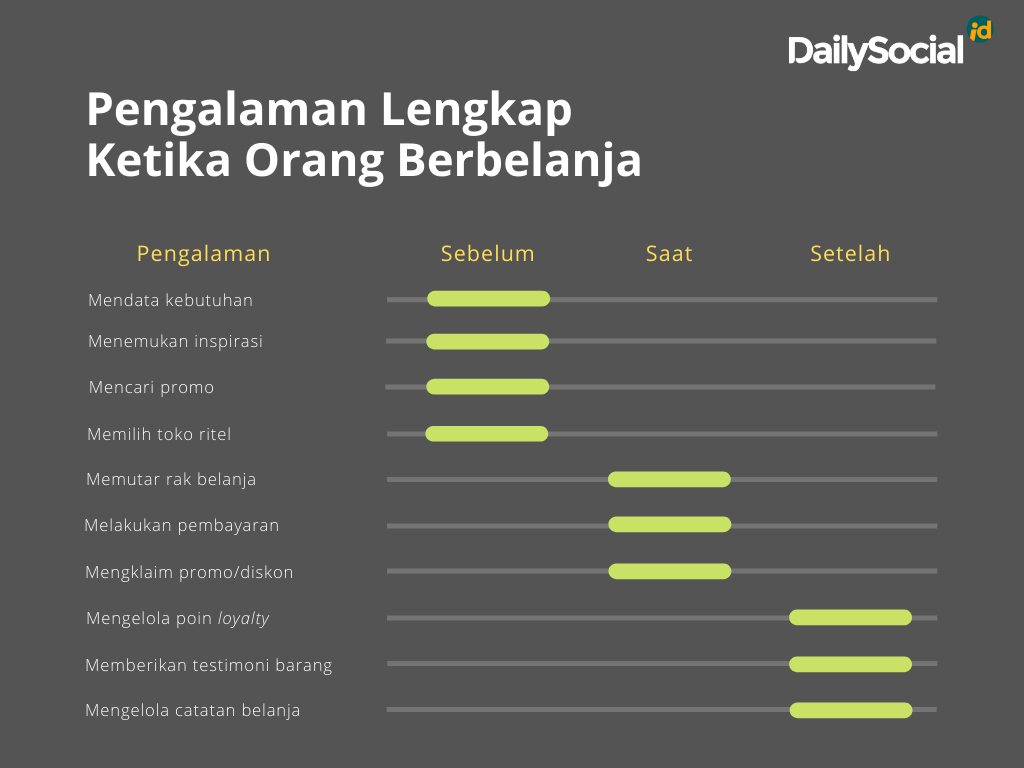 After returning home, there are still some experiences left. For example, allowing users to get points from loyalty programs or testimonials on certain items. The most important aspect is that it makes it easy for users to manage their shopping records and helps them perform expense analysis. At this stage, several local startups have tried to present innovations, one of which is Pomona, which allows users to earn points by scanning shopping receipts.
Retail industry to survive
A study suggests that direct shopping experience will still be relevant amid the development of e-commerce or online grocery services. There are four dimensions that are maintained, including sensory, emotional, psychosocial, and impression/meaning.
The sensory dimension relates to experience which refers to stimuli of form, color, touch, and so on. Meanwhile, the emotional dimension is related to the experience of using emotions to generate liking for a brand or product. The psychosocial dimension is people's desire to pamper themselves such as going out while shopping. Meanwhile, the impression/meaning dimension is related to the experience of doing the activity itself.
What currently deserves to be a retailers' priority is how to improve the above factors through cell phones that stay in the hand of every consumer. This is done while looking for innovations to bring new experiences that are more memorable, the aim of which is to increase sales/visits. Doing digital transformation is the answer. Forming a synergy with digital startups is an option.
–Original article is in Indonesian, translated by Kristin SiagianHeader: Depositphotos.com
Are you sure to continue this transaction?
processing your transaction....