Gadget
Rangkaian Lampu Living Things 'Ditenagai' Ganggang, dan Bisa Dimakan
Para pecinta sushi pasti sudah tidak asing lagi dengan yang namanya nori. Bahan dasarnya ialah rumput laut, anggota dari keluarga algae atau ganggang. Sebagai makanan, ia kaya akan serat dan tinggi protein. Beberapa jenis lain, semisal microalgae juga telah diolah jadi pangan. Tapi pernahkan Anda membayangkan jika ganggang dijadikan sumber tenaga lampu?
Dinamai Living Things, desainer Jacob Douenias dan Ethan Frier asal Carnegie Mellon University, mencoba memberikan gambaran bagaimana simbiosis mutualisme antara manusia dan mikroorganisme dapat membantu 'menciptakan lingkungan'. Mikroorganisme sudah sering dimanfaatkan buat keperluan industri semisal medis, agrikultur, bahan bakar hingga minuman beralkohol. Namun buat pertama kalinya microalgae digunakan untuk keperluan arsitektur - sebuah struktur hidup.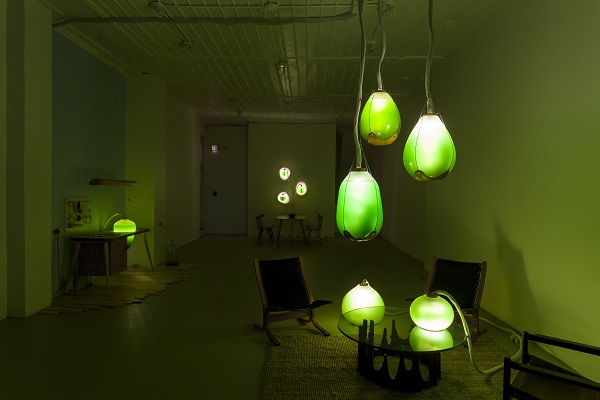 Proses penciptaannya sungguh unik. Para desainer memilih jenis Spirulina, yang dibudidayakan dalam wadah bioreaktor dari kaca buatan tangan sekaligus furnitur/perabot rumah. Wadah-wadah tersebut ditempatkan di posisi berbeda: ruang keluarga, ruang makan dan dapur. Wadah kaca mengatur segala macam kebutuhan ganggang seperti pasokan udara, nutrisi, cahaya dan pembuangan. Kita sendiri mendapatkan cahaya dan panas.
Info menarik: Bukan Lampu Ajaib, Tapi Flyte Bisa Terbang di Atas Sumber Listrik
Sistem tersebut disambung dengan kabel-kabel sepanjang 800 meter, terbentang antara pusat kendali dan wadah. 'Workstation' itu terdiri atas akses tabung, pompa air dan udara, pemanas serta driver LED. Satu filamen Spirulina sulit dilihat mata telanjang, karena ukurannya hanya 1/3 milimeter. Dalam jumlah banyak, ia berwarna hijau. Semakin pekat, maka ganggang semakin efektif menyerap cahaya.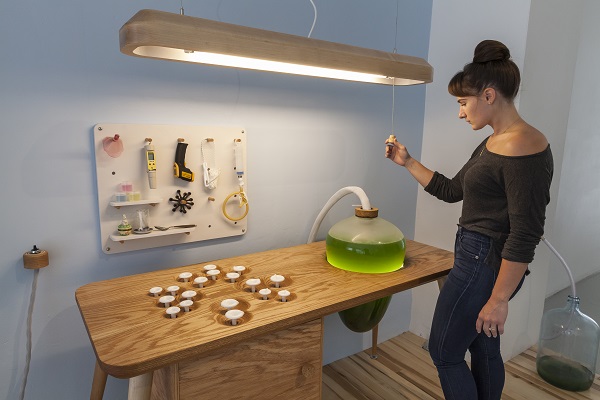 Dalam beberapa waktu, Spirulina akan tumbuh lebat. Inilah saat bagi kita untuk 'panen'. Caranya sangat mudah, tinggal kunjungi bagian pengaturan dan ambil microalgae itu lewat satu dari 18 katup yang tersedia. Tentu supaya bisa dikonsumsi, ganggang harus dikeringkan terlebih dulu, mengubah 'pasta' menjadi bubuk hijau. Dijelaskan oleh Douenias dan Frier, bubuk menyimpan 60 persen lebih protein dari bobot total, rasanya mirip nori.
Rangkaian 'perabot' Living Things diinstalasi di The Mattres Factory, bagian dari The Museum of Contemporary Art yang berlokasi di Pittsburgh, Pennsylvania. Selama masa pameran, pengunjung juga dipersilakan menuai Spirulina. Kedua desainer beserta tim museum turut bekerjasama dengan bartender dan chef demi menyediakan makanan serta minuman berbasis microalgae untuk dinikmati.
Living Things rencananya dibuka hingga bulan Maret 2016.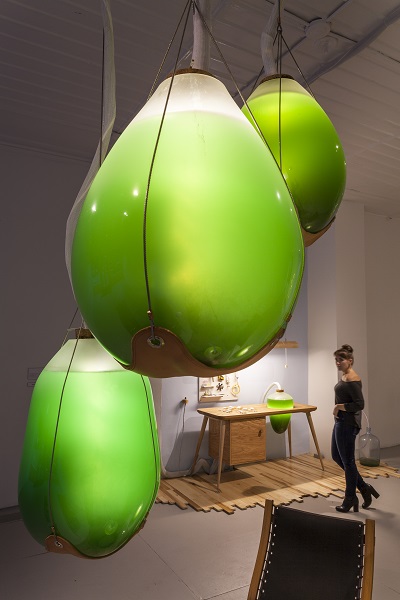 Sumber: LivingThings.us.
Are you sure to continue this transaction?
processing your transaction....