RateS Secures 85.8 Billion Rupiah of Equity and Debt Funding
KVision from Kasikon Bank become the latest investors; also participated the previous investors, including Vertex Ventures, Insignia Ventures Partners, dan Genesis Ventures
A social commerce startup, RateS, has received a total $6 million or equivalent to 85.8 billion Rupiah. This follow-up round is divided in two forms, around $4.5 million of equity funding and $1.5 million of debt funding.
KVision from Kasikon Bank joined as a new investor. Meanwhile, also participated the previous investors, including Vertex Ventures, Insignia Ventures Partners, and Genesis Ventures.
RateS' Co-Founder & CSO, Albert Ho said to DailySocial that this fresh money will be followed up with series B fundraising targeted to be closed this year. With the participation of Kasikorn Bank, RateS is also exploring new financing products for their reseller partners and end users.
"We are to expand to other tier-2 and 3 cities, strengthen our product development team, and invest more in our private label businesses, Hozu and Kidzu," Albert said.
Previously, RateS announced their series A funding in February 2021 with an undisclosed amount. Vertex Ventures and Genesis Ventures are leading this round. The company has secured a seed funding from Alpha JWC Ventures and Insignia Ventures Partners in 2018.
"2021 was a tremendous year of growth for us, with a 4x increase since 2020. Today, we also have offline teams present in 25 cities, while making deliveries to over 300 cities. This round [funding] is a testimony of investors' trust in our growth," Albert added.
The growth of social commerce in Indonesia
Through the RateS app, anyone can sell (become a reseller) without having to buy stock beforehand. Users can create an online store containing various products according to the RateS catalog, then promote it through their online and offline channels. As partners, resellers will get special purchase and selling rates to consumers in return for bigger profits.
According to McKinsey's projection, the Indonesian e-commerce industry is to generate $65 billion GMV by 2022. Social commerce alone is projected to contribute up to $25 billion.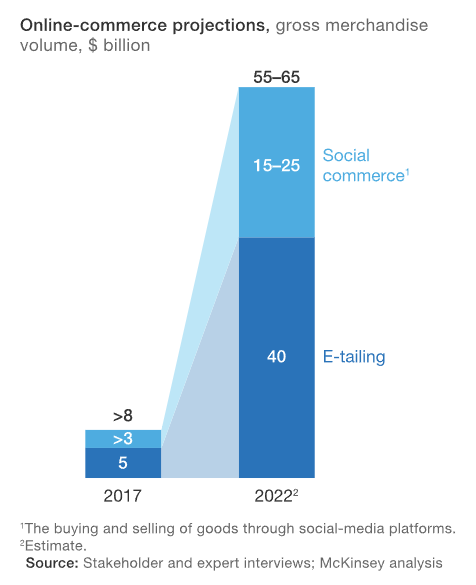 In the ecosystem, local social commerce players are rising with unique approaches. However, for one similar thing that all platforms been doing, is targeting users in small cities. While people in big cities are already familiar with e-commerce or online marketplaces, there is still a lot of potential in suburban areas for these two services.
One certain thing that social commerce does, is to bridge the gap between people's needs to shop online with limited access [for example to a payment system]. Resellers have a role to assist the process.
Several players have implemented the social commerce business model, including Evermos, Raena, Dagangan, Kitabeli, and others.
–Original article is in Indonesian, translated by Kristin Siagian
Application Information Will Show Up Here
Are you sure to continue this transaction?
processing your transaction....