Telah jadi sebuah tradisi tahunan, GeForce Day adalah ajang yang diselenggarakan Nvidia sebagai tempat berkumpulnya gamer, kesempatan buat menjajal produk-produk canggih dari produsen hardware, dan juga merupakan lokasi dilaksanakannya turnamen-turnamen eSport. Dan di GeForce Day 2017, Nvidia melangsungkan banyak acara seru serta mengungkap sejumlah pengumuman penting.
GeForce Day Indonesia 2017 dilangsungkan pada hari Sabtu 15 Juli minggu lalu di Nafiri Hall APL Tower Central Park. Sebelum dibuka untuk umum, Nvidia terlebih dulu memulai acara dengan melakukan pengumuman penting buat pers di pagi hari: perusahaan spesialis teknologi grafis asal Santa Clara itu mengabarkan telah berkolaborasi bersama TNC demi memperluas jaringan bisnis cyber cafe dari Filipina ke Indonesia.
Nvidia & TNC
TNC ialah salah satu franchiseiCafe terbesar di Filipina. Divisi Dota 2 mereka adalah tim Filipina pertama yang berhasil lolos dalam babak kualifikasi The International (2016), dan menjadi tim Asia Tenggara kedua yang bisa bertanding di laga itu setelah Mineski di The International pertama. Pembukaan game center di Indonesia menandai langkah perdana TNC di luar negaranya.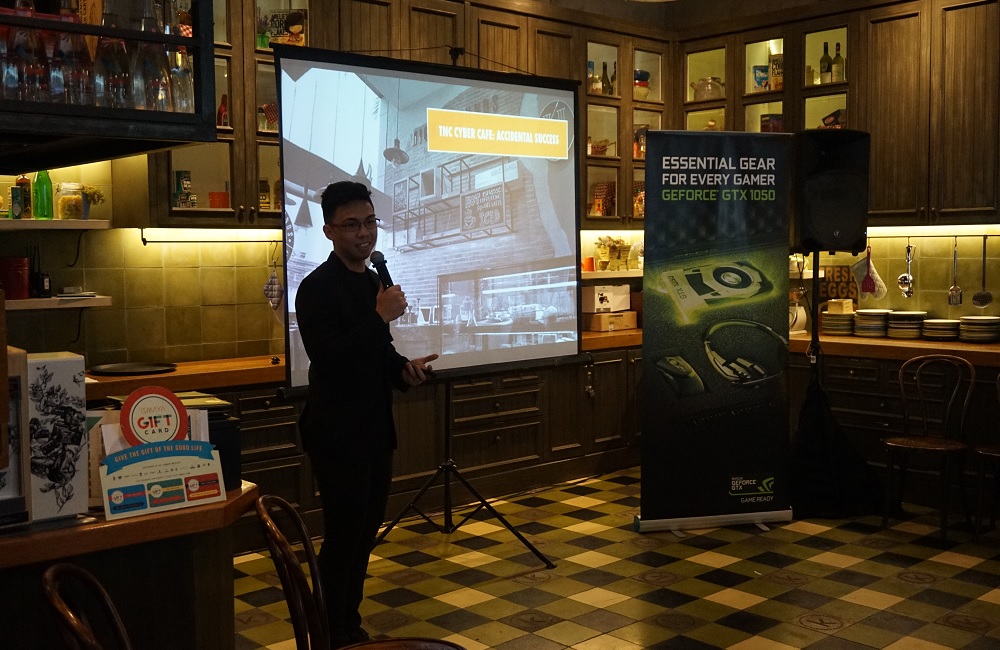 Dukungan dari Nvidia ditunjukkan melalui penyediaan kartu grafis GeForce kelas GTX di unit-unit PC dalam cyber cafe. Setidaknya, sistem di sana sudah dipersenjatai kartu grafis GTX 1050. GPU berbasis arsitektur Pascal itu diklaim sanggup menangani judul-judul eSport populer di setting grafis tertinggi. Menariknya lagi, di sejumlah tempat, TNC berjanji akan menyajikan PC dengan GeForce GTX 1080 Ti.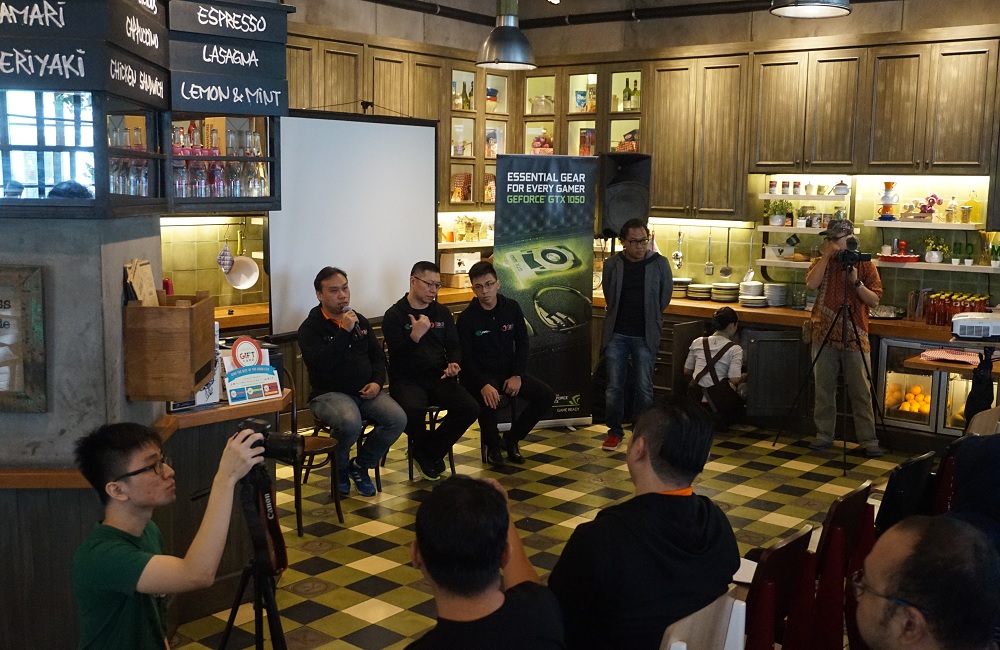 Alasan TNC melebarkan jaringannya ke Indonesia tak sulit ditebak. Mereka melihat potensi gaming yang sangat besar di nusantara. CEO TNC Indonesia Hadi Sukotjo menjelaskan bahwa Indonesia merupakan salah satu negara dengan jumlah gamer terbanyak di Asia Tenggara, mencapai 40 juta orang. Bahkan beberapa gamer kita juga berhasil memenangkan ajang global. Melalui pembukaan iCafe berstandar internasional, TNC berharap mereka bisa memberi kesempatan dan menyediakan tempat pelatihan bagi para gamer muda.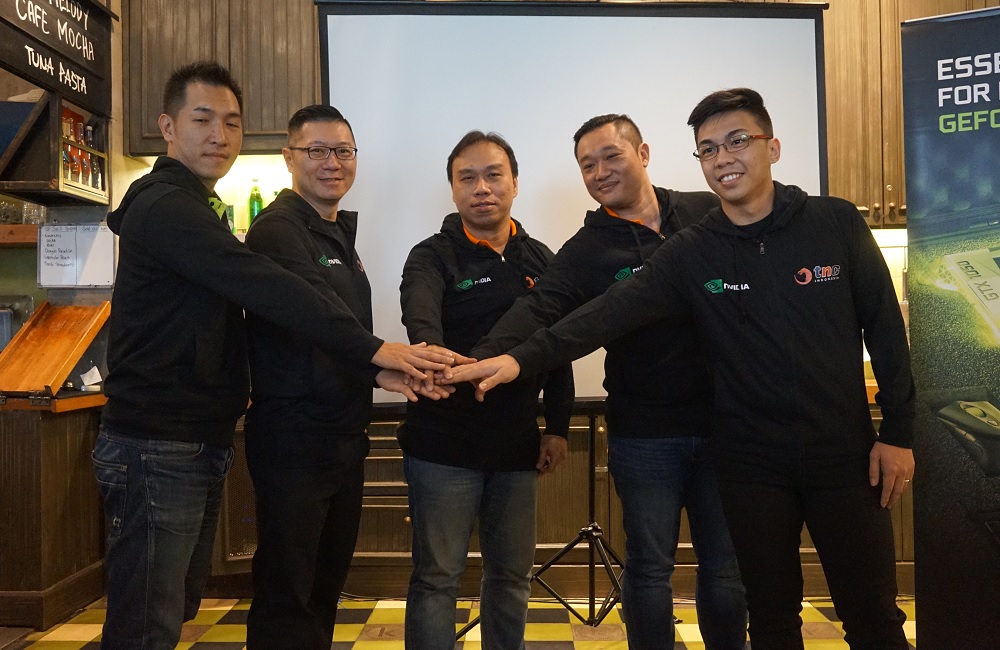 Selain mempersiapkan sarana latihan 'Nvidia certified iCafe', komitmen TNC dalam mendukung perkembangan industri eSport direalisasikan lewat janji untuk melaksanakan turnamen sebulan sekali. Buat sekarang, TNC akan fokus pada dua judul permainan: Dota 2 dan PointBlank.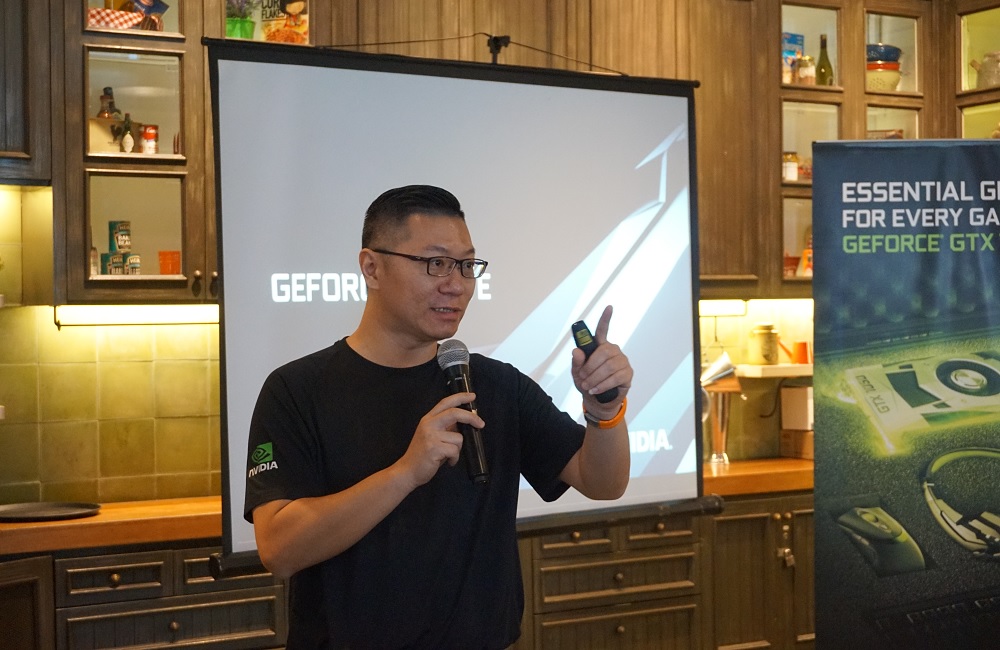 Memiliki 100 cabang di Filipina, TNC berencana untuk membuka tidak kurang dari 50 game center di Indonesia, disebar di 15 kota: Jakarta, Surabaya, Palembang, Medan, Lampung, Bali, Malang, Samarinda, Bantan, Muara Bungo, Tanjung Pinang, Sumedang, Bogor, Blitar dan Bandung. TNC juga punya agenda buat mengimplementasikan sistem akun di iCafe mereka, sehingga sisa kredit yang Anda miliki bisa digunakan di seluruh cabang TNC.
GeForce eSports Xtreme Tournament
Digelarnya GeForce Day juga menandai dimulainya GEXT 2017 di kawasan Asia Tenggara. Di acara tersebut, Nvidia mengundang para pemain profesional game Dota 2 dan Counter-Strike: Global Offensive untuk mengeluarkan seluruh kemampuan mereka demi memperebutkan porsi terbesar dari total hadiah senilai US$ 75.000. Pertandingan-pertandingan di sana dapat disaksikan via live stream.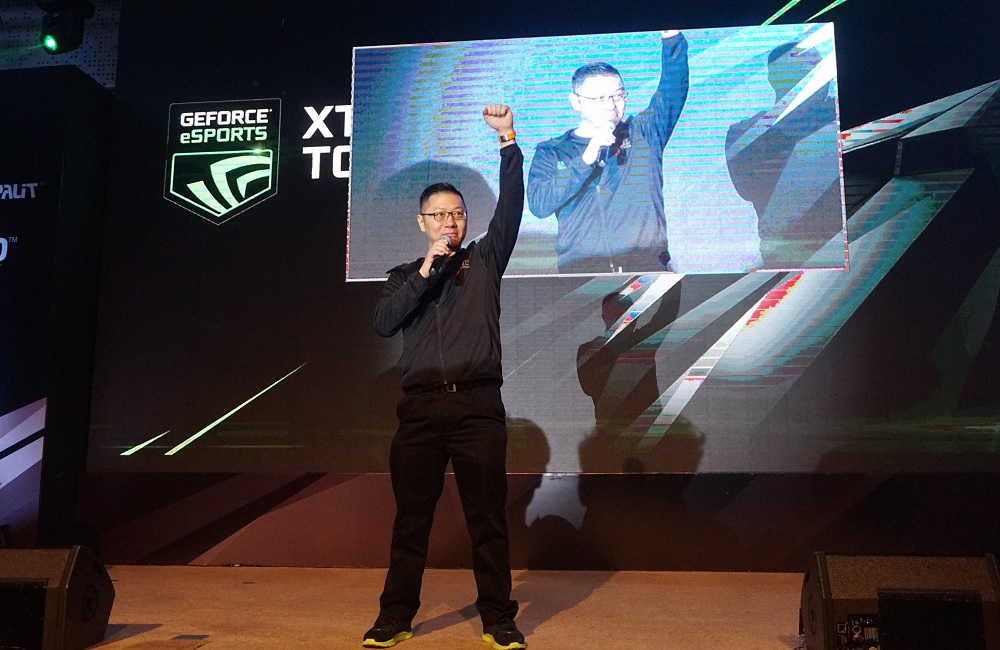 "Indonesia memiliki komunitas gaming yang berkembang sangat pesat, dilaporkan sebagai negara dengan pertumbuhan gamer paling cepat di Asia Tenggara." kata Simon Tan selaku direktur bisnis konsumen Nvidia APAC di rilis pers. "Nvidia sangat gembira bisa menyelenggarakan GeForce Day dan GEXT, dimaksudkan agar gamer dapat menikmati permainan-permainan terbaru serta menyuguhkan pengalaman gaming menyeluruh, yang diberikan oleh GPU GeForce."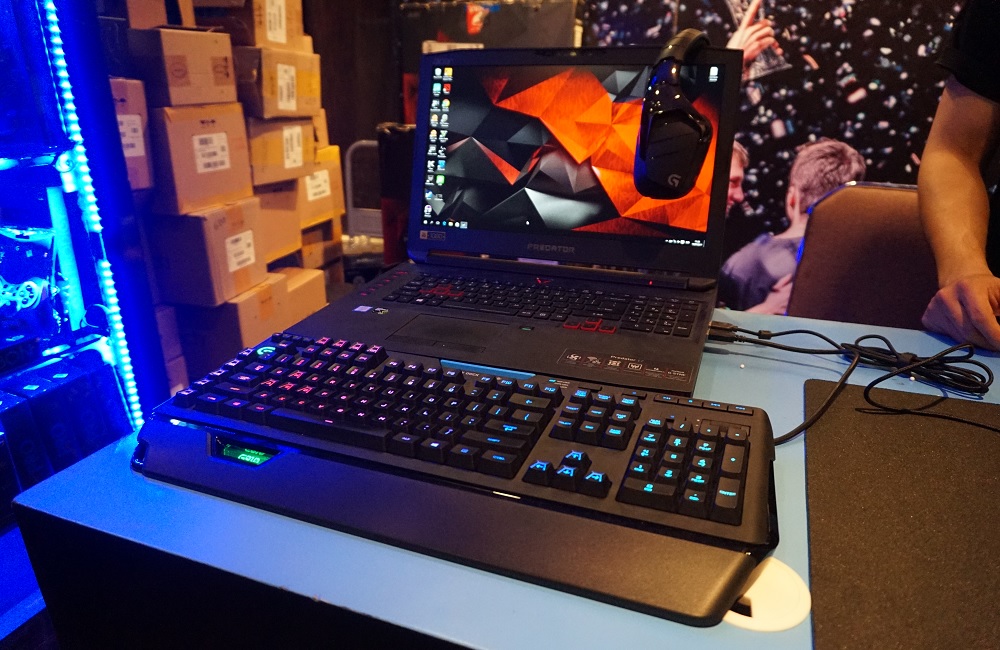 GEXT 2017 sendiri sebetulnya sudah dimulai, ditandai oleh pertandingan perdana yang dilaksanakan di Filipina pada tanggal 16 Juni kemarin. Selanjutnya, turnamen turut digelar di Vietnam, Indonesia, Malaysia, dan Thailand. Para jawara dari kawasan-kawasan ini akan berlaga di GEXT Regional Grand Finals, dilangsungkan di akhir tahun nanti.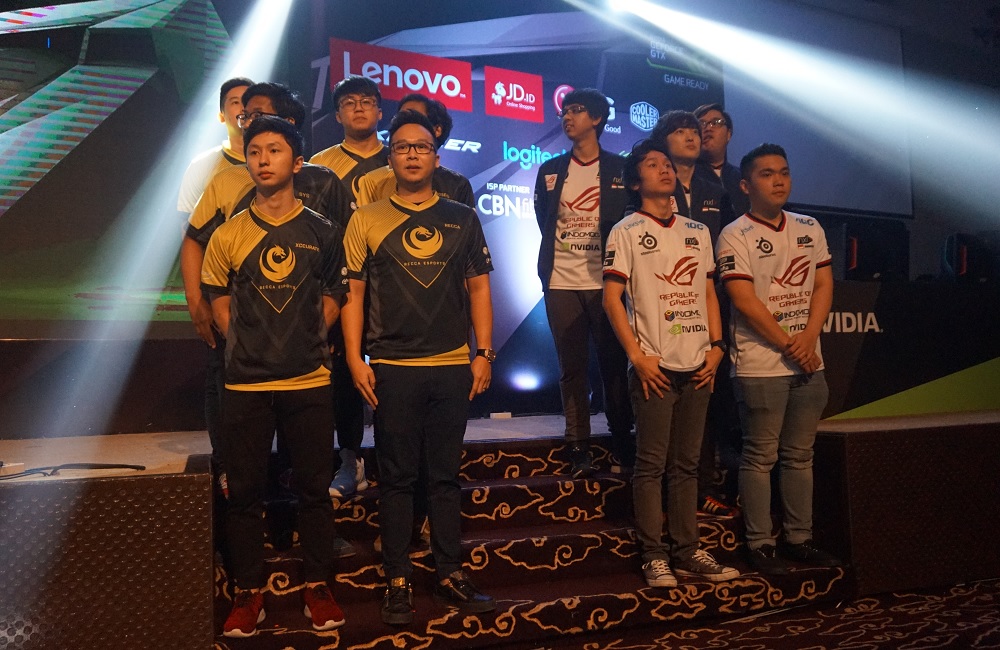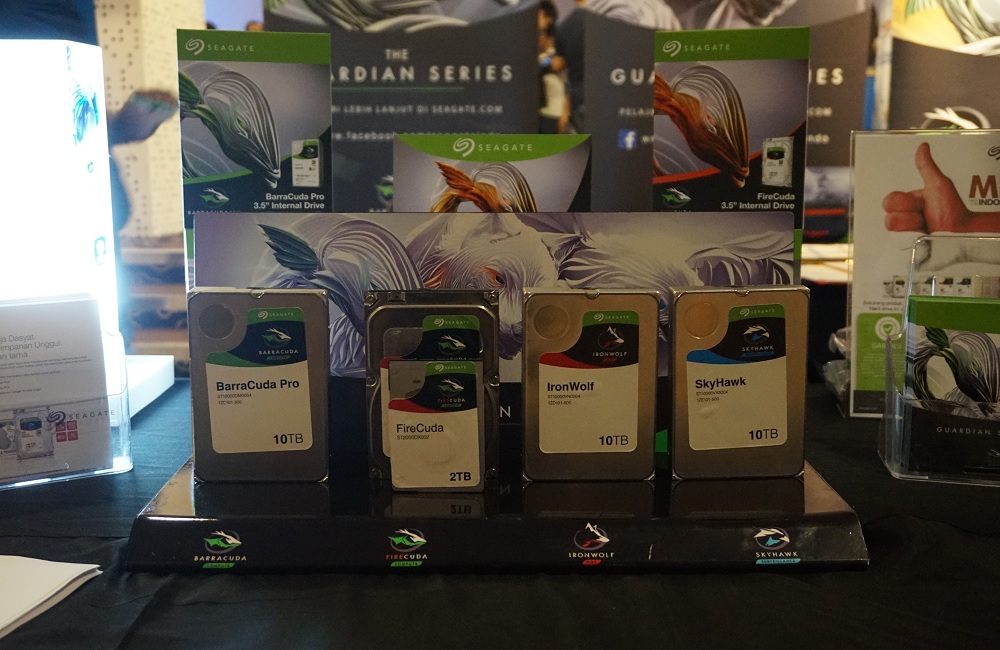 GeForce Day Indonesia 2017
Di GeForce Day 2017, para produsen hardware tampak berlomba-lomba memamerkan produk andalan mereka dengan susunan hardware tercanggih. Event dimeriahkan oleh nama-nama populer di ranah PC seperti Asus ROG, Digital Alliance, Gigabyte Aorus, Galax, MSI, Zotac, Inno3D, Palit, Lenovo, Lenovo, Cooler Master, Seagate, Logitech, hingga LG dan JD.ID; juga dihadiri oleh tim-tim eSport lokal seperti NXL, NXA Ladies hingga Recca eSports.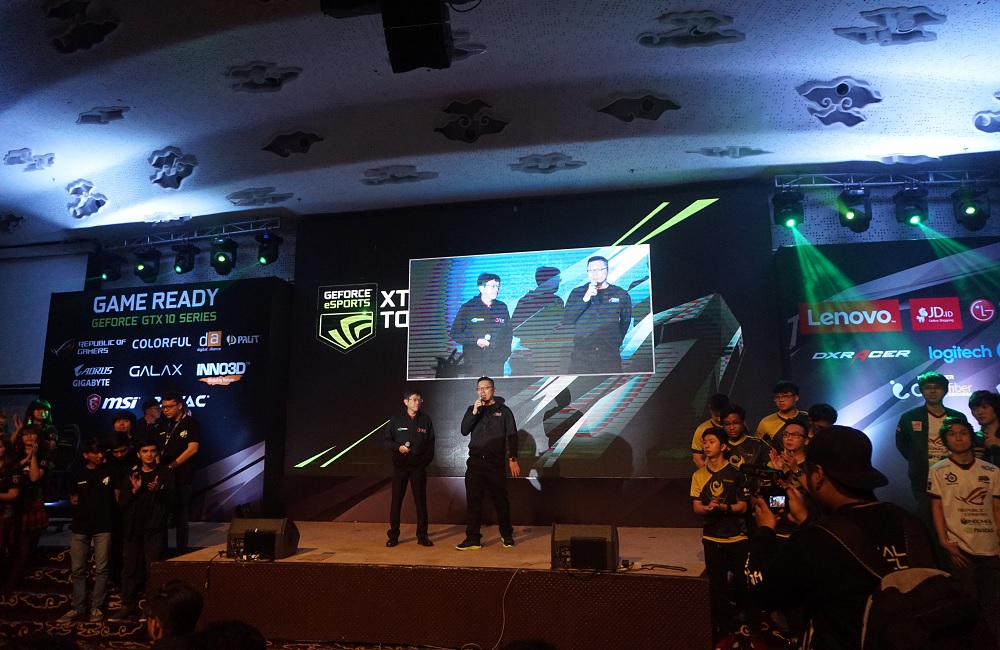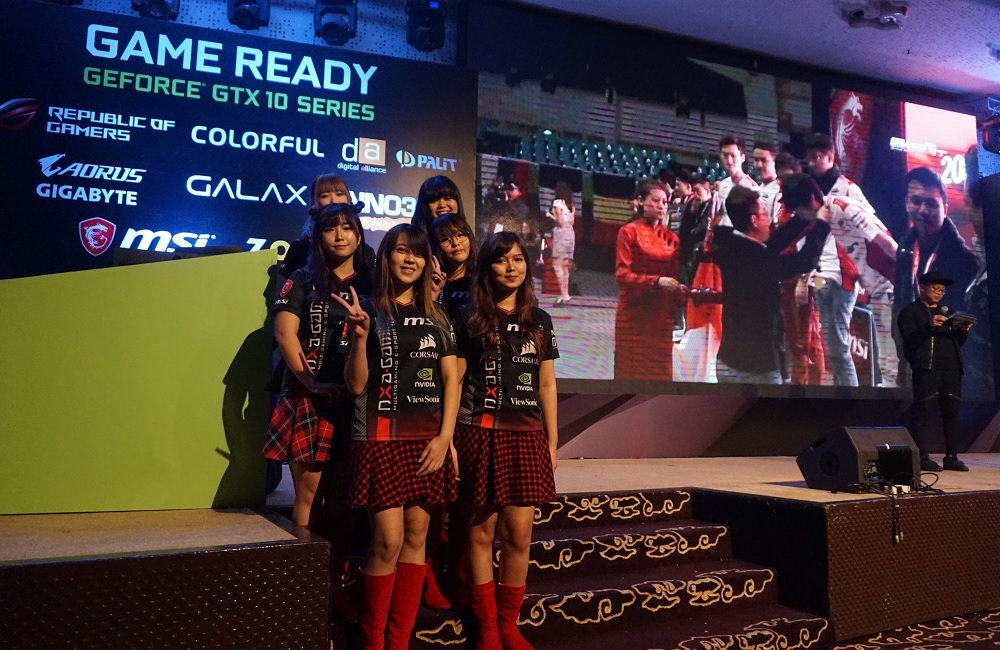 Meski begitu, produk primadona di GeForce Day 2017 adalah hardware yang tidak mungkin Anda duga. Di sana, Nvidia meresmikan kehadiran GeForce GT 1030, yaitu kartu grafis GeForce Pascal kelas entry-level yang memungkinkan kita meniupkan kehidupan kembali pada PC-PC tua, sehingga mereka siap dijadikan komputer-komputer penunjang home theater serta platform buat menikmati permainan-permainan eSport.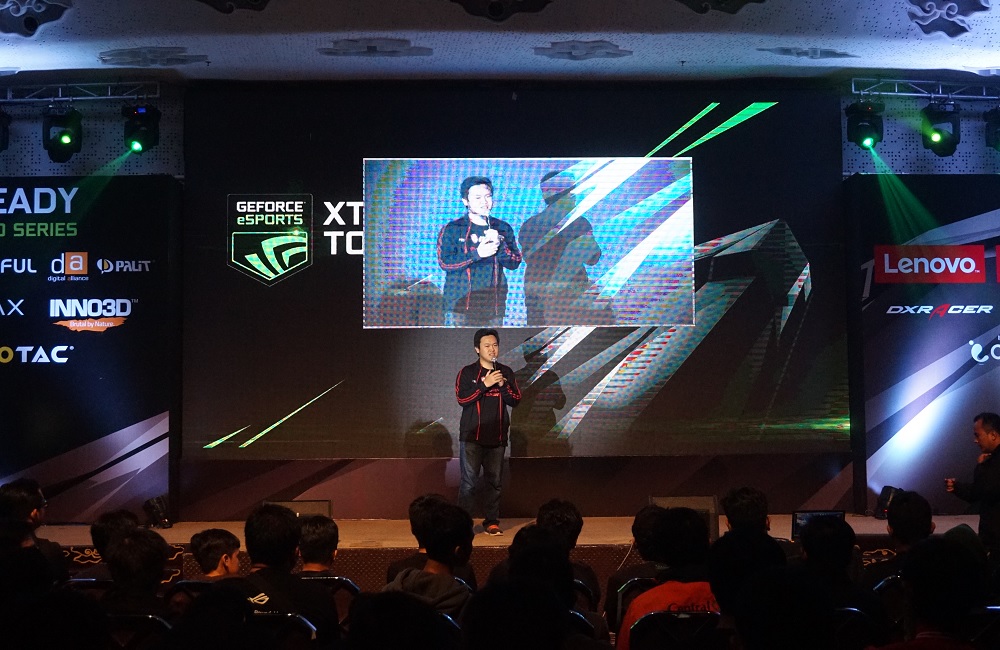 Detail mengenai kemampuan GeForce GT 1030 bisa Anda simak lebih lengkap di artikel ini. Di Indonesia, kartu grafis tersebut dijajakan di harga mulai dari Rp 1,1 juta.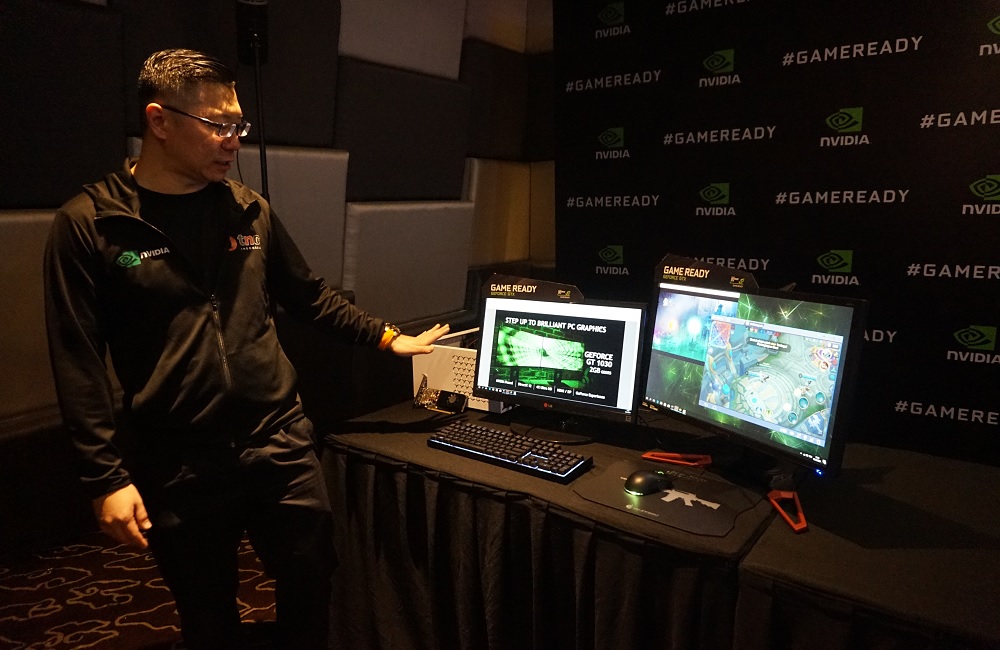 Pengumuman paling penting di GeForce Day 2017 sendiri diungkapkan oleh consumer lead Nvidia Indonesia Harry Kartono di sesi pembukaan: Olympic Council of Asia telah mengonfirmasi bahwa eSport secara resmi masuk menjadi cabang olahraga Asian Games 2018.
DailySocial.id adalah portal berita startup dan inovasi teknologi. Kamu bisa menjadi member komunitas startup dan inovasi DailySocial.id, mengunduh laporan riset dan statistik seputar teknologi secara cuma-cuma, dan mengikuti berita startup Indonesia dan gadget terbaru.