Kehadiran kamera action membuka lebih banyak kesempatan untuk berkreasi di bidang videography. Sekarang sudah banyak tersedia produk di lini itu, namun kebanyakan dikhususkan bagi konsumen serius. Pencarian action camera yang 'bersahabat' buat khalayak awam terus berjalan, dan satu developer asal Korea berharap dapat menyajikan solusi paling optimal.
Di situs Indie Gogo, developer The Boud mengenalkan Pic Flex Cam. Menurut para desainer di belakangnya, perangkat itu bukanlah sekedar kamera, namun merupakan 'perpanjangan dari diri Anda yang terintegrasi ke semua aspek dalam hidup'. Pic Flex Cam diramu dengan memadukan teknologi videography praktis dan solusi desain sederhana tetapi sangat fungsional.
Pic Flex Cam mempunyai penampilan memanjang, dengan modul lensa berada di posisi kepala. Tubuhnya sengaja dibuat agar menyerupai makhluk-makhluk seperti di film Monster Inc. di mana lensa berperan sebagai matanya. Tubuh tersebut sangat fleksibel dan kokoh, memungkinkan kita membentuk Flex Cam sesuka hati, atau memasangkannya pada objek apapun tanpa tambahan aksesori.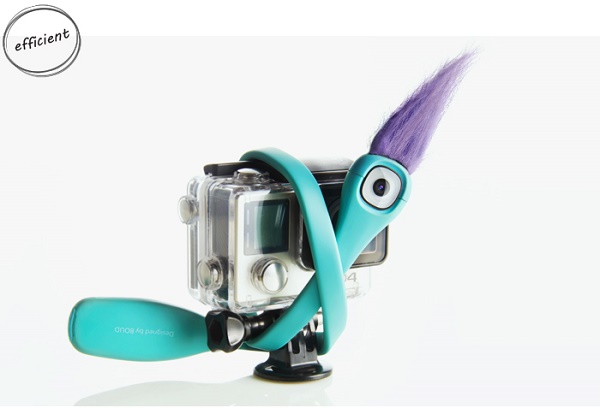 Cara penggunaannya tidak kalah simpel. Yang perlu Anda lakukan adalah menekan satu tombol untuk mengakses fungsi-fungsi dasarnya. Contohnya menekan sedikit lebih lama akan mengaktifkan atau mematikannya, tekan sekali buat foto dan dua kali untuk memulai proses perekaman. Anda tak perlu cemas saat membawanya bermain-main, Pic Flex Cam sudah memperoleh sertifikasi IP7, mampu merekam di dalam air sedalam 1 meter selama 30 menit.
Info menarik: Podo Akan Hilangkan Ketergantungan Kita Pada Tongkat Selfie
Kemampuan dasar Pic Flex Cam-pun tidak sembarangan. Di versi prototype, kamera dibekali sensor 5-megapixel berlensa wide angle 124 derajat, dapat merekam di resolusi 720p 30 frame rate. Di sana The Boud mencantumkan memori internal 16GB dan baterai 300mAh buat pengambilan video selama kurang lebih satu jam. Ia bisa dikendalikan via USB direct on-the-go.
Manfaat dan target konsumen Pic Flex Cam mungkin dapat disamakan dengan Polaroid Cube. Tapi ketika fitur Cube boleh dibilang terbatas, di sisi keleluasaan, produk garapan tim Korea Selatan tersebut jelas lebih unggul. Flex Cam bisa dipasangkan di tangan sebagai gelang, atau di tas, gesper, kaki, skateboard hingga setang sepeda - tanpa membubuhkan mounting. Masing-masing metode memberikan hasil video yang unik.
The Boud masih melangsungkan kampanye crowdfunding Pic Flex Cam di situs Indie Gogo. Terdapat dua tipe: model dasar seharga US$ 90, dan versi 'karakter' yang dibanderol US$ 100. Perilisan produk dijadwalkan akan berlangsung bulan September 2015.
Are you sure to continue this transaction?
processing your transaction....