Kehadiran perangkat bergerak mengubah cara kita menikmati hiburan digital, dan kepopularitasannya turut menggerus produk-produk dedicated seperti music player. Tapi ada dampak positif dari hal itu: konsumen kini lebih mudah memilih dan produsen semakin serius menggarapnya. Di tahun 2013, Irivier asal Korea Selatan mulai masuk ke segmen ini, memperkenalkan brand Astell&Kern.
Setelah melakukan debutnya dengan media player AK100, Astell&Kern terus memperluas deretan produk audionya ke ranah in-ear monitor, headphone, CD player sampai network audio system. Di tahun ini, Astell&Kern merilis AK70, dijanjikan sebagai digital audio player hi-res canggih yang bisa Anda miliki diharga masuk akal. Klaim ini tampaknya punya landasan cukup kuat, buktinya, banyak audiophile menyukai Astell&Kern AK70.
Meski musik sudah jadi hal wajib untuk menemani saya dalam beraktivitas sehari-hari, perlu Anda tahu bahwa saya bukanlah individu bertelinga emas. Terlepas dari itu, Orion Kreatif Elektronik selaku distributor produk Astell&Kern di indonesia sangat dermawan memberi saya kesempatan menguji kecanggihan music player portable ini di era 'paska-iPod'. Betulkah ia secanggih kata orang? Silakan simak ulasannya.
Design
Dari sisi penampilan, AK70 memanfaatkan arahan desain khas perangkat media Astell&Kern sebelumnya. Wujudnya non-ergonomis, memiliki tubuh balok dengan penempatan panel dan tombol asimetris. AK70 memiliki layar sentuh 3,3-inci di depan; tiga tombol navigasi (prev, pause, next) dan slot kartu microSD di sisi kiri; tombol power/screen-off, port output 3,5mm dan 2,55mm di atas; kenop pengaturan volume di kanan; dan port microUSB untuk charging dan transfer file di bawah.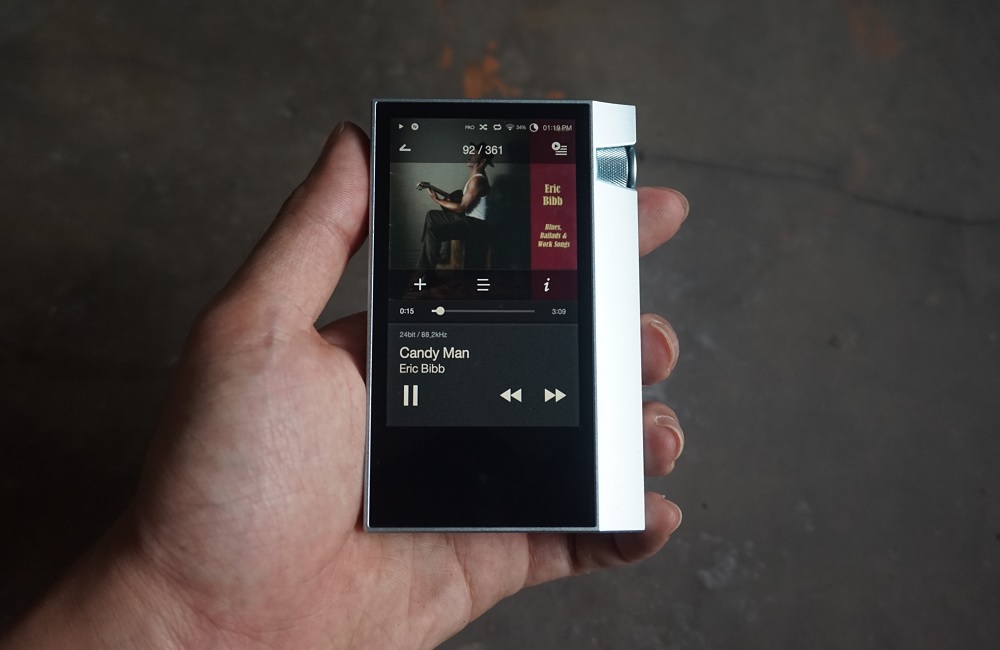 AK70 mempunyai dimensi 60,3×96,8×13-milimeter dan bobot 132-gram. Case-nya memanfaatkan material aluminium, ada lapisan plastik transparan berpola di bagian punggung, lalu layar dibingkai oleh area berwarna hitam.
Ukuran AK70 sengaja diminimalisir agar music player ini bisa mudah dibawa-bawa, dan seperti sewaktu menggunakan iPod classic, saya lebih nyaman menyimpan AK70 di kantong celana ketimbang jaket/baju. Beratnya lebih ringan dari asumsi saya, namun bagian tepi yang menyudut dan tajam berpotensi merusak celana Anda, terutama jika ukurannya ketat.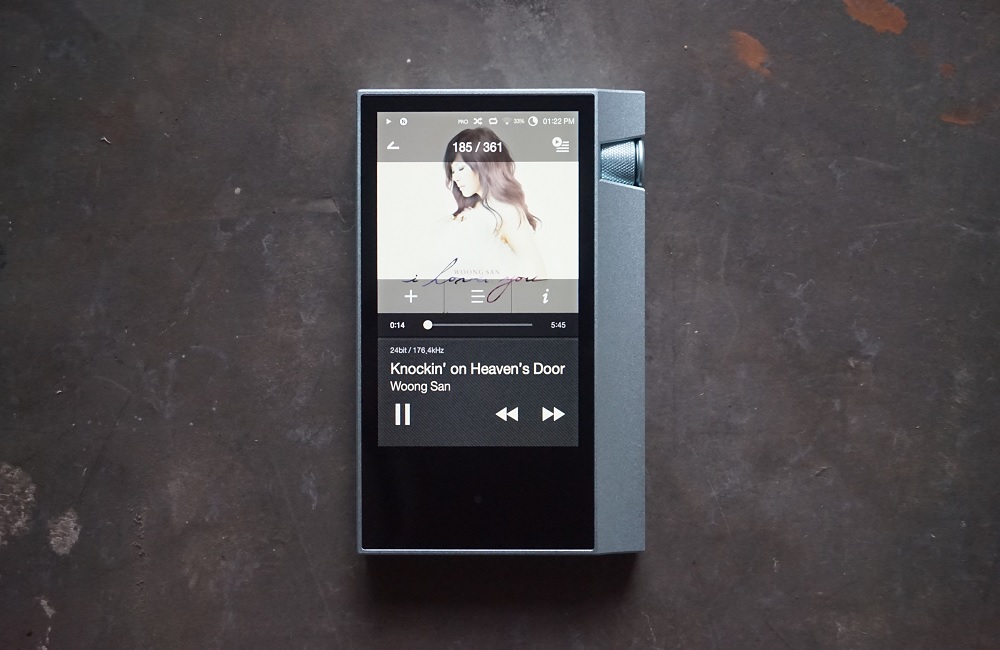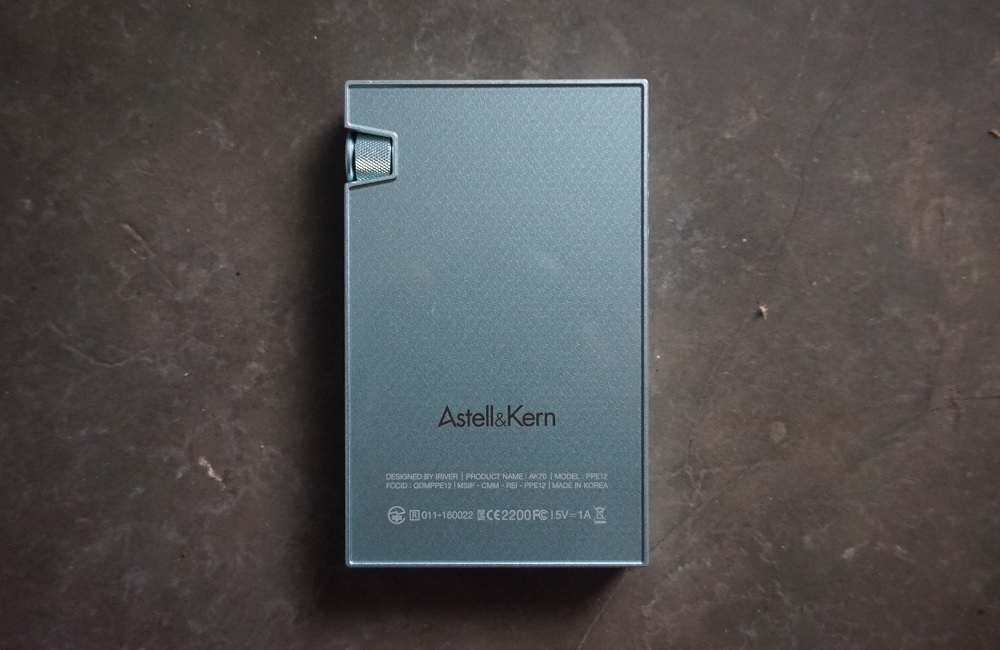 Walaupun begitu, saya menyukai arahan desain konservatif dan industrial tersebut. Secara tidak langsung, AK70 mempresentasikan dirinya sebagai perangkat pencinta musik serius, bukan sekedar produk lifestyle biasa. Kemudian, warna hijau-biru 'Misty Mint' di sana memberi kesan playful.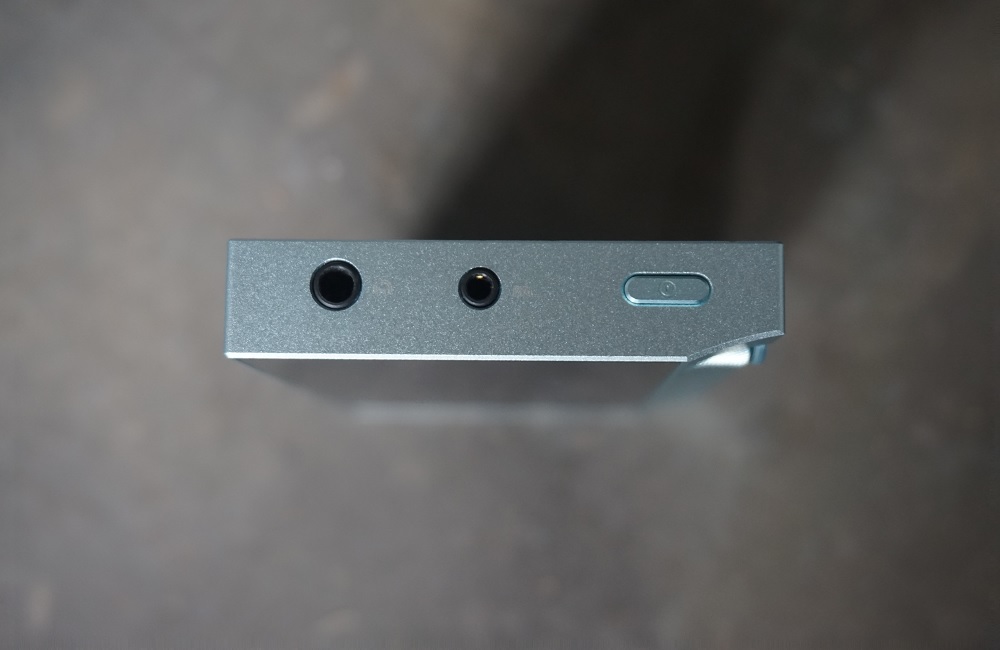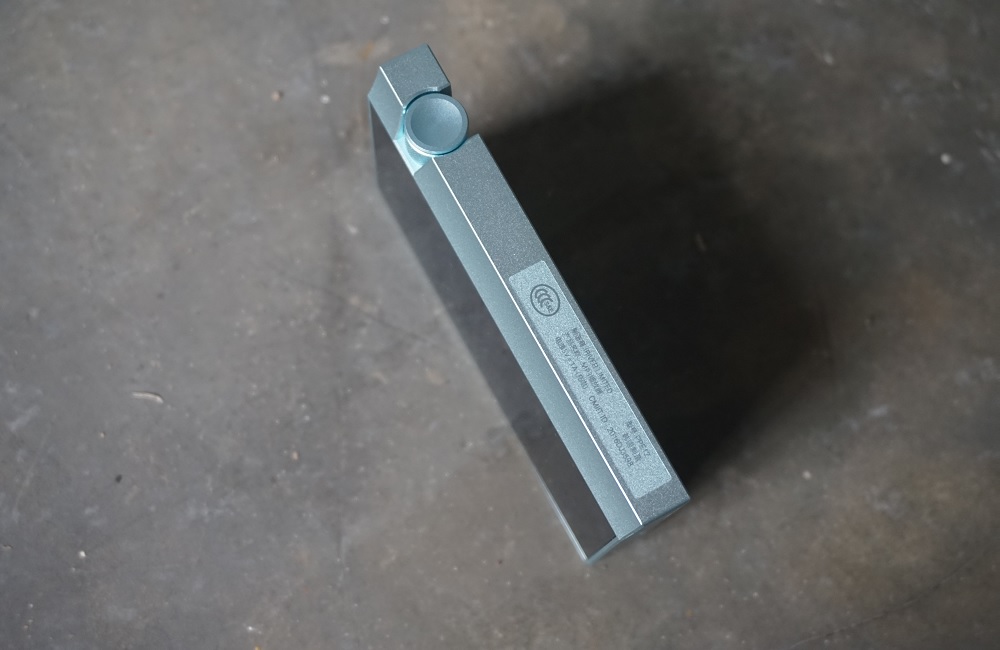 Interface, content & navigation
Astell&Kern AK70 beroperasi di atas versi modifikasi platform Google Android. Tentu saja tak seperti smartphone, UI-nya jauh lebih sederhana agar pemakaiannya sederhana. Resolusi 800x480p di layar sentuh TFT cukup lapang dalam memberikan Anda keleluasan navigasi. Tombol-tombol di sana cukup besar buat mengakomodasi semua ukuran jari. Dan layaknya perangkat Android, segala fungsi dan fiturnya (DAC, Bluetooth, sampai mengatur kecerahan) bisa diakses cukup dengan menarik dashboard.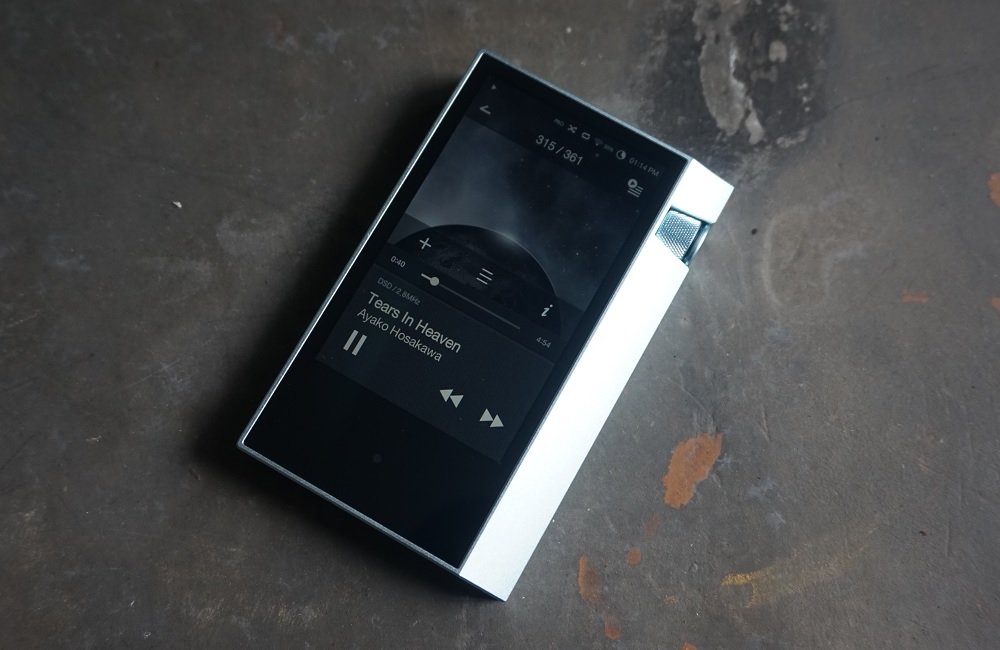 Produsen juga tidak melupakan pernak-pernik kecil yang berportensi memengaruhi kenyamanan pemakaian. Contohnya saat fungsi shuffle diaktifkan, AK70 tetap mengingat tampilan terakhir yang Anda buka, sehingga Anda dapat melanjutkan browsing musik dari lokasi tersebut.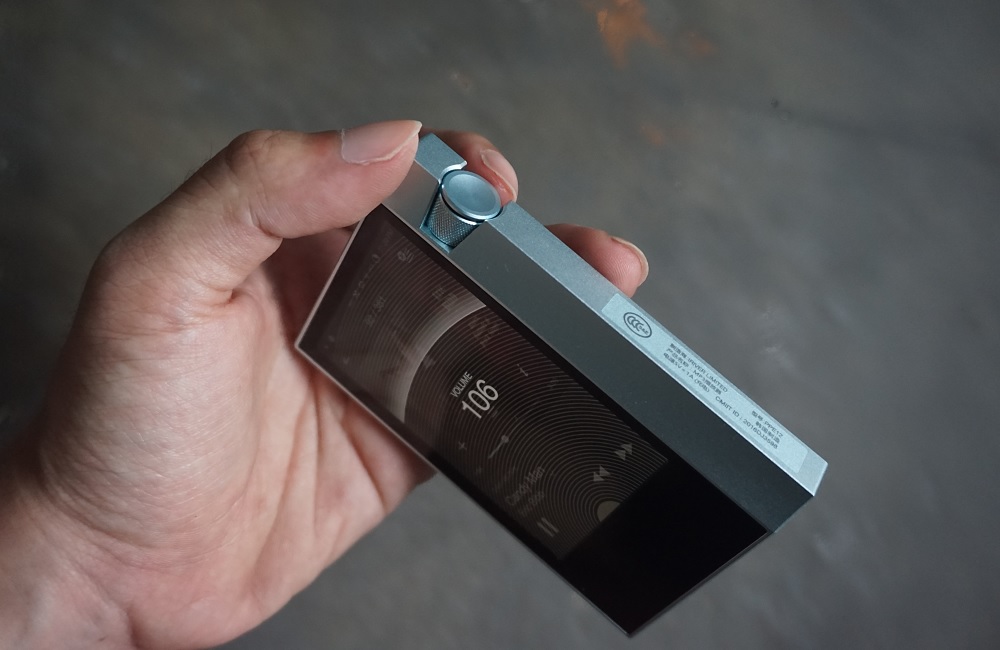 Saya menyukai sensasi dari resistansi kenop volume. Dengannya, pengaturan bisa dilakukan saat layar tidak aktif. Kendalanya ialah, menyelipkan AK70 ke kantong berpeluang mengubah volume secara tidak sengaja.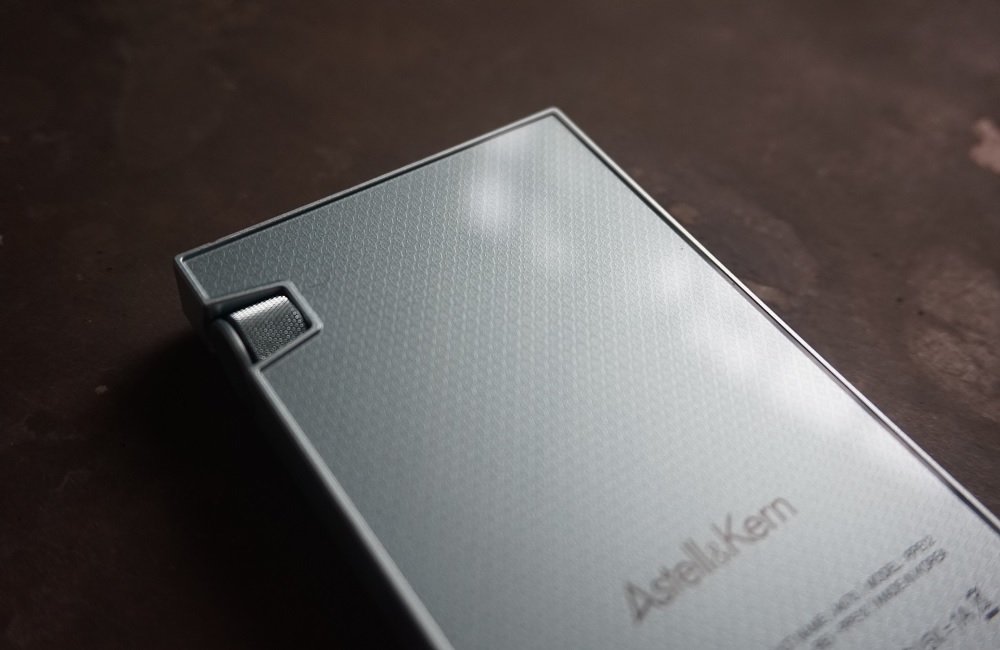 Features & connectivity
Salah satu selling point terbesar AK70 adalah chip DAC Cirrus Logic, menyajikan performa suara di atas level smartphone. Menariknya, Anda bisa menyambungkan media player ini ke DAC eksternal melalui port USB – mem-bypass DAC internalnya. Anda juga dapat menghubungkan AK70 ke PC dan mengaktifkan mode DAC, mendongkrak kinerja output audionya. Dan bukan itu saja, tersedia mode Line Out yang dapat mengubah device jadi jembatan antara PC dengan speaker.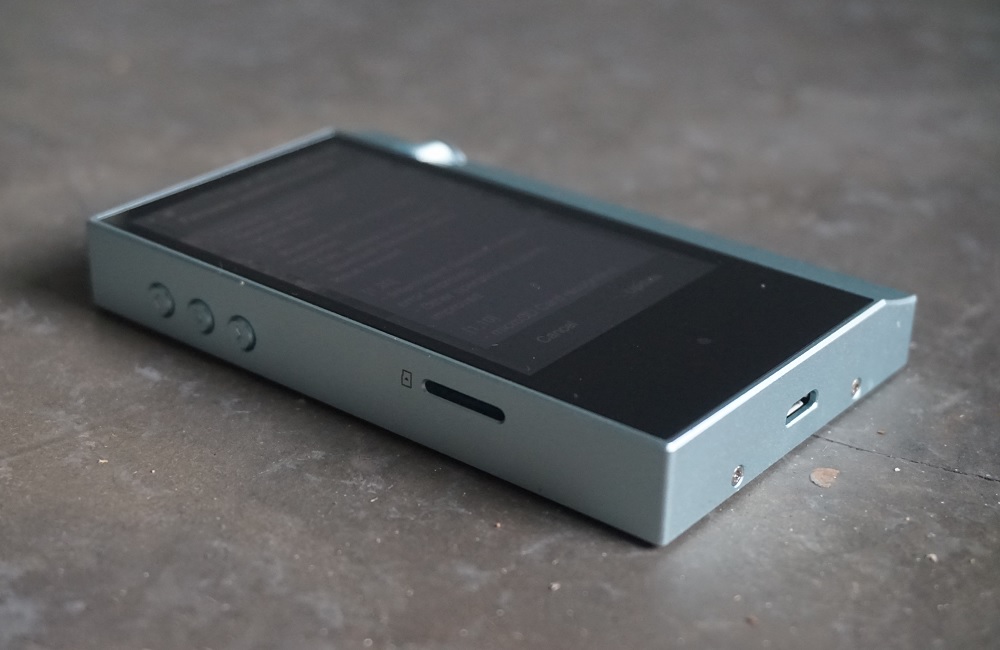 DAC Cirrus Logic mendukung audio 24-bit/192KHz PCM, lebih tinggi dari kualitas maksimal iPhone di 'level CD', yakni 16-bit/44.1kHz.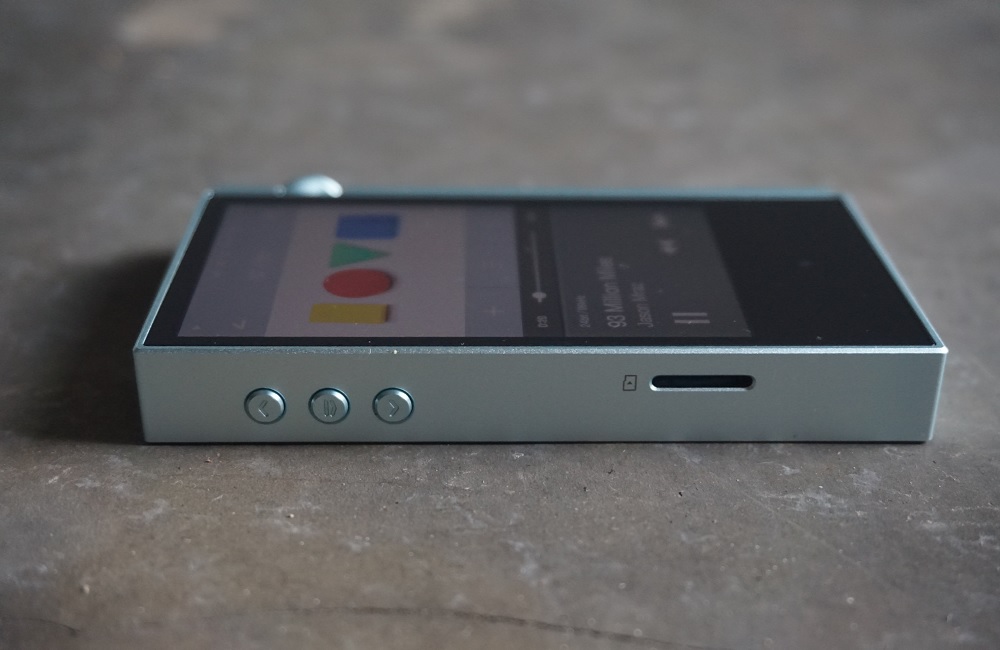 Sentuhan fitur audiophile lain terdapat pada jack audio 2,5mm, memungkinkan Anda memasang balanced headphone untuk memperoleh kontras volume yang lebih tinggi. Jika sudah memilikinya, Anda sangat disarankan memanfaatkannya. Untuk sambungan Bluetooth, AK70 telah ditopang aptX, namun selama uji coba ini, saya menggunakan earphone/headphone kabel standar. Kemudian terdapat pula Wi-Fi demi mengakomodasi update software.
Performance & using experience
Jangan remehkan tubuh kecil AK70, music player ini sanggup menghidangkan output membahana – mampu menangani file terkompresi seperti MP3 (16-bit/44,1KHz.) secara optimal tapi performa sesungguhnya baru terasa ketika ia menyajikan musik-musik beresolusi tinggi (24-bit/192KHz atau DSD 2,8MHz, beberapa sampel-nya sudah dibundel di dalam).
Unit review ini sudah diisi lagu-lagu hi-res, beberapa contohnya ialah Tears in Heaven-nya Ayako Hosakawa, Storms Are on the Ocean oleh Amber Rubarth, This Year's Kisses-nya Ella Fitzgerald atau Nightingale oleh Norah Jones. Karakteristik suaranya adalah energik, jernih serta dinamis, dan sanggup mensimulasi ruang.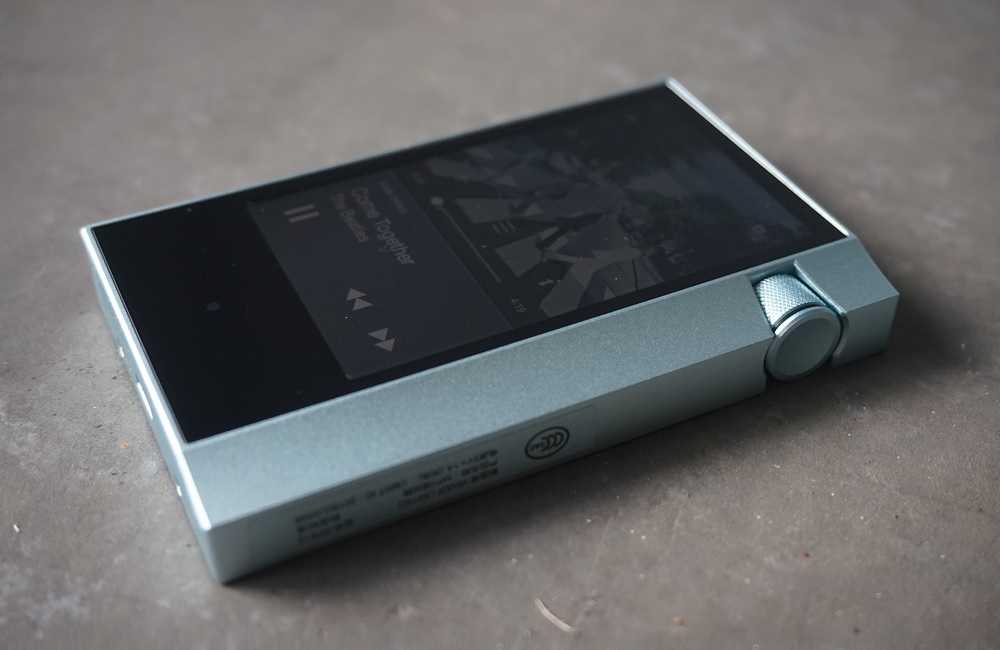 AK70 sangat andal menangani berbagai genre lagu, dari mulai rock seperti Mastodon (Asleep In the Deep) dan One OK Rock (Mighty Long Fall) sampai rentetan kreasi Fourplay. Suara Benjamin Burnley di Ashes of Eden terdengar penuh, lalu gebukan drum Ben Thatcher dari Royal Blood di Out of the Black terasa lengkap dan bertekstur. Ada ruang antara gitar elektrik, shaker dan vokal tanpa mengorbankan keutuhan ritmenya. Mid-range-nya lapang sehingga lirik tidak termakan oleh ramainya suara instrumen.
Media player ini membuat banyak lagu yang sudah sering saya dengar kembali menyegarkan, entah apakah itu playlist Michael Bublé ataupun Metallica. Awalnya hanya sekedar untuk menguji performa AK70, mendengarkan lagu-lagu lawas David Bowie – khususnya Starman, Ziggy Stardust dan Moonage Daydream – kini jadi ritual saya sebelum tidur.
Astell&Kern AK70 dibekali baterai 2.200mAh, dan dengan mematikan sambungan wireless, digital audio player tersebut dapat menyuguhkan playback berdurasi 12 sampai 13 jam. Sewaktu di-charge, AK70 tetap bisa beroperasi, tapi dengan begitu temperatur jadi naik dan saya ragu apakah hal ini diperbolehkan atau tidak.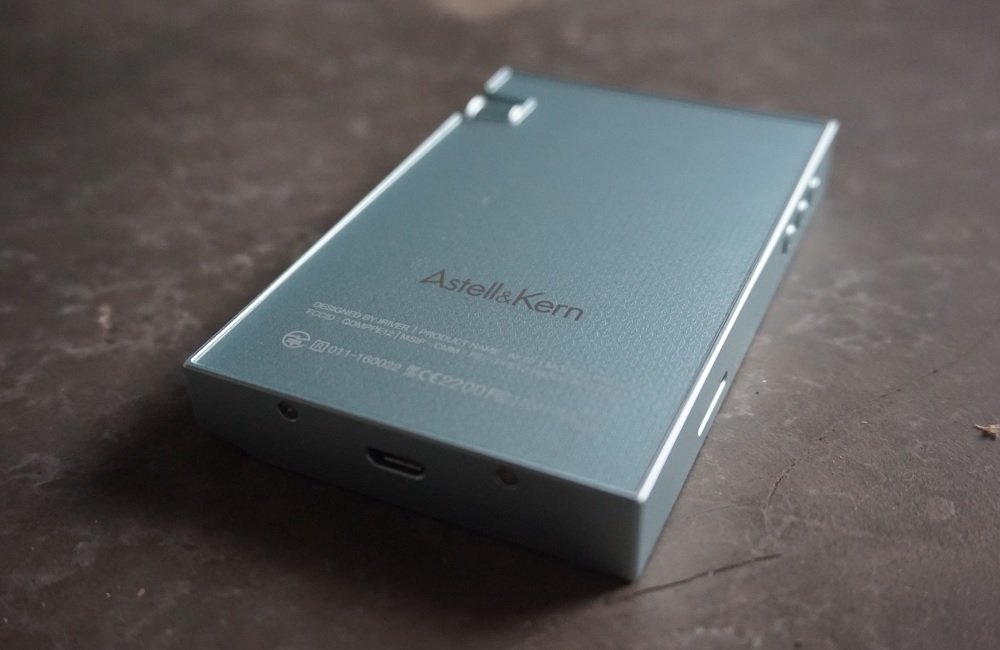 Untuk edit dan transfer file, AK70 tidak membutuhkan software khusus. Itu berarti, penyajiannya tidak 'semewah' iDevice dengan iTunes-nya, namun saya menyukai kesederhanaan ini. Saat tersambung ke PC, AK70 akan terbaca sebagai device eksternal biasa, dan selanjutnya Anda tinggal melakukan drag-and-dropfile audio. Kemudian buat belanja lagu, tinggal aktifkan Wi-Fi lalu buka menu Store.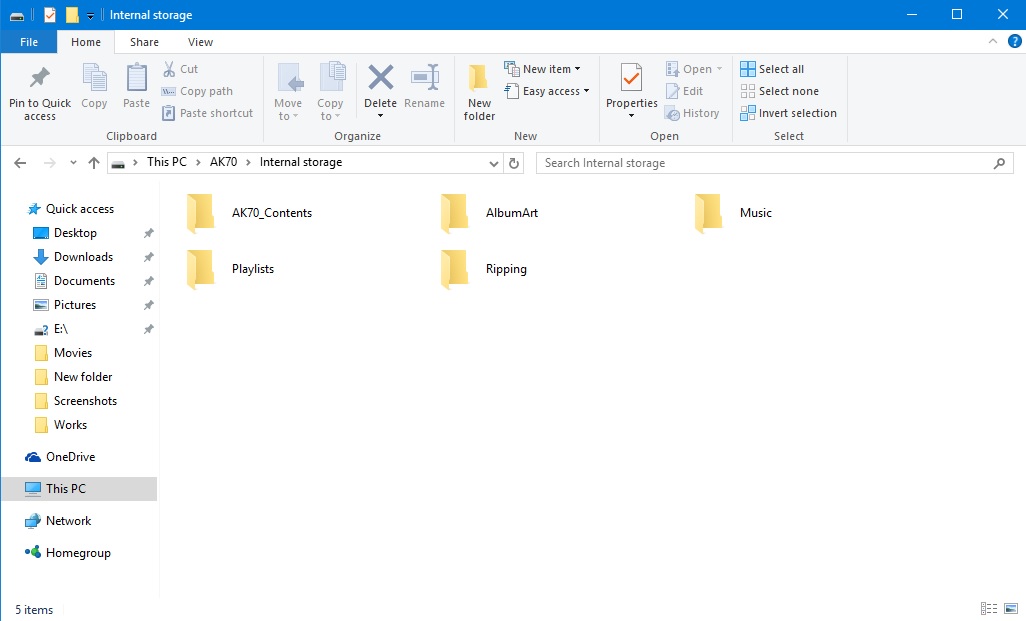 Satu hal lagi: AK70 dilengkapi penyimpanan internal 64GB, cukup besar, tapi seandainya belum puas, Anda bisa menambahkan kartu microSD maksimal sebesar 256GB.
Verdict
Untuk sebuah music player kelas audiophile, Astell&Kern AK70 dijajakan di harga yang logis. Ia mengasikkan sewaktu digunakan bahkan saat sekedar dibawa-bawa. Memang ada alternatif lebih murah dalam menikmati audio beresolusi tinggi, namun daya tahan baterai dan luasnya flash memory memastikan AK70 unggul dibanding produk rival, misalnya Sony NW-A10. Jika kualitas musik merupakan hal utama bagi Anda, maka Anda tidak perlu melirik ke mana-mana lagi.
Kekurangannya? Seperti yang sempat saya bahas, penggunaan kenop buat pengaturan volume punya efek samping sewaktu Anda mengantongi AK70. Lalu, AK70 juga belum dibekali dukungan layanan streaming musik.
Tentu anggapan 'ekonomis' bagi kalangan audiophile cukup berbeda dari khalayak awam. Segala kecanggihan Astell&Kern AK70 harus Anda bayarkan di harga yang cenderung tinggi buat sebagian orang. Di Indonesia, AK70 ditawarkan seharga Rp 9 juta.
Salah satu situs ecommerce di Indonesia memajang perangkat ini di etalase mereka, Anda bisa melihatnya lewat tautan ini.
DailySocial.id adalah portal berita startup dan inovasi teknologi. Kamu bisa menjadi member komunitas startup dan inovasi DailySocial.id, mengunduh laporan riset dan statistik seputar teknologi secara cuma-cuma, dan mengikuti berita startup Indonesia dan gadget terbaru.