Samsung resmi mengumumkan bahwa penjualan flagship phone-nya, Galaxy S III, telah melebihi 30 juta unit sejak pertama kali hadir di pasaran bulan Mei 2012 (dalam jangka waktu lima bulan). Angka tersebut sesuai dengan target awal penjualan Galaxy S III. JK Shin, President and Head of IT & Mobile Communications Division Samsung, secara khusus menyampaikan apresiasinya kepada konsumen yang telah memilih smartphone ini. Ini merupakan penegasan berita yang telah keluar sebelumnya melalui Samsung Polandia.
Statistik yang ditampilkan oleh blog post tersebut adalah dibutuhkan 50 hari untuk penjualan 10 juta unit, 100 hari untuk penjualan 20 juta unit dan 157 hari untuk mencapai 30 juta unit. Itu artinya penjualan Galaxy S III cukup stabil dan tidak terlalu terpengaruh dengan peluncuran kompetitor terdekatnya, iPhone 5. Dalam periode yang sama tahun lalu, Galaxy S II sebagai pendahulunya terjual sebanyak 10 juta unit.
Untuk menghadapi musim belanja bulan November dan Desember, Galaxy S III kini tersedia dalam empat pilihan warna baru, Amber Brown, Garnet Red, Sapphire Black dan Titanium Grey. Di Indonesia sendiri Galaxy S III sudah memperoleh OS upgrade ke versi 4.1 Jelly Bean.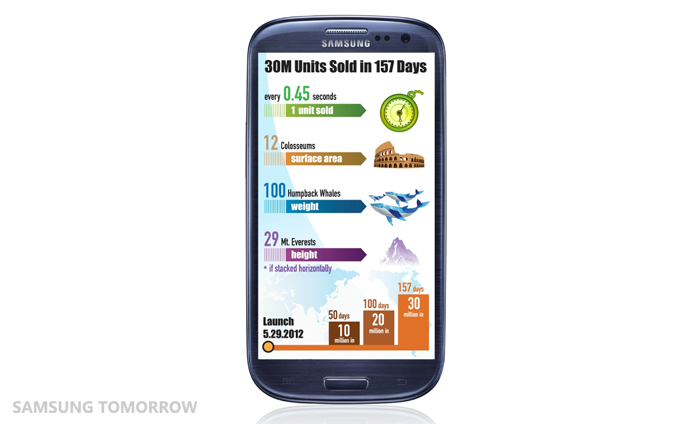 Generasi Galaxy S berikutnya dirumorkan akan diperkenalkan dalam ajang tahunan Mobile World Congress (MWC) di Barcelona yang akan diadakan bulan Februari 2013.
DailySocial.id adalah portal berita startup dan inovasi teknologi. Kamu bisa menjadi member komunitas startup dan inovasi DailySocial.id, mengunduh laporan riset dan statistik seputar teknologi secara cuma-cuma, dan mengikuti berita startup Indonesia dan gadget terbaru.