Samsung Perlihatkan Teknologi Ponsel Layar Tekuk Buatannya
Smartphone yang akan mengusung layar ini sedang dipersiapkan
Bambang Winarso - 8 November 2018
Samsung tidak menampik pihaknya punya niatan untuk membuat perangkat mobile yang bisa ditekuk. Mereka sudah terlihat sibuk mengerjakan teknologi itu selama bertahun-tahun, dan bayangan yang ada dalam film-film fiksi ilmiah itu resmi dipamerkan kendati masih dalam bentuk prototipe.
Memiliki kesan "gemuk", prototipe teknologi ponsel tekuk buatan Samsung diperlihatkan kepada publik sebagaimana terlihat di dalam gambar animasi ini. Dinamai dengan Infiniti Flex, teknologi layar tekuk ini nantinya akan menghuni salah satu dari jajaran Galaxy atau mungkin saja dengan nama baru sebagaimana diberitakan sebelumnya.
Terlihat seperti layar smartphone pada umumnya, namun ketika dibuka ia dapat berubah menjadi perangkat tablet berukuran 7,3 inci dengan transisi yang halus, sebagaimana lipatan dompet. Perangkat memiliki layar eksterior di mana pengguna dapat melakukan panggilan dan menggunakan aplikasi ketika dalam kondisi terlipat.
Wakil presiden pemasaran ponsel Samsung, Justin Denison mengatakan bahwa perangkat tersebut mewakili "platform seluler yang sepenuhnya baru" karena layar ponsel pintar tidak lagi dibatasi oleh ukuran tubuhnya.
Infinity Flex Display nantinya akan digulirkan bersama dengan UI baru bernama Samsung One yang memberikan navigasi antarmuka jenis baru menyesuaikan dengan fungsinya sebagai perangkat dengan penampang layar yang fleksibel.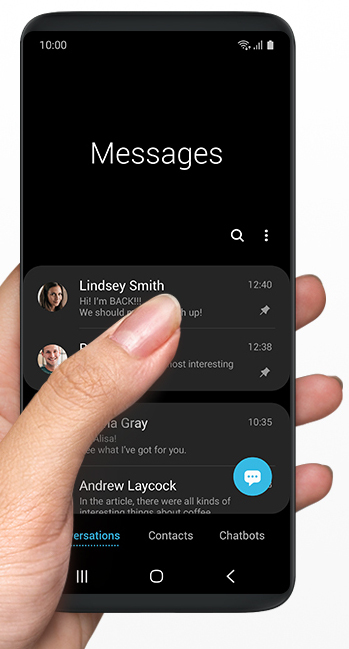 Pihak Samsung mengonfirmas teknologi Infinity Flex Display ini masih dalam pengembangan dan akan mengubah pasar ponsel. "Kami senang bekerja dengan pengembang di platform baru ini untuk menciptakan nilai baru bagi pelanggan kami. Kami tidak sabar untuk melihat di mana teknologi dan kolaborasi membawa kami."
Produk akhir ponsel tekuk dari Samsung dipastikan hanya tinggal menunggu waktu. Samsung dituntut untuk bergerak cepat karena di belakang mereka telah berdiri beberapa kompetitor yang siap mencuri start.
It's a phone… It's a tablet… It's a phone that unfolds into a tablet! #SDC18pic.twitter.com/FgwpJPjqTn

— SAMSUNG DEVELOPERS (@samsung_dev) 7 November 2018
Sumber berita PhoneArena.
Are you sure to continue this transaction?
processing your transaction....